« See in my line of work you got to keep repeating things over and over and over again for the truth to sink in, to kind of catapult the propaganda. » — George W. Bush (24 mai 2005)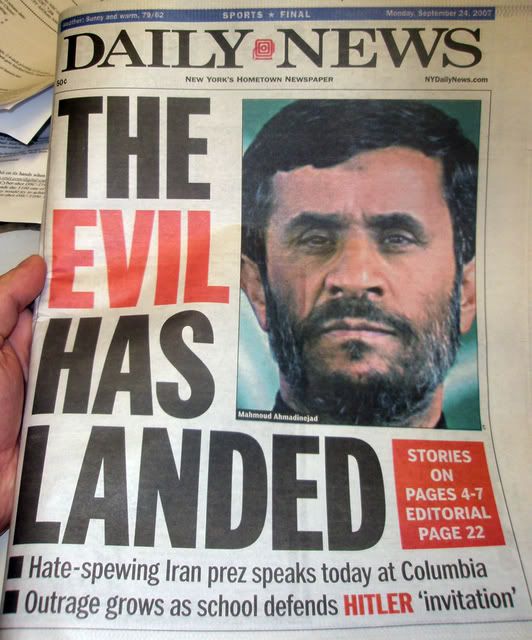 Pour le « Daily News », Ahmadinejad, c'est le Diable
Parce que le gouvernement de l'Iran n'est pas favorable au sionisme de l'État d'Israel, l'Iran est victime d'une campagne atlanto-sioniste de propagande de guerre très efficace et surmédiatisée utilisant les bonnes vieilles stratégies de démonisation, dans ce cas-ci la reductio ad hitlerum. Il est accusé, comme l'Irak en 2003, de parrainer le terrorisme et de vouloir rayer Israël de la carte, ce qui est complètement faux. Il faut dire qu'Ahmadinejad dénonce le sionisme et questionne la version officielle de l'Holocauste et du 11 septembre (AP). L'Iran était l'un des seuls pays du Moyen-Orient à avoir tenu des vigiles et chandelles en souvenir des victimes des attentats le jour du 11 septembre 2001.
Le maire de New York (et juif sioniste) Michael Bloomberg n'assistera pas à l'allocution d'Ahmadinejad. Après l'ancien maire Rudolf Giuliani, Bloomberg est le 2e candidat préféré d'Israël pour la présidence U.S.
Voyez le vidéo de l'allocution publique d'Ahmadinejad à Columbia.
Israel lobby slams Ahmadinejad's UN visit
Jewish organizations to mobilize 'thousands' against Columbia University's invite to Iran president
Israel: on the way to a pariah state; Israël: le grand perdant de la conférence
À Berlin, le président du World Jewish Congress Ronald Lauder va discuter du cas de l'Iran avec la présidente de l'Union européèenne et chancellière d'Allemagne Angela Merkel (28 sept 2007). Moshe Kantor applauds Germany's stance on Iran, EJP, 1 oct 2007
Jewish community in Iran slams US protest against Ahmadinejad's visit; Le président de l'université Columbia (réputée juive) Lee C. Bollinger, qui a manqué de respect envers Ahmadinejad, est juif. Serait-il aussi sioniste?
Rabbis Say Iran Seeks Peace, Respects Judaism – Calls for True Dialogue With Ahmadinejad (Neturei Karta: Ahmadinejad veut la Paix) ; President Ahmadinejad meets Jewish rabbis in New York
Voyez les images de cette manifestation juive anti-Israël à Montréal. Ces événements ne reçoivent absolument aucune couverture de la part de nos médias locaux et nationaux.

Cette guerre en Iran tant désirée par les néocons et les sionistes, serait-elle le dernier acte de la réalisation consciente du plan biblique décrit dans Deutéronome 7 :
« …Quand l'Éternel, ton Dieu, t'aura introduit dans le pays où tu entres pour le posséder, et qu'il aura chassé de devant toi des nations nombreuses, le Héthien, et le Guirgasien, et l'Amoréen, et le Cananéen, et le Phérézien, et le Hévien, et le Jébusien, sept nations plus nombreuses et plus fortes que toi, et que l 'Éternel, ton Dieu, les aura livrées devant toi, et que tu les auras frappées, tu les détruiras entièrement comme un anathème; tu ne traiteras point alliance avec elles, et tu ne leur feras pas grâce…. »
D'après P&P;, « La guerre des 6 jours a vu la défaite de l'Egypte (1). La Palestine (2) subit une occupation illégale et un génocide depuis 50 ans. L'Irak (3)est à feux et à sang. L'Arabie Saoudite (4) est à la botte des Sioconservateurs. Le Liban (5) a subi une attaque majeure. La Syrie (6) est dans la ligne de mire depuis plusieurs années. Et voici maintenant que la guerre contre l'Iran (7) est imminente. »
Le Général Wesley Clark a lui aussi identifié 7 pays dont les néocons veulent s'emparer en 5 ans.
Cet article du New York Times de 1992 étalait déjà au grand jour le programme néoconservateur pour le début du XXIe siècle.