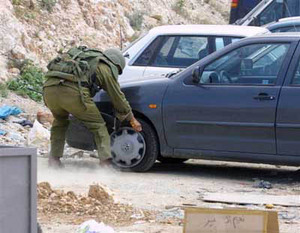 An Israeli soldier slashes the tires on Palestinian private cars on 11 Jan 2003, following the new closure imposed on the Occupied Territories
« The best thing is that you're not obliged to follow any laws or rules. You feel like you are the law. You are the law. You decide. It's as if the moment you leave Israel and pass through the Erez Checkpoint into the Gaza Strip, you are the law. You are God. »
– comment by one of the IDF soldiers interviewed by Israeli psychologist Nofer Ishai-Karen. Cited by Dalia Karpel in an article entitled The Person Who Gets People To Talk/המדובבת which was published in Ha'aretz's Hebrew edition on 21 Sept 2007, but did not appear in the English edition. (Translation mine).
Le site Dor Hashalom propose la traduction d'un entretien avec un soldat de Tsahal.
En voici un court extrait:
J'ai eu honte de moi-même le jour où j'ai réalisé que tout simplement j'aime la sensation de puissance. Je n'y crois pas. Je ne pense pas que ça soit la bonne manière de traiter quelqu'un, certainement pas quelqu'un qui ne vous a rien fait, mais on ne peut pas s'empêcher d'aimer ça. Les gens font ce que vous leur dites. Vous savez que c'est parce que vous portez une arme. Sachant que si vous ne l'aviez pas, et que si vos camarades n'étaient pas à vos côtés, ils vous sauteraient dessus, vous battraient et vous poignarderaient à mort – vous commencez à aimer ça. Pas seulement aimer ça, mais vous en avez besoin. Et alors, quand soudainement quelqu'un vous dit « non » : qu'est-ce que tu veux dire « non » ? Où tu vas chercher cette chutzpah, d'oser me dire non ? Oublie un moment qu'en réalité je pense que ces Juifs sont fous, que je suis en faveur de la paix et que je crois que nous devons quitter les Territoires, comment oses-tu me dire non ? Je suis la Loi ! Je suis la Loi ici ! Et là tu commence à comprendre que ça te fait te sentir bien. Je me rappelle une situation précise: j'étais à un checkpoint temporaire, comme on disait: un checkpoint d'étranglement. C'était un tout petit checkpoint, très intime, 4 soldats, pas d'officier, aucune protection digne de ce nom, un truc à peine officiel, bloquer l'entrée d'un village. D'un côté un file de voitures qui veulent sortir, de l'autre une file de voitures qui veulent passer, une longue file, et tout à coup vous avez un pouvoir incroyable au bout des doigts, comme si c'était un jeu vidéo. Je suis là debout, je désigne quelqu'un, je te dis de faire ceci ou cela, et tu le fais, la voiture démarre, se rapproche, s'arrête devant moi. La voiture d'après suit, vous faites un signe, elle s'arrête. Vous commencez à jouer avec eux, comme un jeu vidéo. Toi tu viens ici, tu vas là-bas, comme ci comme ça. Vous bougez à peine, vous les faites obéir du bout des doigts. Un tel sentiment de puissance. Quelque chose qu'on ne peut ressentir nulle part ailleurs. Vous savez bien que c'est juste parce que vous avez une arme, que vous êtes un soldat, vous savez tout ça, mais c'est comme une drogue. Quand je m'en suis rendu compte … Je me suis observé afin de comprendre ce qui m'était arrivé. Et là il y a eu comme une grosse bulle qui a éclaté. Je pensais être immunisé, que quelqu'un comme moi, de réfléchi, d'instruit, un homme moral avec des valeurs éthiques, … toutes ces choses que je peux affirmer sans aucun doute à propos de moi-même. Tout d'un coup, je me rends compte que contrôler les gens est devenu ma drogue.
Video: Groupes terroristes juifs racistes d'Israël
Khalid Amayreh – The "Ubermench" and the "Untermench", Occupied East Jerusalem
The United States was asked in 1948 to recognize the « Jewish state », but offered recognition instead to the « state of Israel », just as the PLO does today
No surprises: Israel rarely prosecutes troops – Report
Fascism: Six Palestinians killed as Israeli army sweeps into central Gaza Strip
Provocation Alert: Israel unveils settlement plans on peace talks eve
Shades of Nazi Germany vs the Jews! Privatising Zionism
Zionazis in action: Sick Gazans beg for treatment on Israel's doorstep
For Israel's Arab Citizens, Isolation and Exclusion
Israël: le sondage qui dérange: Un quart des soldats israéliens en poste aux barrages de Cisjordanie déclare avoir assisté ou participé à des violences sur des Palestiniens
BREAKING RANKS: Refusing to Serve in the West Bank and Gaza Strip
Breaking the silence: Israeli soldiers talk about the occupied territories
Combattants for Peace
Captain Joe Cortina: my experience in the occupied terrirories