S'il vous plait maintenant, maintenant, Faites quelque chose pour nous aider, nous à Gaza!Alter-info
Par ISM-France

Montrez votre solidarité avec Gaza, organisez quotidiennement des marches aux chandelles jusqu'à la Levée du siège de Gaza !
Maintenant, Israël a tout fermé et tout coupé
Les gens dans Gaza vont mourir
Déjà 3 personnes sont décédées aujourd'hui dans des hôpitaux de Gaza suite aux coupures d'électricité.
98% de la Bande de Gaza est actuellement dans le noir.
Comme il n'y a plus d'électricité, tous les médias à Gaza vont fermer.
Israël fait tout ce qu'il peut pour que personne ne sache et ne voit ce qu'il fait à Gaza.
S'il vous plait, aidez-nous maintenant !
Descendez dans les rues pour demander la levée du siège, Maintenant !
Nous organisons tous les jours des marches aux chandelles et nous vous demandons de faire de même.
S'il vous plait, organisez ces marches et envoyez nous les photos, cela nous aidera beaucoup ici
Abu Ayoub, un Palestinien de Gaza
Comment peut-on rester sans bouger face à un tel drame : la première crise humanitaire au monde créée par l'homme ?
Comment les dirigeants du monde entier et en particulier les Israéliens peuvent-ils dormir la nuit en sachant ce qu'ils imposent à 1 million et demi de personnes dans la Bande de Gaza.
Aujourd'hui, on vient d'apprendre que l'unique centrale électrique de Gaza a cessé de fonctionner en raison de la suspension par Israël des approvisionnements en carburant, plongeant dans le noir et le froid, tous les habitants de la Bande côtière. Depuis 3 jours, Israël a également cessé de livrer les cargaisons de nourriture et de médicaments.
On a appris ce matin que Mahmoud Hussein, âgé de 18 ans, est décédé hier d'un cancer par manque de traitement approprié et après avoir essuyé 3 refus d'Israël suite à ses demandes pour aller se faire soigner à l'étranger.
Mahmoud est la 72ème personne à mourir d'une maladie grave et à qui Israël a refusé un traitement
Cette semaine, Israël a tué 38 Palestiniens et blessé des centaines d'autres.
Samedi, le rapporteur spécial de l'ONU pour les droits de l'Homme dans les territoires occupés, John Dugard, a dénoncé les crimes de guerre « lâches » commis par Israël dans la bande de Gaza lors des raids de la semaine écoulée
Quoi faire ?
• Répondez à l'appel des habitants de Gaza plongés dans le noir et organisez des veillées aux chandelles jusqu'à la levée du siège de Gaza
Des manifestations seront organisées dans le monde entier le 26 janvier et le 23 février prochain. Ci-dessous, l'appel du CPAS :
Action mondiale pour Libérer Gaza le 23 février 2008
Dans le cadre de ses activités contre l'occupation israélienne et le siège imposé à la Bande de Gaza, le Comité Populaire Contre le Siège (PCAS) organise une action mondiale pour Libérer Gaza, le samedi 23 février 2008.
Des actions et des manifestations pacifiques auront lieu dans tous les pays arabes, européens et américains.
Dans cet objectif, le PCAS recherche des partenaires, individus, militants pacifistes et organisations, dans les pays cités ci-dessus (et tous ceux qui désirent s'impliquer) .
Le PCAS accepte et apprécie tout aide concernant ces actions et souhaiterait assurer une coordination le plus vite possible.
Le PCAS se réjouit de votre coopération et de votre inscription à cette action
Freegaza.ps@gmail.com
http://www.freegaza.ps/english
• Faites pression sur vos députés en leur écrivant pour demander à votre gouvernement de s'écarter des positions israélo-américaines !
• Ecrivez aux délégations des différents pays aux Nations Unies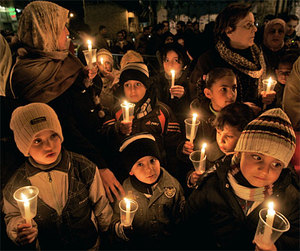 Non au terrorisme de l'État d'Israël contre les peuples Palestiniens et Libanais
Gaza, au seuil d'une tragédie humaine
Death and Darkness in Gaza, People are dying, Help us!
Israël ne fera pas l'objet d'enquêtes sur les génocides
Fundamental Jewish groups increase their attacks in Jerusalem, 17 Jan 2008
Bush gives green light for Israeli atrocities, 17 Jan 2008
Arab organ trafficking by Israelis
U.N.: Collective punishment for Gaza is wrong, Jan 18 2008
EU Commissioner against 'collective punishment' of Gaza, 21 jan 2008
State to review 2007 IDF assassinations in Gaza, W. Bank
Israeli Missiles Over Refuge Camps –  » Self Defense  » – Said The US State Department, 19 Jan 2008
Without Conscience: IDF official rejects claims of humanitarian crisis in Gaza, 20 Jan 2008
"Jews are effecting a holocaust in Gaza", 21 jan 2008
Collective Punishment in the Gaza Strip- a rogue states siege against a civilian population
European collusion in Israel's slow genocide
Israel cuts power to 1.5 million people in Gaza, 5 hospital patients die, food shortages a distinct possibility – and the world does not give a damn
Israeli Atrocity on Gaza Civilians
Gaza : Chaque Palestinien est une cible pour l'armée israélienne
Gaza : « Sortir le drapeau blanc ne suffira pas »
Les Palestiniens résistent au massacre et aux punitions collectives
UN: Despite Israel's promises, West Bank barriers have increased
Slaughter In Gaza
Video: Humanitarian impact of Israel's blockade of Gaza
BREAK THE SILENCE ON GAZA!
No light, no heat, no bread: stark reality for the powerless in Gaza
'Gaza food will run out by midweek'
Never again! European collusion in Israel's slow genocide
Protest at Gaza-Egypt border turns violent
Israeli actions in Gaza 'not a war crime', says EU official
Gaza sans électricité
« La gauche… est-ce que vous vous souvenez de la bataille contre l'apartheid? »
Plus d'électricité, pratiquement plus de pain et bientôt plus d'eau
EXCLUSION D'ISRAËL DE L'ONU
Death, despair in West Bank camp
This brutal siege of Gaza can only breed violence
This is why Israel wants to steal Gaza by making it impossible for Palestinians to live there: A must read
What is Israel really planning for Gaza?
Israeli Chief Rabbi: Ethnically cleanse the Gazans
UPDATED LISTING OF DEMONSTRATIONS TO BREAK THE SILENCE ON GAZA!
Montreal, Canada: Wednesday January 23, 5 PM, Phillips Square, Saint Catherine Street opposite La Baie department store (Metro McGill) and Friday January 25, 2:00 PM
De Maisonneuve Boulevard corner of MacKay Street, Montreal (Metro Guy-Concordia).
Fuite hors de Gaza… ou TRANSFERT VOLONTAIRE DE POPULATION?
Par Mike Whitney, 24 jan 2008
​​​​Oubliez tout ce que vous avez lu sur la « Grande Fuite » de Gaza. C'est entièrement des foutaises. La totalité de la farce a été conçue par un groupe de réflexion israélien, comme moyen de débarrasser la Palestine de ses autochtones. Voici un extrait du journal israélien Arutz Sheva, qui explique les véritables mobiles derrière l'incident:
​​​​Aryeh Eldad, un membre de la Knesset israélienne, salue l'exode arabe vers l'Égypte, comme la preuve que le transfert volontaire est effectivement une option.
​​​​« La gauche israélienne continue à prétendre que de telles choses, comme le transfert volontaire n'ont pas lieu, en ignorant tout simplement la réalité », a dit Eldad.
​​​​Transfert volontaire. Et voilà!