Notez que Michael Hoffman se trompe complètement sur les intentions du prof. Hannah Kasher, auteur de l'article « Rationales Justifying Collective Punishment of Amalek » (traduction: « Justifications invoquées pour le châtiment collectif d'Amalek »). Il ignore complètement qu'elle dénonce ces tentatives de justifier le génocide au nom de la foi juive, elle ne les prend pas des justifications légitimes! Est-il idiot ou malhonnête?
Lorsque l'Éternel, ton Dieu, après t'avoir

délivré de tous les ennemis qui t'entourent

, t'accordera du repos dans le pays que l'Éternel, ton Dieu, te donne en héritage et en propriété,

tu effaceras la mémoire d'Amalek de dessous les cieux

: ne l'oublie point.
Actualité and Anti-sionisme El Cristero 4:40 pm
"Il y a un temps pour le calme et il y a un temps pour le combat, et maintenant c'est le temps du combat. L'opération sera élargie autant que nécessaire"
Ehoud Barak , ministre israélien de la Défense
… Et les enflures de sionistes ne veulent pas gazer toute la bande de Gaza pendant qu'ils y sont ..? A vomir … Vivement que la promesse d'Ahmadinejad se concrétise …
On se demande aussi, parmi les 200 morts et les innombrables blessés, combien il devait y avoir de femmes et d'enfants …
Comme on disait au bon vieux temps du GUD :
"De Paris à Gaza : INTIFADA !!!"

Images rapprochées des attaques sur Gaza

Israel launches missile attacks on Gaza – 27 Dec 08
"The amount of death and destruction is inconceivable"
Safa Joudeh writing from the occupied Gaza Strip, Live from Palestine, December 27 & 28 2008
It was just before noon when I heard the first explosion. I rushed to my window and barely did I get there and look out when I was pushed back by the force and air pressure of another explosion. For a few moments I didn't understand but then I realized that Israeli promises of a wide-scale offensive against the Gaza Strip had materialized. Israeli Foreign Minister Tzpi Livni's statements following a meeting with Egyptian President Hosni Mubarak the day before yesterday had not been empty threats after all.
What followed seems pretty much surreal at this point. Never had we imagined anything like this. It all happened so fast but the amount of death and destruction is inconceivable, even to me and I'm in the middle of it and only a few hours have passed already.
Six locations were hit during the air raid on Gaza City. The images are probably not broadcasted on US news channels. There were piles and piles of bodies in the locations that were hit. As you looked at them you could see that a few of the young men were still alive, someone lifts a hand, and another raises his head. They probably died within moments because their bodies were burned, most had lost limbs, some of their guts were hanging out and they were all lying in pools of blood. Outside my home which is close to the two largest universities in Gaza, a missile fell on a large group of young men, university students. They'd been warned not to stand in groups as it makes them an easy target, but they were waiting for buses to take them home. Seven were killed, four students and three of our neighbors' kids, young men who were from the Rayes family and were best friends. As I'm writing this I can hear a funeral procession go by outside; I looked out the window a moment ago and it was the three Rayes boys. They spent all their time together when they were alive, they died together and now they are sharing the same funeral together. Nothing could stop my 14-year-old brother from rushing out to see the bodies of his friends laying in the street after they were killed. He hasn't spoken a word since. (more…)
ALTERINFO:
MASSACRE A GAZA : Au moins 140 morts dans une frappe aérienne israélienne à Gaza (VIDEOS)
Israël bombarde Gaza : près de 200 morts
Gaza : la responsabilité directe de la France et de l'Union Européenne
Barak menace d'élargir l'offensive militaire sur la Bande de Gaza
Palestine occupée: Le ministère de l'intérieur condamne l'holocauste sioniste contre les palestiniens à Gaza
L'article sionisme de l'encyclopédie des races et du racisme
Gaza : 280 morts, Israël menace de lancer une opération terrestre
Suspension d'Israël des institutions internationales ! Inculper Barak, Livni et Olmert pour crimes de guerre ! (M. Warschawski)
Trois cents morts, près de 1000 blessés à Gaza !
Un bilan très sanglant : 320 martyrs et plus de 1400 blessés après les massacres sionistes sauvages
Les navires sionistes agressent le bateau des solidaires sur les eaux maritimes internationales
USA demandent que nourriture et médicaments puissent atteindre Gaza
Gaza – Actualité Google (autres sources)
English:
Gaza Airstrikes: Did Israel target School Children?
International Witnesses Speak Out from Gaza
The Hanukah Massacre on Gaza – Judaism in its Finest Hour
The Zionist 'Beast' Attacks Gaza
Jewry's Crushing Silence On Gaza
Gaza: the logic of colonial power
Gaza: Where Civilians Become Targets
Robert Fisk: Leaders lie, civilians die, and lessons of history are ignored
Nir Rosen:
Once again, the Israelis bomb the starving and imprisoned population of Gaza. The world watches the plight of 1.5 million Gazans live on TV and online; the western media largely justify the Israeli action…

No medicine for the wounded, no food, an entire family killed, five mosques bombed
Eyewitness audio: « Every moment you are expecting another bomb »

« …they (Israelis) have got to pretend to be the victims. All they have to assist them in this task is a few measly rockets being lobbed into southern Israel to little effect….the argument will be heard that no nation can tolerate missile attacks being launched against its civilians…The racist logic of this argument is obvious enough: it will never occur to these people to ask why Palestinians should tolerate being occupied and confined, subject to regular killings and a military blockade…Israel's intransigence, brutality, recklessness, refusal to work with anyone or negotiate in any meaningful way, will continue to be projected onto its opponents for as long as Israel has the superior propaganda resources , and for as long as the colonial trope of 'native fanaticism' governs discursive responses to occupation and resistance. » Richard Seymour
« Since the Second Intifada broke out in 2000, Israelis have killed nearly 5000 Palestinians, nearly a thousand of them minors. Since fall of 2007, Israel has kept the 1.5 million Gazans under a blockade, interdicting food, fuel and medical supplies to one degree or another. Wreaking collective punishment on civilian populations such as hospital patients denied needed electricity is a crime of war. » Prof. Juan Cole

This bloodbath in Gaza is financed by American tax dollars. Are you still « Proud to be an American »?
The accomplice to crime is your own indifference



A Palestinian family flees their Gaza home as Israeli bombs fall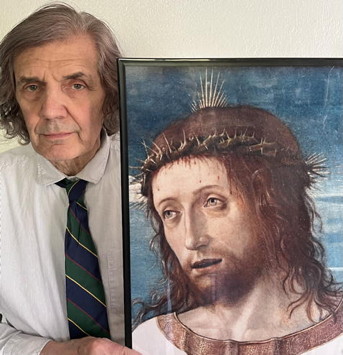 A Palestinian child wounded by an Israeli bomb awaits medical attention in Gaza




A « Hamas terrorist » in an orange sweater, wounded by an Israeli bomb in Gaza
« Could it be that America's 'Christian civilization' is actually a euphemism for a Zionist-masonic empire that mouths rhetoric about the Bible form time to time, but is otherwise the clandestine military and economic arm of the petrified Phariseeism that seeks to rebuild the Temple of Solomon in Jerusalem? »
– Michael Hoffman, Judaism Discovered, p. 669

Hey, they're only Palestinians
« Deir al Balah resident Hakeem abu Mansi, a 31-year-old farmer, and his 6-year-old son, Uday, were riding on a donkey cart carrying vegetables to the market when an Israeli missile struck nearby and killed them. Abu Mansi's cousin Nael described his relative as an illiterate and apolitical farmer. « He didn't know anything in life but his donkey and the vegetables he grew in a rented lot, » Nael said. Los Angeles Times,Dec. 29, 2008
« The death toll on the Palestinian side is at least 310. On the Israeli side two people have been killed by Palestinian rockets…Several young people were killed in Gaza City on Saturday in a busy street by an Israeli air strike. Seven of the dead were students at a UN vocational college for Palestinian refugees. Another 20 students were injured in the attack. » Rory McCarthy • The Guardian, December 29, 2008
Little international pressure to end Israeli bombings in Gaza
Egypt tricked Hamas into not evacuating
Le massacre de Jenin en Palestine (Film Interdit)
Les réactions internationales aux exactions d'Israël
Cynthia McKinney is on her way to Gaza!
McKinney relief boat hit by Israeli ship
URGENT! Israeli Navy Attacking Civilian Mercy Ship! TAKE ACTION IMMEDIATELY!
Israeli Navy attacks and wounds Dignity in International Waters
On Tuesday, December 30, at 5 a.m., several Israeli gunboats intercepted the Dignity as she was heading on a mission of mercy to Gaza. One gunboat rammed into the boat on the port bow side, heavily damaging her. The reports from the passengers and journalists on board is that she is taking on water and appears to have engine problems. When attacked, the Dignity was clearly in international waters, 90 miles off the coast of Gaza.
The gunboats also fired their machine guns into the water in an attempt to stop the mercy ship from getting to Gaza.
Webmaster's Commentary:
Shades of the Lusitania!
Only this time, there was no ammo on board!
With a US Congresswoman aboard Dignity, it will be interesting to see how the whores in Washington (and Kailua) spin this as anything but a serious breach of international and diplomatic protocols by Israel. If the US Government fails to respond, it will signal to the world that Israel does indeed have a stranglehold on the government of the United States.
Look at it this way. If a Navy vessel belonging to an Arab nation intentionally attacked a mercy ship carrying a US Congresswoman, how would the US media and government react?
Please repost this story everywhere you can!
UPDATE: Israel's official comment, being parroted all over the US Corporate media as I type this, is that Dignity rammed the Israeli gunboat! Of course, this lie will not survive when the photos and videos taken by the journalists on board Dignity reach shore, but that is the claim Israel is making; that tiny little Dignity chased down and rammed a warship!
UPDATE 2: Aware that video of the ramming will soon reach the internet Israel has now changed its story and is now saying that they did not know it was an aid ship when they rammed it.
This is, of course, the same lame excuse Israel made following their attack on the USS Liberty
Maybe the world needs to take away Israel's weapons until they can learn to choose their targets more carefully.
L'Assemblée générale de l'ONU a examiné les 24 et 25 novembre 2008 le rapport du Secrétaire général sur la situation en Palestine.

Le président de l'Assemblée, Miguel d'Escoto Brockmann (Nicaragua), a fait de ce débat une question de principes. Ouvrant la séance, il a déclaré :

« Je presse la communauté internationale d'élever sa voix contre la punition collective de la population de Gaza, une politique que nous ne pouvons pas tolérer. Nous exigeons la fin des violations massives des Droits de l'homme et appelons Israël, la Puissance occupante, à laisser entrer sans délai les ressources humanitaires et autres dans la Bande de Gaza. J'ai parlé ce matin de l'apartheid et de comment le comportement de la police israélienne dans les Territoires palestiniens occupés semble si proche de celui de l'apartheid, à une époque révolue, un continent plus loin. Je crois qu'il est très important que nous, aux nations Unies, employons ce terme. Nous ne devons pas être effrayés d'appeler les choses par leur nom. Ce sont les Nations Unies après tout qui ont élaboré la Convention internationale contre le crime d'apartheid, explicitant au monde entier que de telles pratiques de discrimination institutionnelle doivent être bannies lorsqu'elles sont pratiquées. Nous avons entendu aujourd'hui un représentant de la société civile sud-africaine. Nous savons que partout dans le monde des organisations de la société civile travaillent à défendre les Droits des Palestiniens, et tentent de protéger la population palestinienne que nous, Nations Unies, avons échoué à protéger. Il y a plus de 20 ans, nous, les Nations Unies, avons pris le relai de la société civile lorsque nous sommes convenus que des sanctions étaient nécessaires pour exercer une pression non-violente sur l'Afrique du Sud. Aujourd'hui peut être, nous les Nations Unies, devons envisager de suivre l'exemple d'une nouvelle génération dans la société civile, qui appelle à une campagne non violente similaire de boycott, de désinvestissement et de sanctions pour faire pression sur Israël. J'ai assisté à un grand nombre de réunions sur les Droits du Peuple palestinien. Je suis stupéfait que l'on continue d'insister sur la patience alors que nos frères et nos sœurs palestiniens sont crucifiés. La patience est une vertu à laquelle je crois. Mais il n'y a aucune vertu à être patient avec la souffrance des autres. Nous devons agir avec tout notre cœur pour mettre fin aux souffrances du Peuple palestinien (…) Je tiens également à rappeler à mes frères et sœurs israéliens que même s'ils ont le bouclier protecteur des États-Unis au Conseil de sécurité, aucun acte d'intimidation ne changera la résolution 181, adoptée il y a 61 ans, appelant à la création de deux États. Honteusement, il n'y a pas d'État palestinien que nous puissions célébrer aujourd'hui et cette perspective est plus lointaine que jamais. Quelque soient les explications, ce fait central tourne l'ONU en dérision et nuit gravement à son image et à son prestige. Comment pouvons-nous continuer ainsi ? ».
Réseau Voltaire
GAZA, 1 jan 2009 (AFP) – Le bilan des Palestiniens tués dans la bande de Gaza depuis le début des raids israéliens samedi dernier a atteint jeudi les quatre cents, selon des sources hospitalières dans le territoire.

« Quatre cents Palestiniens ont été tués et près de 2.000 ont été blessés », a déclaré à l'AFP le directeur des urgences de Gaza, le Dr Mouawiya Hassanein, après un nouveau décès. L'offensive aérienne israélienne « plomb durci » est la plus meurtrière jamais lancée par Israël dans les territoires palestiniens depuis leur occupation en juin 1967. Elle vise le mouvement islamiste Hamas, qui contrôle la bande de Gaza depuis juin 2007, et les groupes armés tirant des roquettes contre Israël. Mais un quart des victimes sont des civils, dont des dizaines de femmes et d'enfants, selon des rapports de l'ONU. Quatre Palestiniens, dont une femme, ont été tués et au moins une quarantaine blessés par des raids israéliens sur la bande de Gaza dans la nuit de mercredi à jeudi, a-t-on appris de sources médicales palestiniennes.
The Lie That Justifies Mass Murder: "Hamas Hit Us First"
It was Israel, not Hamas, who broke the six-month peace truce
By Charles E. Carlson — MP3
The White House's press release is exactly the same as the Zionist Israel position, blaming the victims. It is imperative that we know why. Here is the official Israeli line, directly from Washington:
"It was "completely unacceptable" for Hamas, which controls Gaza, to launch attacks on Israel after a truce lasting several months, said Gordon Johndroe, a spokesman for the National Security Council. "These people are nothing but thugs, so Israel is going to defend its people against terrorists like Hamas that indiscriminately kill their own people."
The reason the US Administration parrots Zionist Israel's story is that there is a common agenda that calls for more war in the Middle East. As we have written for some years, ours is a war-based economy, and Israel plays a large part in it because the USA's targeted enemy is Islam.
War, to those who direct our course from above and beyond presidential politics, is not about religion, but is a vehicle to force economic growth where there is now stagnation. Broader, bigger and more permanent wars is a part or the "Dilution Solution" planned to save our economy, much as World War II was thought by many to be a planned solution to the "Great Depression."
We Hold These Truths opposes this policy, which will end only when citizens demand it.
The USA, also, uses Israel to further the war agenda. Israeli politicians willingly play their part in the US war schemes, that necessitates many secret meetings between the two. Israeli citizens will eventually be blamed for wars in the Middle East and could one day become the victims.
Zionist politicians have their own political reasons for the unreasonable brutality which has been discussed in the Arab press. Israel wants to regain political control over the Philistines, so to their way of thinking, Hamas must go. This writer uses the biblical "Philistine" in place of the popular "Palestinian" to emphasize that Arabs are the historic occupants of the land, and they presently do not even have a state. Paradoxically, they are like the unarmed David, a stateless people wondering in the land of the Philistines, but with the slingshot, versus Israel, the militarist Goliath. (more…)
Mise à jour:
Youtube censored this video – PALESTINE RIP