Pour la énième fois, George Brown a annoncé l'établissement d'un « nouvel ordre mondial ».
Mais ce n'est pas tout: le G20 consacrera plus de mille milliards (un billion!) de dollars à ce nouvel ordre mondial pour résoudre la crise!
Yahoo –
Mille milliards de dollars
C'est la somme que le G20 s'est engagé à débourser pour lutter contre la crise et fonder un « nouvel ordre mondial ».
Voici, en direct, les premières images du monde de paix et d'amour instauré par le nouvel ordre mondial.
Voyez comment tout le monde il est beau il est gentil. L'ère messianique est à nos portes!
Toutes les raisons sont bonnes pour imposer le gouvernement mondial aux nations rétrogrades. Voyez ici nos bons scientifiques de la bombe A se métamorphoser en « activistes politiques » pour un gouvernement mondial. Quelle grandeur d'âme!
« In March 1946, seven months after World War II ended in fiery atomic bursts over Hiroshima and Nagasaki, the Federation of American Scientists published One World or None
, an eighty-six-page paperback that immediately became a national bestseller. »
« It remains a document of intense cultural interest for the way it epitomizes… the political activism of the atomic scientists, the post-Hiroshima interest in
world government
and international control of atomic energy, the manipulation of fear. »
— Paul Boyer, By The Bomb's Early Light, University of North Carolina Press, 1994
Mais quelle sorte de
monstre haineux
pourrait bien s'opposer à l'unification du monde et à la paix universelle?
Il est clair que ces individus antisociaux devront être éduqués aux vertus libératrices de l'Universel!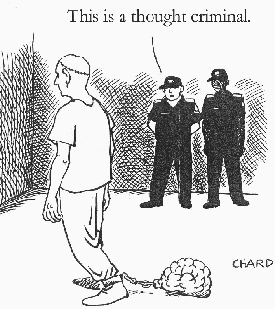 Sans oublier ces psychopathes incurables qui contestent l'incontestable!
Il est à noter que ces propos scandaleux sont interdits au Canada et constituent une violation des droits protégés à l'article 13 de la Loi canadienne sur les droits de la personne (dispositions sur la propagande haineuse sur internet) et/ou également à l'article 319 du Code criminel, qui interdit la promotion de la « haine ». L'Agence canadienne des services frontaliers, L'ACSF, précise que cette décision d'interdiction suit une évaluation du contenu de la publication suivant la norme énoncée au sous-article 320(8) du Code criminel.« 
Il faut punir leurs propos haineux car ils cherchent à détruire le monde libre.
Par définition, l'Axe du Bien fait toujours le bien lorsqu'il combat pour défendre la démocratie partout à travers le monde.