Anti-sionisme and Histoire and Médias and Uncategorized Charles Onana, congo, Cynthia McKinney, etats-unis, Gaza, georgie, hutus, israel, palestine, rwanda, sionisme, tutsis, usa El Cristero 8:00 am
Cynthia McKinney, 53 ans, de confession Catholique, est la première élue afro-américaine de Géorgie. Elle fut la candidate du Parti Vert à la présidence des Etats-Unis.
Engagée pour la justice et pour la Paix, elle vient de publier un article relatant le fait qu'un groupe de "préteurs de l'ombre", incluant George Soros et Alan Greenspan, essaie de déstabiliser l'économie mondiale et d'y installer un "Nouvel Ordre".
Elle cite l'auteur Matthias Chang, avocat malaisien, ancien conseiller du Premier Ministre de son pays :
"Une politique de "chaos contrôle" sera mise en œuvre et nous assisterons, dans les grandes villes des Etats-Unis, du Royaume-Uni et d'Europe, a des scènes de guerre civile orchestrées par les services de renseignements, entre les blancs et la population immigrée."
VOIR SUR : http://www.opednews.com/articles/The-Economy-From-Soros-an-by-Cynthia-McKinney-090420-68.html
Cynthia McKinney s'était déjà maintes fois fait remarquer à d'autres reprises. Remises en question de la version officielle du 11 Septembre, quelques petits contentieux avec l'AIPAC suite à des déclarations très antisionistes de son papa à la télévision (ce qui lui vaudra une défaite aux élections de 2002), une critique virulente envers la réponse du gouvernement sur le dossier de l'ouragan Katrina, opposition active à la guerre en Irak et à l'interventionnisme américain en général, ses appels à laisser tranquilles l'Iran et la Russie, sa révolte contre le Patriot Act, sa dénonciation du pillage de l'Afrique, son coté social radical sur le plan économique …
Le 30 Décembre, 2008, McKinney a été à bord d'un navire qui tenta d'entrer dans la bande de Gaza – dont la zone zone côtière a été déclarée "zone militaire fermée" par Israël – lors d'une mission humanitaire par le Free Gaza Mouvement de Chypre. Le bateau contenait des vivres et des médicaments. Une collusion "accidentelle" se produisit avec un bateau israélien et le navire a été contraint d'accoster au Liban car il prenait de l'eau …
AUDIO INTREVIEW: THE INFORMATION UNDERGROUND INTERVIEWS CYNTHIA MCKINNEY, BLOWS THE LID OFF OF THE ISRAEL LOBBY
Excellent interview with Cynthia McKinney in which she explains that she supports an independent investigation into 9/11.
http://theinfounderground.com/archives/TiU.Radio.30th.April.09-guest.Cynthia.McKinney.mp3
Le Lobby a fait la vie dure à Cynthia McKinney…
Elle explique l'étendue de leur pouvoir aux États-Unis, ainsi que leur infiltration des mouvements des droits civiques. Il y a longtemps que Cointelpro a infiltré tous les mouvements civiques, de « gauche » comme de « droite ». Ce qu'on ne dit jamais, c'est le rôle prépondérant de la ligue antidiffamation dans ces opérations de surveillance, infiltration et sabotage des mouvements civiques.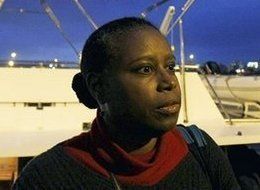 McKinney réplique aux forces israéliennes qui ont attaqué son bateau