Les « birthers » affirment détenir un certificat de naissance prouvant qu'Obama est né au Kenya.Non seulement d'agit-il d'un faux document, mais en plus elle est retournée en Israël immédiatement après avoir présenté sa fraude.
En Israël, cette femme est une vedette montante du néoconservatisme!
Elle sera sûrement bien récompensée lorsqu'elle aura rempli sa mission qui consiste à semer le chaos aux USA.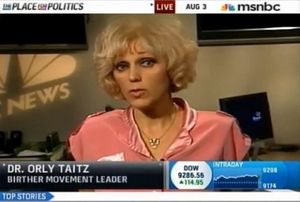 Remarquez l'instant où elle traite le présentateur de « nazi ». Un exemple symptomatique.
Jewish American propagandist behind 'birther' movement says Obama's policies are 'clear and present danger to Israel'
« L'arrestation des rabbins trafiquants d'organes est due à l'antisémitisme » et « c'est la faute au président Obama! »
Minister Herschkowitz: Some of Obama's policies are 'borderline anti-Semitic'

Pour le Lobby, Obama menace la survie d'Israël
Judas Goats — The Enemy Within: The Shocking Story of the Infiltration and Subversion of the American Nationalist Movement (2005), Michael Collins Piper
Le lobby Juif américain en colère
August 11th, 2009
La décision de Barack Obama de donner la "Medal of Freedom" à l'ancienne présidente de la république d'Irlande, Mary Robinson, a été vécue comme une provocation par les représentants Juifs du Congrès américain et les lobbys sionistes internationaux. L'irlandaise, de confession catholique, est en effet une critique résolue de la politique d'Israël.
Mary Robinson a en plus le malheur d'avoir été membre de la commission de l'ONU à Durban en 2001 ou les nations assemblées avaient couvert Israël d'un flot d'injures du fait de ses crimes en Palestine occupée. Le Juif Abraham Cooper du Centre Simon Wiesenthal est en pointe de la polémique, allant jusqu'à faire porter la responsabilité des évènements de la deuxième conférence ou le lobby Juif avait imposé aux diplomates européens le départ de la salle en signe d'opposition à l'Iran. On se souvient notamment de la fête organisée par le milliardaire Juif Bernard Henri Lévy sur le parvis avec le gratin sioniste international.
Mary Robinson a réagi à l'antenne d'une radio irlandaise: "Ils essaient de baîllonner ceux qui dénoncent les exactions israéliennes à Gaza !".
Le Congrès Juif Mondial ne reste pas passif. Il a ainsi lourdement chargé Mary Robinson, lui reprochant notamment la "comparaison des souffrances palestiniennes avec celle des victimes de la "Shoah" ".
mise à jour 8 juin 2010:
The founder of the birther movement [Israeli O.Taitz!] sought Republican Jewish support for her candidacy for California secretary of state
Republican Jewish Coalition Hosts Birther Taitz As 'Special Guest' At Annual Bash
'Birther queen' Orly Taitz may actually win California GOP primary