THE GIANT WITH FEET OF CLAY
RAUL HILBERG AND HIS STANDARD WORK ON THE « HOLOCAUST »
BY JÜRGEN GRAF (
PDF
)
(Voir aussi Interview with Jurgen Graf sur codoh.com)
Encore plus intéressant:
Raul Hilberg, le plus fameux historien de l'Holocauste, rejetait totalement la victimisation dans laquelle se complaît sa communauté, en particulier depuis l'Holocauste. Ainsi il ne pouvait tolérer l'hystérie d'une Hanna Arendt. Même Gershom Sholem a dû se distancier d'elle pour cette même raison.
Hilberg a même fait l'éloge de Norman Finkelstein et de son livre The Holocaust Industry pour son impressionnante capacité d'analyse.
A Conscious Pariah: On Raul Hilberg (Page 3)
by Nathaniel Popper
(…)Arendt's old friend Gershom Scholem broke with her and wrote a public letter in which he questioned her portrayal of the Jews: « In your treatment of the problem of how the Jews reacted to these extreme circumstances–to which neither of us was exposed–I detect, often enough, in place of balanced judgment, a kind of demagogic will-to-overstatement. »(…)
Hilberg, like Arendt, remained largely estranged from collective Jewish life. He continued to live in Vermont, far from Jewish havens like New York City, and was twice married to non-Jews. He avoided synagogue and relished taking positions that antagonized many Jews. For instance, he rallied to the defense of Norman Finkelstein, who was lambasted for his book The Holocaust Industry, which argued that American Jewish institutions have exploited the memory of the Holocaust, turning it into shmaltz for financial and political gain. Peter Novick called Finkelstein's work « a charge into darkness that sheds no light. » Hilberg not only praised Finkelstein's « analytical abilities » but also noted his strength in defying the establishment. In letters and interviews, Hilberg attacked both the community of Holocaust scholars in the United States and the Jewish organizations that had sprung up to memorialize the Holocaust. What he had warned the Holocaust Memorial council against had come to pass. After drawing such a stark picture of the Jewish collapse in The Destruction of the European Jews, Hilberg was horrified that many American Jews would willingly and eagerly link themselves with the history of victimhood. « Where is our dignity? » he asked an editor at Knopf in 1988. (…)
L'anniversaire de l'Allemand Reinhold Elstner qui s'est immolé en 1995. Aujourd'hui est un jour heureux: Ernst Zündel fête ses 71 ans alors qu'il est enfin en liberté. Mais demain c'est à un autre anniversaire qu'il faudra penser et à un autre homme d'honneur: l'Allemand Reinhold Elstner. Qui était-il? Dans le « In Memoriam » de ses « Ecrits révisionnistes (1974-1998) », le Pr Faurisson écrivait: « Je dédie aussi ces pages à l'Allemand Reinhold Elstner qui, à Munich le 25 avril 1995, s'est immolé par le feu en signe de protestation contre « le Niagara de mensonges » déversé sur son peuple; la police allemande a, sur ordre, confisqué les bouquets déposés à l'endroit du sacrifice et procédé à l'interpellation de ceux qui, par ce geste de compassion, témoignaient de leur propre souffrance. » Ancien combattant allemand de la Deuxième Guerre mondiale, Reinhold Elstner avait laissé une lettre expliquant les raisons de son acte atroce (que la presse allemande, dans sa couardise, a superbement ignorée). Voici cette lettre, traduite, hélas, à partir de la version anglaise réalisée par Hans Schmidt: gardons présente à l'esprit l'idée que son auteur allait, dans les heures qui allaient suivre, se donner la mort.

The Heretics' Hour: Auschwitz & Ellis Island
Today's show is in two parts:
In the first half, Carolyn introduces her new book Auschwitz–The Underground Guided Tour: What the Tour Guides Don't Tell You at Auschwitz-Birkenau, a 48-page deconstruction of a "death camp." Ordering instructions can be found at www.carolynyeager.com
In the second half, Friedrich Paul Berg joins Carolyn to discuss the crematoria and disinfection chambers at Ellis Island–surprisingly similar to what we see at Auschwitz. Pictures and text can be found at his website, www.nazigassings.com
13 MB / 32 kbps mono / 0 hour 56 min.
Contact Carolyn:
carolyn
carolynyeager.com
http://reasonradionetwork.com/wp-content/plugins/audio-player/player.swf
Forfait touristique britannique : Auschwitz, strip tease, bière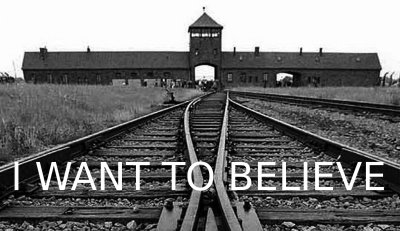 Selon l'agence de presse sioniste [Guysen, ndlr], deux agences de voyage britannique proposent actuellement un forfait touristique particulier aux jeunes britanniques qui veulent enterrer leur vie de garçon : visite de la ville polonaise de Cracovie, puis du camp d'Auschwitz et enfin, strip teaseuses et bière à volonté pour terminer « agréablement » la nuit…
SOURCE : http://www.voxnr.com/cc/dep_mondialisme/EkylyupyuEzcOCBFnh.shtml
Auschwitz, strip tease, bière, enterrement de la "vie de garçon" … : la religion OGZidentale ! Comme s'il n'y avait rien de plus intéressant à voir et à faire en Pologne …

Grandir sous le spectre de la Shoah
Arthur Topham (radicalpress.com) et la lute de B'Nai Brith Canada contre la haine
Understanding Anti-Semitism: Why Do Some People Dislike Jews
The Persecution of Revisionists: The Holocaust Unveiled
Legal Repression in Germany-Germar Rudolf's Story
The Great Holocaust Trial : Ernst Zündel's 1st trial, Toronto, 1984/85
Jews, Communism and Civil rights (chapt.4 from « Jewish Supremacism »)
Jewish Media Supremacy (chapt.5 from « Jewish Supremacism »)
A Holocaust Inquiry, by David Duke (chapt.12 from « Jewish Supremacism »)
Disponibe via webarchive seulement:
http://web.archive.org/web/20000423110431/http://barnesreview.org/auschwitz.htm
The Holocaust is Over


–
Enough is Enough!
A thought-provoking new anthology edited by English historian Vivian Bird casts stark new light on what really happened at Auschwitz during World War II. As the evidence shows, the official « facts » just don't add up.

In the summer of 1997 I was invited to speak at a California college seminar about my book, Final Judgment, which contends that Israel's intelligence agency, the Mossad, played a front-line role in the JFK assassination conspiracy alongside the CIA. Almost instantaneously I was hit by a media barrage orchestrated by the Anti-Defamation League (ADL) of B'nai B'rith, a lobby for Israel.

The ADL told the press I was « a Holocaust denier » and, for that reason alone, I should not be allowed to discuss my book (which, incidentally, never once mentions the Holocaust). Evidently the ADL was determined to shift the focus away from what my book really does address, so they determined the best way to discredit me was to smear me as « a Holocaust denier » (which I am not).

The ADL's tactic succeeded, setting off a firestorm of opposition-a « holocaust, » so to speak-and the seminar was canceled, illustrating one point most clearly: The Holocaust has become a powerful propaganda tool for the state of Israel.

And what is important to remember is this: What did-or did not-happen at the Auschwitz concentration camp in Poland is, in fact, integral to the foundation of the basic story of the Holocaust.

Auschwitz is central to the Holocaust legend. If it can be proved that the official stories we have been told about Auschwitz are not true, the entire fabric of the Holocaust ultimately has to unravel. What, then, did happen at Auschwitz?

On April 18, 1945, in the immediate aftermath of World War II, The New York Times reported that 4 million people died at Auschwitz. This « fact » was reported over and over again during the next half-century, without being questioned.

However, on January 26, 1995, commemorating the 50th anniversary of the Auschwitz liberation, both The Washington Post and The New York Times itself reported that the Polish authorities had determined that, at most, 1.5 million people (of all races and religions)-not « 4 million »-died at Auschwitz of all causes, including natural causes.

Yet this was not the first time this drastically reduced figure appeared in the major media. Almost five years previously, on July 17, 1990, The Washington Times reprinted a brief article from The London Daily Telegraph. That article stated:

Poland has cut its estimate of the number of people killed by the Nazis in the Auschwitz death camp from 4 million to just over 1 million . . . The new study could rekindle the controversy over the scale of Hitler's « final solution » . . .

Franciszek Piper, director of the historical committee of the Auschwitz-Birkenau Museum, said yesterday that, according to recent research, at least 1.3 million people were deported to the camp, of whom about 223,000 survived.

The 1.1 million victims included 960,000 Jews, between 70,000 and 75,000 Poles, nearly all of the 23,000 Gypsies sent to the camp and 15,000 Soviet prisoners of war.

Shmuel Krakowsky, head of research at Israel's Yad Vashem memorial for Jewish victims of the Holocaust, said the new Polish figures were correct: « The 4 million figure was let slip by Capt. Rudolf Hoess, the death camp's Nazi commander. Some have bought it, but it was exaggerated. » . . . [P]laques commemorating the deaths of 4 million victims were removed from the Auschwitz museum earlier this month.

This detail of history was intriguing, since, after all, history books had said for a generation that of the 6 million Jews who died during the Holocaust, 4 million died at Auschwitz alone. Thus, if the new facts were correct, the actual overall number of Jewish Holocaust victims had to be considerably less than the much-talked-about figure of 6 million. Put simply: subtract the former 4 million Jews dead at Auschwitz from the popular 6 million, and that leaves 2 million Jews dead. Simple math-and a controversial conclusion indeed.

More recently, Walter Reich, former director of the U.S. Holocaust Memorial Museum in Washington, jumped into the debate over Auschwitz. On September 8, 1998, The Washington Post published an article by Reich in which he addressed Jewish outrage over a group of elderly Polish nuns who wanted to place crosses in memory of Christians who died at Auschwitz. Reich was responding to what he described as a « well-meaning » August 31, 1998 editorial in The Post about the affair.

Reich commented that the editorial « illustrates how old fictions about Auschwitz have been accepted as facts-fictions that have been used repeatedly to distort the camp's history. » Evidently, the Post had forgotten its own report on the Auschwitz numbers that it had published three years previously and chose, instead, to repeat « old fictions . . . accepted as facts. » What, then, were those « old fictions . . . accepted as facts »? Here's what Reich had to say:

The Post identified Auschwitz-Birkenau as the death camp « where 3 million Jews and millions of others were murdered by the Nazis. » Recent scholarship by a Polish historian has put the number of deaths there conservatively at about 1.1 million, with other estimates ranging to about 1.5 million. Approximately 90 percent of the dead were Jews.

The Post's numbers may have been derived in part from the inflated estimate-originally of Soviet origin and endorsed by Polish authorities after the war-of about 4 million dead. This number, and other numbers of similar magnitude, were repeated so often that they came to be accepted by many as true, even though historians in Poland and elsewhere have revised this number down considerably.

Honest people find no problem with Reich's call (in the essay) for « only words of accurate history » in reportage about Auschwitz. Today, a major first step toward « only words of accurate history » is the release of a new anthology on Auschwitz, assembled by English writer Vivian Bird.

Auschwitz: The Final Count examines the « new » reports in the mainstream media (outlined above) and provides essential additional facts that must be considered in order for the full story of Auschwitz to finally be told. Bird's 109-page book is a compendium (supplemented with commentary by Bird) of four complete, previously published works relating to Auschwitz and the Holocaust.

The book features a fascinating introduction by Bird exploring the little-known but thoroughly documented phenomenon in which the numbers of the official Auschwitz « death toll » have plummeted from a « high » of 9,000,000 dead to a rock bottom of 73,137 (of whom 38,031 were Jews). And readers will note that of the 26 widely varying figures cited by Bird, all come from a variety of « responsible » and mainstream sources. No figure Bird cites comes from any source accused of « denying the Holocaust, » whatever that means.

Clearly, the number of people who died at Auschwitz is central to understanding what did happen there. But the figures keep changing. If Bird's book proves anything, it proves that.

However, there's much more to Auschwitz than the changing numbers. The essays in Bird's volume each provide a uniquely different facet to the overall problem:

* The Auschwitz Lie by Thies Christophersen is an insider's view of Auschwitz. The German author, an agrarian, was sent to Auschwitz, not as an inmate, but as a scientist researching the development of synthetic rubber. Working side by side with inmate staff, Christophersen saw, firsthand, day-to-day life at Auschwitz and, in postwar years, was astounded to hear the stories of « gassings » and all the tall tales that we today associate with Auschwitz.

His essay, The Auschwitz Lie, first published in German in 1973, caused great consternation. However, Christophersen would not back down, and, as a consequence, he was variously fined or imprisoned for daring to tell his eyewitness account. Those accustomed to « docu-drama » renditions of Auschwitz will find a new perspective in Christophersen's report.

* Zyklon B, Auschwitz, and the Trial of Dr. Bruno Tesch is the second feature in Bird's anthology. Written by a veteran chemist, the late Dr. William Lindsey, this is a carefully documented demolition of the war crimes trial of Dr. Tesch, who was ultimately convicted and hanged. The unfortunate Tesch was co-owner of a company which bought in bulk (from the manufacturers) and then supplied (as the middleman) to the German concentration camp authorities the now-infamous Zyklon B pesticide.

Although we have been told Zyklon B was used to gas millions of Jews to death, Lindsey shows that the compound was used as an insecticide and disinfectant to delouse not only the Auschwitz inmates but also SS members running the camp and to fumigate their clothes, bunkhouses etc. Zyklon B, in short, was used to maintain and sustain human life-not to end it. Lindsey's essay examines the fraudulent evidence and testimony in the Tesch trial and eviscerates another critical element of not only the Auschwitz legend, but of the Holocaust story as a whole.

* Inside the Auschwitz « Gas Chambers » is by Fred A. Leuchter, a spunky American engineer once known as perhaps the foremost U.S. authority on the mechanics of judicial execution. Leuchter describes how he conducted scientific experiments on the structures at Auschwitz that court historians say were used to exterminate vast numbers of people-the infamous gas chambers. Leuchter concluded no such gassings could have ever taken place as the official story describes. For daring to present his findings-the only known such study carried out at the gas chambers-Leuchter was relentlessly harassed. But his point was made. His findings cut right to the core of the matter of Auschwitz.

* The final essay is Why Is « The Holocaust » Important? written by TBR publisher Willis A. Carto, who points out that the Holocaust has become a lucrative industry unto itself, used as a highly effective political tool to not only extort billions of German and American taxpayer dollars to Israel but also to force the United States to conduct its foreign policy in a fashion beneficial to Tel Aviv (and contrary to U.S. national interests). Carto's essay puts the Holocaust in perspective.

Thus, there's clearly much more to the story of Auschwitz and the Holocaust than meets the eye. The facts assembled paint a perhaps much more interesting story about what really did happen.

Bird's book will, in many ways, very much serve as the final judgment on Auschwitz. Auschwitz: The Final Count will outrage many-but as Bird puts it: « For those who care to investigate the facts-not the myths-about the events of World War II, this volume should put at least some of the major legends of the Holocaust to rest. »

Michael Collins Piper is the author of Final Judgment: The Missing Link in the JFK Assassination Conspiracy and Best Witness. He is a keen student of historical intrigue and hidden political motivations.