Mise à jour 13 septembre 2010:
Le SCRS ne dit pas non à la torture
Le SCRS utiliserait des renseignements obtenus grâce à la torture
Torture: le SCRS fermerait les yeux
—————
Les critiques de la guerre en Afghanistan s'amplifient
Canada: les documents sur la torture de détenus afghans seront étudiés
Armée canadienne: augmentation vertigineuse des infractions Depuis dix ans (…) le nombre de procès sommaires intentés contre des militaires a fait un bond vertigineux de 346 %. C'est ce qui ressort des dix derniers rapports annuels du juge-avocat général sur l'administration de la justice militaire… Une telle augmentation coïncide notamment avec le déploiement des troupes en Afghanistan. Plusieurs infractions graves ont d'ailleurs été commises à Kandahar ou au Canada par des militaires qui revenaient d'une mission à l'étranger.
Jugement de la Cour fédérale: le SCRS n'a pas de mécanisme efficace afin de s'assurer qu'aucun renseignement obtenu par la torture n'est utilisé dans son travail
Study: CIA doctors 'gave green light to torture'
Intelligence Agencies Employ Physicians to Torture Detainees
Les États-Unis seraient prêts à négocier avec les talibans
Les Britanniques entameraient leur retrait d'Afghanistan dès 2011
Kandahar: les Canadiens passent le relais aux États-Unis
Les Canadiens cèdent le commandement de Kandahar
VIDEO: « Current Government Worse than Taliban »: Report on Afghanistan
Almost Nine Years Later: Top U.S. officer warns Afghan war will get worse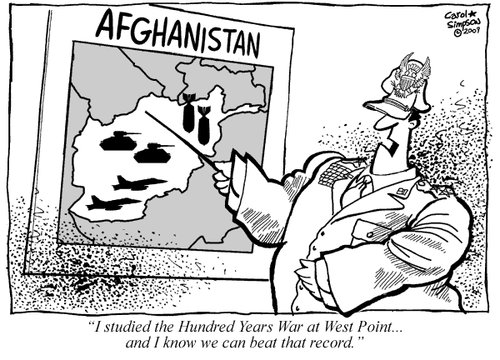 Psychopathic General says Killing Afghans "Fun"
VIDEO – Afghan heroin 'sponsored' by West?
A Chabad rabbi has become the first rabbi since World War II to join the Canadian armed forces full time
Canada's Defense Department computers used to change Wikipedia site

Afghanistan: Obama réaffirme que le début du retrait est pour l'été 2011
Afghanistan: North Atlantic Military Bloc's Ten-Year War In South Asia
Sur ce blog:
Guerre en Afghanistan: guerre pour Israël
L'armée et les services de renseignements canadiens coupables de torture en Afghanistan
Torture supervisée: le gouvernement canadien remet plus de 2500 documents censurés
Le Canada en Afghanistan: le gouvernement Harper synonyme de contrôle de l'information, censure et propagande

Crimes de guerre et torture par le régime canadien en Afghanistan
Afghanistan: guerre et mensonges impérialistes
L'armée canadienne est coupable de torture en Afghanistan
La science et le futur de la torture