VIDEO –
David Irving Lecture: Churchill's Secret Communications With Roosevelt
Hitler contre Churchill, Roosevelt et les franc-maçons
Hitler le Pacifiste déplorait le bellicisme de Churchill le Juif Va-t'en-guerre!
Adolf Hitler: We shall crush the Freemasons!
Hitler responds to Churchill's decision to target civilians
Adolf Hitler: One day there will be no more Churchill!
Adolf Hitler: Our enemies today face the entire German Volk!
« Et l'objet de la haine était bien les Allemands en tant que peuple, non pas « les nazis », comme on aime souvent à le faire croire aujourd'hui. « Les Anglais ne combattent pas Hitler », avait remarqué l'ambassadeur américain, Joe Kennedy, « mais le peuple allemand » (p.189). » David Irving et Churchill [PDF]

The Heretics' Hour: The Roosevelt Legacy on World History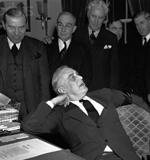 Dr. Andreas Wesserle discusses with Carolyn the malign influence of "Frankie" Roosevelt on 20th Century power politics. Topics include:
Teddy and Franklin Roosevelt shared a "flighty" mentality and competitive view of Germany;

War preparation began in 1933; read Perpetual War for Perpetual Peace, ed. by Harry Elmer Barnes;

Roosevelt strategized for war with Japan to gain control of the Pacific;

King George's briefcase contained FDR's war promises;

Roosevelt's controversial recognition of the Soviet Union in 1933;

Adolf Hitler's goals didn't include a world empire;

Pearl Harbor was the traumatic event that has kept American people in a state of hysteria.
Picture: FDR at ease and pleased after signing war declaration against Japan, 1941. Enlarge.
13 MB / 32 kbps mono / 0 hour 56 min.

The Heretics' Hour: Who Started World War II?
Dr. Wilhelm Kriessmann returns as Carolyn's guest to discuss the ideas and important data presented in Viktor Suvorov's book, The Chief Culprit: Stalin's Grand Design to Start WWII. Topics include:
Revisionists get prison terms in France and Austria

Goal of Soviet Union was to communize Europe through Germany

Offensive military build-up in USSR began in 1939

Massive movement of Red Army troops and material to western border was completed in June 1941

Operation Barbarossa narrowly beat a devastating attack from Soviet Union

Who was behind Rudolf Hess' peace mission to Britain
13 MB / 32 kbps mono / 0 hour 57 min.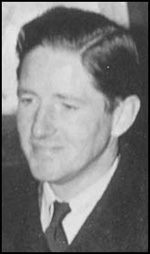 Ray Goodwin talks with Carolyn about the nefarious influence of Roosevelt revealed in the Potoki Papers and the secret messages decoded by Tyler Kent. Topics include:
German central banker upsets the Jews;

FDR's obstruction of Polish-British negotiations with Germany;

Improper messages between FDR and Churchill;

Ray Goodwin's personal friendship with Kent;

War was Roosevelt's objective.
Picture: Tyler Kent at the time he was arrested.
13 MB / 32 kbps mono / 0 hour 57 min.
Spingola Speaks – Friday Dec7, 2012MP3 Files: Hour 1, Hour 2

Deanna talked about the Japanese invasion of Pearl Harbor on December 7, 1941 and some of the machinations behind that attack. Churchill and Roosevelt not only knew about it but actually provoked and facilitated it so that the United States could then attack and decimate Germany, who was opposing Communism, so that the Soviets could take control of many European countries.
The Forced War, Dr. David Hoggan's monumental examination of the origins of the Second World War.
Vérité pour l'Allemagne: La question des responsabilités de la seconde guerre mondiale, par Udo Walendy
Il y a 40 ans disparaissait Charles Lindbergh, aviateur, inventeur, écrivain et… « antisémite »
Shocking Revelations Emerge in New Book
• Those Angry Days: Roosevelt, Lindbergh and America's Fight Over World War II, 1939-1941
Until a few years ago, most patriots fondly recalled aviator Charles Lindbergh for his leadership of the America First movement that fought to prevent Franklin D. Roosevelt from steering the United States into war against Adolf Hitler's Germany.
However, in recent times, pernicious Internet agitprop has convinced many patriots that heroes like Lindbergh and his "isolationist" colleagues were actually traitors doing the work of the New World Order.
One broadcaster in particular promotes this nonsense by constantly harping about "the Nazis," hyping writers who smear Lindbergh and claim Hitler's heirs are today plotting the "rise of the Fourth Reich."
Those conned by this garbage fail to see this is really a ploy to keep the image of "the Holocaust" alive, thereby advancing the interests of Israel, which benefits from the Holocaust in multiple ways, without ever mentioning the word "Israel" even once. And that's propaganda at its most deceptive and calculating.
Even more disturbing is that—as a consequence of this skewed version of history taking a grip on the minds of so many—a remarkable number of today's patriots have no idea that roughly 90 percent of the American people agreed with Lindbergh: A war against Hitler was a war America should not fight.
The history of that period has been savagely distorted and those who should know don't have a clue as to what really happened.
Ironically, however, coming out of an elite publishing giant, Random House, is a new book presenting a fascinating look at the efforts by Lindbergh to stop the push to embroil America in that unnecessary war: Those Angry Days: Roosevelt, Lindbergh and America's Fight Over World War II, 1939-1941.*
The flagrantly pro-British author, Lynne Olson, clearly holds Lindbergh's traditional American nationalism in contempt, which explains why former secretary of state Madeleine Albright—who famously said the price of 500,000 dead Iraqi children was "worth it"—hails Olson as "our era's foremost chronicler of World War II politics and diplomacy."
Still, though soiled by its pro-New World Order slant, this is a book patriots need to read. Many books from establishment sources contain a lot of valuable facts. This is one such volume. Here are just a few of the author's amazing admissions:
• Solid data proving that the Council on Foreign Relations (CFR) and its Wall Street backers did not support Hitler, but vehemently opposed him.
• British intelligence set up shop at Rockefeller Center in Manhattan and collaborated with the pro-war Fight for Freedom—mostly "upper class East Coast Protestants"—and the Anti-Defamation League (ADL) of B'nai B'rith, the Jewish espionage agency. All worked closely with FBI Director J. Edgar Hoover who was tapping the phones of those who opposed to the drive for war that Lindbergh said was the work of "the British, the Jewish and the Roosevelt administration."
• The amazing story of how many high-ranking military officers "fiercely opposed" FDR's efforts to arm Britain. Opposing aid to the British was no less than Gen. George C. Marshall whom the author says is now "regarded as the country's greatest military figure in WWII."
•While Americans today believe Britain was always seen as a grand ally, the author reveals that, after World War I, "many Americans came to believe that their country had entered the war not because its own national interests demanded such action, but because it had been tricked by the scheming, duplicitous British."
• FDR utilized warmongering rhetoric of exactly the type today coming from essentially the same sources, including advocacy of the kind of police-state measures such as the Patriot Act and the concept of "homeland security," which patriots have become convinced was a "Nazi" invention. Substitute's today's Muslim-bashing for German-bashing and it is history repeating itself.
Declaring any criticism of his policies as detrimental to national security, FDR spoke of "clever schemes of foreign agents" on American soil. However, the author admits: "The United States never faced any serious threat of internal subversion before or during the war. But the American people never knew that; in fact, they were told the opposite."
• And, despite Pearl Harbor, most Americans still didn't see the need for war against Hitler. The author admits, "the odds are high that Congress and the American people would have pressured the president to turn away from an undeclared war against Germany . . . and focus instead on defeating Japan." Today, most Americans think Pearl Harbor sparked a nationwide cry of "Defeat the Nazi Beast." It never happened.
Michael Collins Piper is an author, journalist, lecturer and radio show host. He has spoken in Russia, Malaysia, Iran, Abu Dhabi, Japan, Canada and the U.S. He is the author of Final Judgment, The New Jerusalem, The High Priests of War, Dirty Secrets, My First Days in the White House, The New Babylon, Share the Wealth, The Judas Goats, Target: Traficant and The Golem.
The Book's Publisher Says
Those Angry Days is the definitive account of the debate over American intervention in World War II—a bitter, sometimes violent clash of personalities and ideas that divided the nation and ultimately determined the fate of the free world.
At the center of this controversy stood the two most famous men in America: President Franklin D. Roosevelt, who championed the interventionist cause, and aviator Charles Lindbergh, who as unofficial leader and spokesman for America's isolationists emerged as the president's most formidable adversary. Their contest of wills personified the divisions within the country at large, and author Lynne Olson makes masterly use of their dramatic personal stories to create a poignant and riveting narrative.
While FDR, buffeted by political pressures on all sides, struggled to marshal public support for aid to Winston Churchill's Britain, Lindbergh saw his heroic reputation besmirched by allegations that he was a Nazi.
Spanning the years 1939 to 1941, Those Angry Days vividly recreates the rancorous internal squabbles that gripped the United States in the period leading up to Pearl Harbor. After Germany vanquished most of Europe, America found itself torn between its traditional isolationism and the need to come to the aid of Britain, the only country still battling Hitler. The conflict over intervention was, as FDR noted, "a dirty fight," rife with chicanery and intrigue, and Those Angry Days recounts every bruising detail.
sur ce blog:
Le meilleur historien de la Seconde Guerre mondiale: David Irving