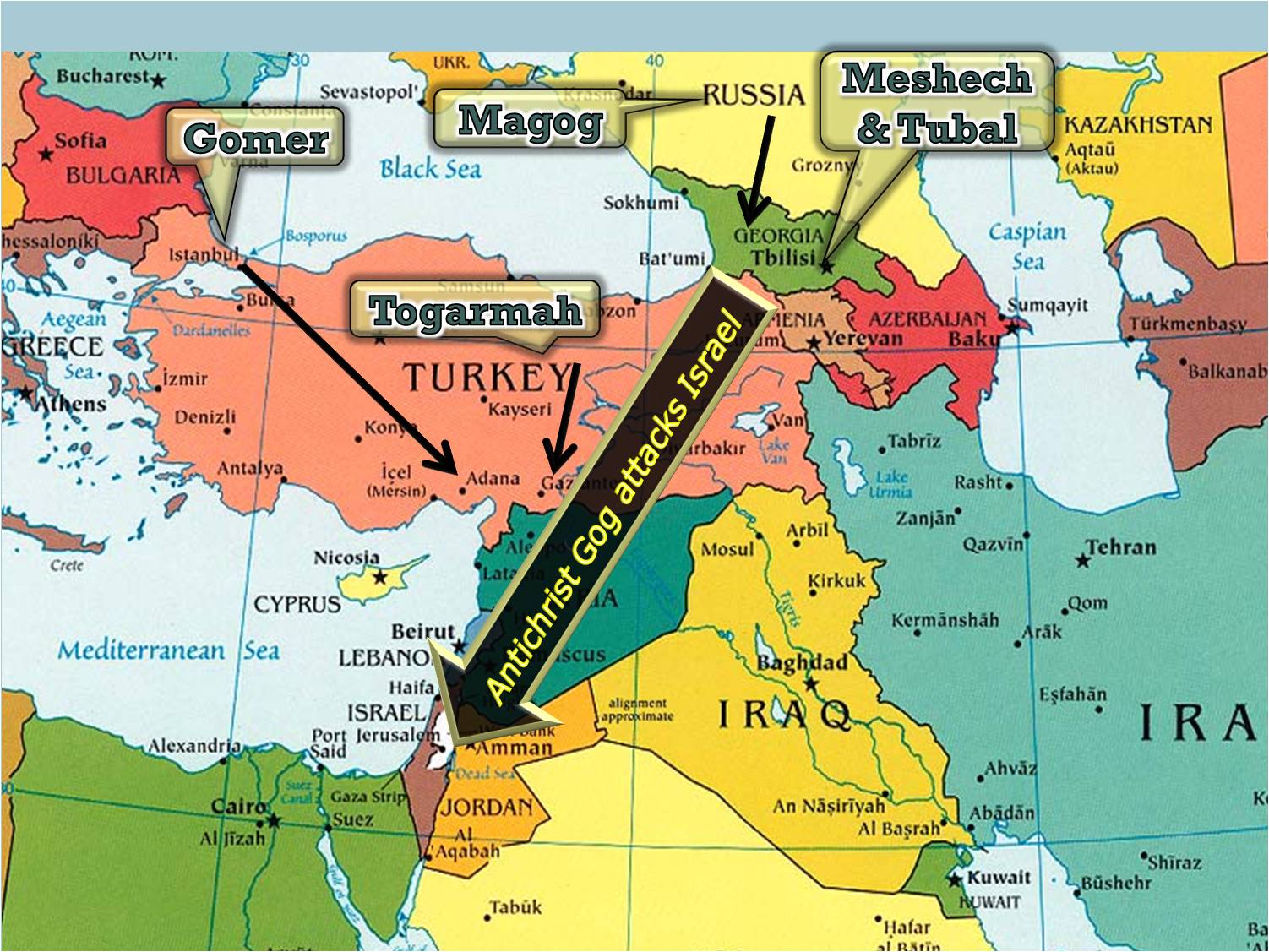 Des juifs intégristes sionistes en Israël font circuler de telles cartes eschatologiques-politiques.
Le grand récit du judaisme se réalise à la Fin des Temps, à l'Armageddon, suite à l'attaque de Gog, de Russie, contre Israël.
Quand l'ennemi était l'Allemagne, le prétendu monde libre n'a pas rechigné à s'allier aux bolchéviques de Staline. Quand l'ennemi était l'URSS, ils n'ont pas rechigné à financer et entrainer les moudjahidines afghans. Aujourd'hui, le grand ennemi actuel paraît être l'Islam. Mais l'est-il vraiment?
En fait, au-delà de la menace que représente l' « Islamistan », l'ennemi ultime des néocons est –et demeurera encore longtemps–
la Russie et la Chine
. Des guerres contre ces puissances se concrétiseront probablement plus tôt que ce à quoi nous pouvons nous attendre. En comparaison avec ce qui vient, les futures guerres contre la Russie et la Chine la guerre de l'Occident contre l'Islam n'est qu'une petite escarmouche. Et cette haine déborde du seul mouvement néocon, elle est partagée par d'autres think tanks mondialistes et démocrates, par exemple Zbigniew Brzezinski, mieux connu comme étant « le Kissinger des Démocrates ».
Nous nous sommes alliés aux Russes pour détruire une Allemagne devenue « trop puissante » à notre goût, puis nous nous sommes retournés contre eux, jusqu'à ce que l'URSS s'effondre et que le capitalisme absorbe ses derniers sursauts de vie. La Russie et les pays de l'ex-URSS sont dans la pauvreté la plus totale et ne s'en sont toujours pas remis.
Et voilà que les néocons sont repris de paranoïa et qu'ils songent déjà à faire la guerre à la Russie qui commence à peine à se relever?
Et la machine de propagande nous répète sans arrêt que la Russie est en train de devenir fasciste, ou bien que le stalinisme y est en train de renaître. Quant aux pseudo-patriotes, ils voudraient nous faire croire qu' « Obama mène son pays vers le communisme« , ou que c'est la Russie « secrètement communiste » qui tente d'imposer le nouvel ordre mondial!
Pourquoi un tel acharnement contre la Russie? Pourquoi les méchants dans les films d'espionnage, les films d'action et les jeux vidéos sont-ils presque toujours d'origine russe?
Liste des méchants de James Bond
YouTube – Méchants Russe contre gentils occidentaux
'Indiana Jones et le Royaume du Crâne de Cristal' contre les méchants Russes
Des nouvelles du méchant Ivan Drago (Rocky IV)
Les Russes sont vraiment méchants (Rambo III)
Russians, virtually the bad guys (in video games)
Russophobie des intellectuels cosmopolites
Y aurait-il quelque chose en Russie qui menacerait l'empire de la haute finance mondialiste? Mais quoi exactement? Était-ce le christianisme que le bolchévisme devait éradiquer? Est-ce leur nationalisme (tout comme l'Irak, l'Iran, le Vénézuela, la Palestine, le Liban, etc.)? Ou bien est-ce le peuple russe lui-même?
Et si l'avènement du nouvel ordre mondial dépendait d'une Russie écrasée et incapable de résister?
Le Double, notre jumeau démoniaque, doit être vaincu par les Russes
Neo-Cons Declare War On Russia – Neo-Cons, Israeli Lobby Declare War on Putin
Scare Stories About Russia, Iran Just More Mainstream media lies
Neocons launch PNAC upgrade, and call for combating Afghanistan, Russia and China
Israel pushing for war with RUSSIA!
Les sociétés secrètes et leur influence au 20e siècle
Judaic Communism: The Documentary Record
Le génocide des chrétiens russes – L'Holocauste secret – En mémoire du pire crime de l'histoire
Traite des personnes en Israël et la mafia juive de Russie
La prophétie apocalyptique de Fidel Castro
D'après lui, une guerre nucléaire généralisée aura bientôt lieu, suite à une confrontation directe entre les États-Unis et l'Iran. « Je n'ai aucun doute qu'à partir du moment où les navires de guerre américains et israéliens tenteront d'inspecter le premier cargo iranien, ce sera exactement le commencement de la terrible guerre », précise-t-il. Fidel Castro entrevoit également l'implication, par effet domino, de la Russie et de la Chine dans le conflit. Accusateur, il dénonce la responsabilité particulière de la France et de la Grande-Bretagne, ces alliés « enthousiastes » dans leur volonté d'imposer davantage de sanctions à Téhéran.
Extrait de la lettre de Castro (
Connaître la vérité à temps
):
Ce qui ne fait pas le moindre doute, c'est que les armes atomiques de la Grande-Bretagne et de la France, alliées des États-Unis et d'Israël – qui ont imposé, enthousiastes, la résolution qui déclenchera inévitablement la guerre, laquelle, pour les raisons que j'ai expliquées, deviendra aussitôt nucléaire – menacent le territoire russe, bien que la Russie et la Chine aient tenté d'éviter ce dénouement dans la mesure de leurs forces et de leurs possibilités.