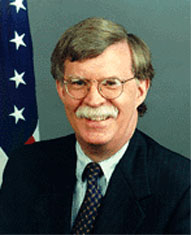 Jose Maria Aznar ———– John Bolton ———– Alejandro Toledo ———- Dore Gold
Powerful New Lobby Group Set in Motion

by Michael Collins Piper
To much acclaim, a handful of former politicians from Western Europe—backed by the media clout of a consortium of super-rich pro-Israel families—recently gathered in Paris to proclaim on May 31 that, "There is no West without Israel." This is a rather amazing point of view, considering that the recorded history of Western civilization extends back for thousands of years.
Declaring the West cannot survive unless the Western "democracies" stand firm with Israel—that "Israel's fight is our fight," that "the assault on Israel is itself an assault on Judeo-Christian values," and that "Israel's future is our fate," the Friends of Israel
Initiative, or FII, was set in motion. They are concerned that people worldwide are growing disgusted with Israel and they are fomenting fears of a nuclear Iran.
While proclaiming it "differs from previous such ventures primarily in that it is being led by people who are not Jewish," the record shows the fine hand of the global Zionist network is singularly behind the campaign. Although this forum is declaring its impartiality, it is no more than a front for Zionist billionaire Rupert Murdoch and a stable of his employees and henchmen.
The group's chairman, Jose Maria Aznar, former prime minister of Spain, is a member of the News Corporation's board of directors, which is the global media giant controlled by Murdoch. Murdoch's operation has been bankrolled by a global consortium funded by the Rothschild family of Europe, the Oppenheimers of South Africa and the Bronfmans of Canada, together known as "The Billionaire Gang of Four." So Aznar owes his patronage to forces beyond his native Spain.
What's more, on its web site, the FII belies its purported independence by acknowledging that it "formed from a group of high-level personalities supported by a large network of influential opinionmakers," citing among them such closely interconnected figures as:
• William Kristol, editor of Murdoch's "neo-conservative" Weekly Standard. Kristol has also attended Bilderberg meetings, founded under the sponsorship of the Rothschild family.
• Elliot Abrams, member of the Council on Foreign Relations (CFR)—New York offshoot of the Rothschild-controlled Royal Institute of International Affairs in London—and son-in-law of Norman Podhoretz, protégé of the late Irving Kristol, father of the above-noted William Kristol and longtime editor of the American Jewish Committee's Commentary (now edited by Abrams's brother-in-law John Podhoretz).
• Dore Gold, president of the Jerusalem Center for Public Affairs, a foreign policy voice for the hard-line "right-wing" elements in Israel. A former advisor to Israeli Prime Minister Benjamin Netanyahu and a former Israeli ambassador to the UN, Gold has been a leading advocate for the global "Community of Democracies" founded to counteract nationalist sentiments among blocs within the United Nations (led by, for example, Venezuela and Iran), who reject Zionist influence and domination by the New World Order.
• Jeffrey Gedmin—another CFR member long active in "neoconservative" policy initiatives, including the so-called Community of Democracies;
• Alan Mendoza, director of the Israel-Diaspora Trust and founder of the Henry Jackson Society, named after the flamboyantly pro-Israel U.S. senator who employed Richard Perle and Stephen Bryan, who were investigated by the FBI of espionage on behalf of Israel.
• Allen Roth, president of One Jerusalem—funded by casino billionaire Sheldon Adelson—which demands absolute Jewish control over the holy city. Also a long-time advisor to billionaire Ronald Lauder, president of the World Jewish Congress.
Among the official "founding members" of FII, there are others figures with equally interesting resumes, in light of their claim to "independence":
• Alejandro Toledo, former president of Peru, known for his close ties to powerful pro-Israel families who constitute an influential clique among Peru's elite.
• John Bolton, former U.S. ambassador to the UN and a key figure in "neo-conservative" circles including the Jewish Institute for National Security Affairs, founded by the aforementioned Stephen Bryan.
• David Trimble, a pro-British politician from Northern Ireland who was given the title "baron" by the British queen and who was appointed by Israel to the Israeli-controlled commission "investigating" Israel's attack on the peaceful flotilla bringing aid to Gaza.
• Fiamma Nirenstein, a member of the Italian Parliament, who lives part of the year in Israel. Ms.Nirenstein is associated with the Jerusalem Center for Public Affairs and has written laudatory prefaces to the writings of Muslim-hating propagandist Bernard Lewis
and Soviet-born-turned-Israeli hard-liner Natan Sharansky, whose writings on global democracy were said to inspire the foreign policy of George W. Bush.
• George Weigel, an American Catholic writer who was celebrated for his attacks on Pope Benedict for reinstating excommunicated leaders of the Society of Pope Pius X because of reputed "Holocaust denial" by one of those clerics, Bishop Richard Williamson.
• Robert Agostinelli, an American billionaire investor whose entre into the world of finance came through his earlier association with the Zionist banking houses of Lazard Freres and Goldman-Sachs.
While these names proclaim "Israel is a normal Western country," they ignore the fact Israel's entire economy is based on billions of dollars in grants, subsidies, loans and other schemes—said by ex-Rep. Jim Traficant to reach as high as $25 billion—not to mention billions in "reparations" payments given annually to Israel by the German government. No "normal Western country" operates on any such foundation.
They also fail to acknowledge Israel is a theocracy known to discriminate against both its Christian and Muslim Arab citizens. In addition there are rising conflicts between secular Jews and Orthodox Jews, to the point that many have predicted a possible civil war between them. There is no other such unstable theocracy existing in any "normal" Western state.
Saying "Israel's right to exist should not be questioned," these Friends of Israel ignore the point made by former high-ranking CIA official Michael Scheuer, who was head of the CIA's bin Laden tracking division:
Much of the unreality in U.S. attitudes toward Israel is a result of a historical arguments that Israel has "the right to exist." Clearly, no nation has the "right to exist." Darwinian logic applies to nation states as well as to the other components of the animal kingdom. . . . Nations exist as long as they can defend themselves, contain internal societal rot at non-fatal levels, maintain economic viability, and do not gratuitously make a constellation of more powerful enemies. This truism applies equally to all: The United States has no more right to exist than does Israel. . . . Supporting Israel's "right to exist" is especially a historical when it is advocated by Americans, as it is a "right" they have never insisted on for their own nation. If they had, we would never [have] talked or negotiated with the Soviets after Premier Nikita Khrushchev promised that the USSR would "bury" the United States—surely a failure to acknowledge America's right to exist if ever there was one.
And when these Friends of Israel say "Israel is our ally," they ignore Israel's attack on the USS Liberty in 1967, resulting in the deaths of 34 Americans and the wounding of 172 others —an act designed to provoke a U.S. attack on Egypt which nearly resulted when President Johnson ordered a nuclear assault on Cairo (an order quickly withdrawn) thinking (as Israel intended) that Egypt had attacked the vessel.
Concert of Democracies – Wikipedia
A Century in Iraq, Replacing UN with « League of Democracies »
Neocons Launch New Foreign Policy Group
John McCain discusses a League of Democracies
August 2010: Kristol's Hawkish Pro-Israel Group Launches New Ad Against Endangered Dem (VIDEO)
Powerful War Hawks Pushing Bush Into All-Out War on Iraq, Iran and Afghanistan (AFP, p.4-6)
Israel Demands Every Nation Take `Democracy Test'
Neo-Con `Global Democracy' Scheme Advancing
Les pires vermines sionistes se sont liguées contre Obama
Guerre en Afghanistan: guerre pour Israël
Podcast AUDIO Interview with Mike Piper to Discuss the True Origins of the New World Order
THE JUDAS GOATS
THE ENEMY WITHIN
Michael Collins Piper
The "Israelization" of America
Judas Goat Number One: George W. Bush—
Shill for Zionist Theoretician Natan Sharansky:
Planning for Global War in the Name of "Democracy"
President George W. Bush may well rank—by virtue of his high office—as perhaps America's most insidious and most dangerous Judas Goat. His role in guiding America into the war in Iraq—not to mention his lead part in covering up the truth about the forces behind the 9-11 attack on America—has cast him as a veritable Enemy Within-in-Chief, so to speak. Now he urges America to fight another war against Iran.
However, the truth is that Bush's messianic call for a worldwide "democratic revolution" (enunciated in his second inaugural address and sounding much like the rhetoric of the global Trotskyite Bolshevik movement) was not really of his own making. His words were written by others far more intelligent than Young Bush. And the origins of Bush's newfound philosophy are very telling indeed. Perhaps what is most frightening is that the rhetoric of the American president—prodded by his behind-the-scenes "advisors"—points toward more and more military action around the globe in the years to come.
Although a documentary, Bush's Brain, suggested that Karl Rove, purportedly the president's chief political tactician, is the mastermind who tells the president what to think, it is now clear—based on solid evidence—that Soviet-born Israeli cabinet minister Anatoly "Natan" Sharansky is the one who actually has bragging rights to that title. Despite the fact that he gained worldwide attention in the 1970s as a Soviet dissident, make no mistake in thinking that Sharansky was ever any kind of Western-style free-market conservative or anti-communist.
Instead, Sharansky was a traditional old-line communist who—like many others in the Soviet Union—simply ran afoul of the ruling regime.
But thanks to an adoring international media, Sharansky capitalized on his imprisonment by the Soviets—who accused him of being a CIA spy—and emerged as a much-touted "human rights activist."
Later, after his release from prison, Sharansky emigrated to Israel and soon established himself as one of Israel's most outspoken extremist leaders who damned even Israel's heavy-handed Prime Minister Ariel Sharon—known as "the Israeli Caesar"—as being "too soft" on the Palestinian Christians and Muslims.
The role of Sharansky in guiding Bush's thinking is no "conspiracy theory." Instead, disclosures from the White House itself—published, although not prominently, in the mainstream media—demonstrated that not only did Sharansky personally consult with the president in drafting the now-controversial inaugural address, but also that at least two of Sharansky's key American publicists were among those brought in to compose Bush's revolutionary proclamation.
Bush himself told The Washington Times in an interview published on January 12, 2005—even prior to his inauguration: "If you want a glimpse of how I think about foreign policy, read Natan Sharansky's book, The Case for Democracy. It's a great book."
Buried in the very last paragraph of a very lengthy article published on January 22, 2005 The New York Times reported that "The president was given [Sharansky's] book and asked Mr. Sharansky to meet with him
in the Oval Office . . .Mr. Bush also gave the book to several aides, urging them to read it as well. Mr. Sharansky visited the White House last November."The Times did not say who gave the book to the president in the first place, but to find out who actually pressed the book upon the president might be very telling indeed.
Affirming the Times' disclosure, The Washington Post likewise revealed on January 22, 2005 (although, again, in the closing paragraphs of an extended analysis) that an administration official said that planning for Bush's address began immediately after the November election and that Bush himself had invited Sharansky to the White House to consult with him and that, in the Post's words,"Sharansky also helped shape the speech with his book."
It was the Post which revealed that two well-known hard-line "neoconservative" supporters of Israel—William Kristol, publisher of billionaire Rupert Murdoch's Weekly Standard magazine, and psychiatristturned-pundit Charles Krauthammer, a strident advocate for harsh U.S. military and economic warfare against the Arab and Muslim worlds—were also among those brought in to help draft the president's address.
Kristol—in particular—and Krauthammer are generally acknowledged even in the mainstream media in America as being among those we've dubbed as "the high priests of war" who were instrumental in orchestrating the U.S.war against Iraq,was a measure high-up on Israel's "want list" for the Bush administration.
It is no coincidence that the individual on the White House staff whom the Post said helped set up the planning conferences to direct Bush's thinking was one Peter Wehner, director of the White House Office of Strategic Initiatives.Wehner—it happens—is a Kristol protégé, having been his deputy when Kristol was serving as chief of staff for former Reagan administration Education Secretary William Bennett himself a protégé of Kristol's very influential father, famed "ex-Trotskyite" communist-turned-neo-conservative, Irving Kristol.
So, considering Kristol's wide-ranging input, shaping Bush's mindset, it is really no surprise that, as the Post put it,"Bush's grand ambitions excited his neoconservative supporters who see his call to put the United States in the forefront of the battle to spread democracy as noble and necessary."
Meanwhile, for his own part,William Kristol chimed in with an editorial in The Weekly Standard on January 24, 2005 declaring "it's good news that the president is so enthusiastic about Sharansky's work. It suggests that, despite all the criticism, and the difficulties, the president remains determined to continue to lead the nation along the basic foreign policy lines he laid down in his first term."
The BBC News noted on January 22, 2005 that Sharansky "has in fact been moving in American conservative circles for some time."
As far back as July 2002—just prior to the time Bush delivered a hotly-debated speech calling for "democratization" of the Arab world—neo-conservative Deputy Defense Secretary Paul Wolfowitz was in attendance at a conference addressed by Sharansky during which the Israeli leader put forth the same demand.
Shortly thereafter, when Bush gave his own speech, echoing Sharansky, the Israeli hard-liner "provided an important bit of last minute affirmation," according to American neo-conservative Richard Perle, who—between stints in government, during which time he was suspected of espionage on behalf of Israel—peddled weapons for an Israeli arms manufacturer.
Although the news of Sharansky's profound influence was not widely known among grassroots Americans, it was big news in Israel where The Jerusalem Post headlined a story declaring "White House takes a page out of Sharansky's democracy playbook." In fact, the Israeli newspaper actually went so far as to say that Bush is "doing [Sharansky's book] promotion free of charge," pointing out that the president hyped Sharansky's book in an interview on CNN.
But it's not only Bush who is relying on Sharansky. On January 20, 2005, Scotland's independent-minded newspaper, The Scotsman, noted that "Mr. Sharansky's influence on the way Washington now sees the world was clear this week when Condoleeza Rice quoted him during her Senate confirmation hearings," confirming that the Israeli hard-liner is very much the brains behind Bush policy.
The fact that Sharansky happened to be in charge of "diaspora affairs" in the Israeli cabinet was significant indeed.The term "diaspora" refers to all Jews living outside the borders of Israel and the "mission statement" of Sharansky's cabinet office says it places its "emphasis on Israel, Zionism, Jerusalem and the interdependence of Jews worldwide.
In essence, this translates into a single, general aim: securing the existence and the future of the Jewish people wherever they are." In short, Sharansky is no less than a powerful spokesman for the worldwide Zionist movement.And now, beyond any question, his views are directing George Bush's worldview.
Considering all of this, it is no wonder that on January 22, South Korea's English-language media voice, Chosun Ilbo, went so far as to describe Sharansky's philosophy as outlined in his book The Case for Democracy—now being touted by Bush—as "a blueprint for U.S. foreign policy."
The propaganda line of Israeli hard-liner Natan Sharansky upon which the president's inaugural address was based was virtually a complete turn-about from Bush's rhetoric in the 2000 presidential campaign.
This contradiction is a point that—theoretically—should have given pause to many Republicans who voted for Bush the first time he ran for the presidency.
Enthusiastically proclaiming in a front-page analysis on January 21, 2005 that Bush's address laid the "groundwork for [a] global freedom mission," The Washington Times—a leading "neo-conservative" voice which advocates a hard-line globalist foreign policy in sync with Israel's security demands—stated flat out that:
President Bush's inaugural address sends the United States on a new, expansionist and far more aggressive global mission to free oppressed countries from dictators—a sharp departure from his 2000 campaign that warned against becoming the world's policeman . . . an ambitious, perhaps unprecedented internationalist doctrine that could deploy U.S. military power far beyond America's present commitments . . . .
For its own part, the Times's daily "liberal" counterpart, The Washington Post, declared editorially on January 21, 2005 that Bush's address was "more Wilsonian than conservative"—that is, recalling the messianic internationalism of former U.S. President Woodrow Wilson, hardly a hero of American nationalists or traditional conservatives.
Effectively endorsing Bush's turnabout, the Post acknowledged.
that Bush's pronouncement "promised an aggressive internationalism, one that if seriously pursued would transform relations with many nations around the world,"saying that if Bush is serious,U.S. policy "is on the verge of a historic change."
James Steinberg, the former deputy national security advisor in the Clinton administration, found Bush's emergence as the voice of globalism quite intriguing, inasmuch as it is a determined betrayal of what had been traditional Republican opposition to international meddling.
Steinberg told The New York Times on January 21, 2005 that it is "quite remarkable that one of the notions that's been so resisted by Republicans is the idea of a deep interdependence in the world, and now [Bush has] essentially adopted the notion that tyranny anywhere threatens freedom anywhere."
In the same vein, hard-line American-based Zionist Robert Kagan, one of the most aggressive neo-conservative media voices, echoed American Free Press (AFP) when he wrote in the Post on January 23, 2005 that Bush's "goals are now the antithesis of conservatism."
According to Kagan,"They are revolutionary."
In its January 31, 2005 editorial,AFP called Bush a "revolutionary," and this came very much to the dismay of many traditional conservatives who—inexplicably—still viewed the president as the voice of American patriotism.
These folks are evidently unaware that what is called "neo-conservatism" is anything but what Americans long viewed to be "conservative" in the traditional American nationalist sense of the word.
However, Zionist Robert Kagan understands this distinction and that's precisely why he said that "Bush may lose the support of most oldfashioned conservatives" once they realize what his new internationalist policy is all about. In short, conservatives have been "had."And that's why AFP reminded its readers not to forget what Jesus said: "Beware wolves in sheep's clothing" or, rather,"Beware the Judas Goats."
In the meantime, however, Sharansky's influence on American Republicanism—under George Bush and in the years ahead—remains substantial. In fact, there's a new brand of Republicanism, at least according to Ken Mehlman, whom President George W. Bush personally hand picked, following the 2004 election, to serve as chairman of the Republican National Committee.
In a March 14, 2005 speech in Washington to the American Israel Public Affairs Committee (AIPAC), the lobby for Israel, the GOP's national chairman candidly and enthusiastically described himself as a "Sharansky Republican."
What was so striking is that this appeared to be the first time in American history that the chairman of one of the national parties used the name and ideology of a political leader from a foreign nation—one known as an "extremist" at that—to describe his own ideology.
In the past, there were self-described "Taft Republicans," who supported the presidential ambitions of the nationalistic and traditionally conservative Sen. Robert Taft of Ohio—popularly known as "Mr. Republican"—who was the undisputed leader of the America First bloc in Congress from 1936 until his untimely (and some say "suspicious") death in 1953.
Later, there were the conservative "Goldwater Republicans"who—under the leadership of Sen. Barry Goldwater (Ariz.)—set the stage for the ascendancy of the "Reagan Republicans" who came to power in 1980 under the popular two-term president, Ronald Reagan.
At the same time, in opposition to the Taft and Goldwater Republicans, there were the more liberal and internationalist-minded Republicans who rallied behind New York Governor Thomas E. Dewey and Wall Street lawyer Wendell Willkie,dubbing themselves—naturally—"Dewey Republicans" and "Willkie Republicans."
And later, of course,many of those same party leaders evolved into "Rockefeller Republicans" following New York Governor Nelson Rockefeller. And there were even a few folks, for a time, who called themselves "Eisenhower Republicans," stressing their so-called "mainstream, moderate" point of view (however defined) in the spirit of America's 35th president, Dwight D. Eisenhower.
Now, however, the new GOP national chairman is not calling himself a "Reagan Republican" or even a "Bush Republican" (after the reigning GOP president who is wildly popular among grass-roots members of his party), but, instead, is hailing a foreign leader—a known extremist—as the role model for what 21st century Republicanism is all about.
And this is a direct legacy of George W. Bush who so proudly installed Sharansky as one of the GOP's ideological dictators, betraying the historic legacy of the GOP. Sharansky's policy of promoting "global democracy"is hardly in the American tradition, but it's now part and parcel of what the "modern" Republican Party is all about.