lu sur newsoftomorrow.org
Israël ouvre la voie au meurtre à distance
lundi 11 octobre 2010 par NewsOfTomorrow
(Source : par Jonathan Cook, The National via Media Freedom International, trad. NewsOfTomorrow.org)

L'armée israélienne l'appelle « Spot and Shoot » (« Vise et Tire »). A première vue, on dirait un jeu vidéo, sauf que les personnes qui apparaissent à l'écran – des palestiniens de Gaza – sont réelles et qu'une simple pression sur la manette suffit à les tuer. Le système Spot and Shoot – connu sous le nom officiel de Sentry Tech – est surtout connu pour être manié par des femmes soldats de 19 et 20 ans, ce qui en fait la seule arme de l'armée israélienne à être uniquement sous le contrôle de femmes. Les femmes soldats, à l'abri dans des salles de contrôle, sont responsables du pointage et du tir des mitrailleuses placées dans des tours de garde tous les cent mètres de la clôture électrique qui entoure Gaza. Les femmes doivent identifier tous les suspects approchant la clôture entourant Gaza et, avec l'accord d'un officier, l'executer en utilisant leurs manettes. Le système a été introduit progressivement il y a deux ans à des fins de surveillance, mais ce n'est que récemment que les opérateurs peuvent ouvrir le feu. L'armée a admis avoir utilisé Sentry Tech en décembre 2009 pour tuer aux moins deux palestiniens qui se trouvaient à plusieurs centaines de mètres à l'intérieur de la clôture.
Ce système est l'un des plus récents dispositifs de « meurtre à distance » développés par la société d'armement israélienne Rafael, l'ancienne division de recherche en armements de l'armée israélienne qui est maintenant une firme gouvernementale dissociée. Selon Giora Katz, vice-président de Rafael, les armes militaires contrôlées à distance comme Spot and Shoot sont le futur. Il pense qu'en moins d'une décennie, pas moins du tiers engins utilisés par l'armée israélienne pour contrôler la terre, l'air et la mer, seront pilotés à distance.
Les progrès rapides de la technologie inquiètent les Nations Unies. Philip Alston, rapporteur spécial sur les exécutions extrajudiciaires, a averti le mois dernier du danger d'une "mentalité PlayStation du meurtre" qui pourrait rapidement apparaître.
Cependant, selon les analystes, il est peu probable qu'Israël tourne le dos à ces armements qu'il développe en priorité – utilisant les territoires palestiniens occupés, et surtout Gaza, comme laboratoires de test. Les systèmes d'armes contrôlées à distance sont très recherchées par les régimes répressifs et les florissantes industries de sécurité intérieure du monde entier. "Ces systèmes sont toujours dans leurs premiers stades de conception mais il existe un marché important et en pleine extension," a dit Shlomo Brom, ancien général et analyste de défense à l'Institut d'Etudes de Sécurité Intérieure de l'université de Tel Aviv.
Rafael développe actuellement une version de Sentry Tech capable d'envoyer des missiles téléguidés de longue portée. Un autre dispositif récemment développé par l'armée israélienne est le Guardium, une voiture-robot blindée qui patrouille les territoires à une vitesse allant jusqu'à 80km/h, se déplaçant à l'intérieur des villes, lançant des "ambuscades" et tirant sur des cibles. Elle patrouille en ce moment les frontières israéliennes de Gaza et du Liban.
Israël surtout connu pour son rôle dans le développement des UAV ("unmanned aerial vehicles") – ou drones. Destinés originellement à l'espionnage, et d'abord utilisés par Israël au-dessus du Liban au début des années 80, ils sont aujourd'hui de plus en plus utilisés pour des exécutions extrajudiciaires depuis une haute altitude dans le ciel.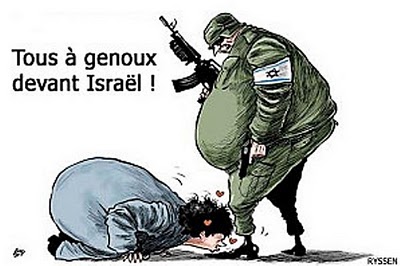 Jewish group: UNESCO event will bolster Ahmadinejad's propaganda
US Opposes United Nations as Venue for Mideast Diplomacy
Sur ce blog:
Les drones israéliens: admirez le futur
La science et le futur de la torture
L'IDF utilisera des robots contre les Palestiniens