Edgar Bronfman Jr
Prison avec sursis et amende 6,8 millions pour Edgar Bronfman Jr. Edgar Bronfman Jr, qui dirige aujourd'hui Warner Music, a écopé d'une peine de prison de quinze mois avec sursis et d'une amende de cinq millions d'euros, soit près de sept millions de dollars, dans une décision rendue par le tribunal correctionnel de Paris.
Flashback:
Vivendi – Bronfman accusé de délit d'initié
Supermob: la mafia Cotroni et le clan Bronfman
Supermob sur googlebooks
La mafia juive : même Wikipedia en parle !
Lire The New Babylon, de Michael Collins Piper (2009) (pdf)
Extrait:
Volume XVI Number 3…..MayMay/June 2010…..www.barnesreview.org
Rothschild Influence
This 1898 French caricature of a crowned Alphonse de Rothschild as a greedy, predator grasping the globe in his talon-like clutches, accurately portrays the way in which Europe's Rothschild banking dynasty expanded its imperial hegemony. In America today, Rothschild influence –while paramount — is largely hidden, with some « respected » families and financial institutions — not all of them Jewish — acting as Rothschild « fronts. » Americans (and others) who dare to challenge the Rothschild empire (and the Zionist cause) are subjected to dirty tricks, economic boycott, harassment, persecution — even criminal prosecution.

THE JEWISH PEOPLE NOT ONLY « survived the holocaust, » but since World War II they have emerged as a political-economic cultural elite whose influence is rivaled by no other ethnic group on the face of the planet.


By Michael Collins Piper
Even the most cursory survey of the literature indicates that numerous « mainstream » Jewish writers and academics have reached a remarkable conclusion: the Jewish people-particularly American Jews-have today reached what may be a zenith of power unlike anything yet seen in Jewish history. American Jewish scholar Benjamin Ginsberg, writing in The Fatal Embrace: Jews and the State, summarized it well:
Since the 1960s, Jews have come to wield considerable influence in American economic, cultural, intellectual, and political life. Jews played a central role in American finance during the 1980s, and they were among the chief beneficiaries of that decade's corporate mergers and reorganizations. Today, though barely 2% of the nation's population is Jewish, close to half its billionaires are Jews. The chief executive officers of the three major television networks and the four largest film studios are Jews, as are the owners of the nation's largest newspaper chain and most influential single newspaper, The New York Times.
In the late 1960s, Jews already constituted 20% of the faculty of elite universities and 40% of the professors of elite law schools; today, these percentages doubtless are higher.
The role and influence of Jews in American politics is equally marked. Jews are elected to public office in disproportionate numbers. In 1993, 10 members of the U.S. Senate and 32 members of the House of Representatives were Jewish, three to four times their percentage of the general population. Jews are even more prominent in political organizations and in finance. One recent study found that in 27 of 36 campaigns for the United States Senate, one or both candidates relied upon a Jewish campaign chairman or finance director.
In the realm of lobbying and litigation, Jews organized what was for many years one of Washington's most successful political action [organizations], the American Israel Public Affairs Committee (AIPAC), and they play leadership roles in such important public interest groups as the American Civil Liberties Union (ACLU) and Common Cause.
Their role in American economic, social and political institutions has enabled Jews to wield considerable influence in the nation's public life ….
As a general rule, what can and cannot be said in public reflects the distribution of political power in society as Jews gained political power ….
Religious symbols and forms of expression that Jews find threatening have been almost completely eliminated from schools and other public institutions. Suits brought by the ACLU, an organization whose leadership and membership are predominantly Jewish, secured federal court decisions banning officially sanctioned prayers in the public schools and creches and other religious displays in parks and public buildings.[1]
« Today, the Jewish people — particularly American Jews — have reached what may be a zenith of power unlike anything yet seen in the annals of Jewish history. »
Many other Jewish American scholars have echoed Ginsberg and elaborated on his conclusions.

For example, in A Time for Healing: American Jewry Since World War II, Edward S. Shapiro writes of the remarkable Jewish success in achieving better education than most other Americans. According to Shapiro:
In the postwar era, America's Jews became the best educated of any major American ethnic or religious group. By the mid-1970s, according to Father Andrew M. Greeley's study Ethnicity, Denomination, and Inequality (1976), Jews averaged 14 years of education. This was a half year more than Episcopalians, the American religious group with the highest social standing. While less than one-half of Americans went on to college, more than 80 percent of Jews did so, and, as indicated by the statistics trom Harvard, Princeton and Yale, Jews were more likely to attend elite institutions. In 1971, for example, Jews made up 17 percent of the students at private universities.[2]
Shapiro has also remarked on the vast wealth accumulated by a small number of American Jews, pointing out that:
Beginning in the early 1980s, Forbes magazine published an annual compilation of the 400 richest Americans. Strictly based on their percentage of the general population, there should have been about 12 Jews on this list. Instead, there were over 100. Jews, who constituted less than 3 percent ofthe American people, made up over one-quarter of the richest Americans. They were over-represented by a factor of nine.
By contrast, ethnic groups that greatly outnumbered Jews — Italians, Hispanics, blacks, and Eastern Europeans — had few representatives on the list. The higher the category of assets listed by Forbes, the greater the percentage of Jews. Over 30 percent of American billionaires were Jewish …. It was possible that Forbes even underestimated the number of America's super-rich Jews, since many of them had become wealthy in real estate, the most difficult of fields to gauge assets and the easiest in which to hide wealth. [3]
Research by Charles Silberman, writing in A Certain People, focuses on the vast and wide-ranging influence of this American Jewish elite:
According to a study of the ethnic and racial backgrounds of people listed in the 1974-75 edition of Who's Who in America, Jews were two and a half times more likely to be included than members of the population at large. Relative to population, moreover, there were more than twice as
many Jews as there were people of English heritage, the group that once dominated the American elite.
In a 1971-72 analysis of a much smaller group ofleaders in some eight fields of endeavor, the sociologists Richard D. Alba and Gwen Moore found an even greater concentration. Of the 545 people studied, 11.3 percent were Jews-four times their proportion in the population as a whole….
The phenomenon is not limited to the United States. Jews make up about one percent of the population of Great Britain, but 6 to 10 percent of the British elite; in Australia, where Jews are 0.5 percent of the population, they constitute 5 percent of the elite …. [4]
« By contrast, ethnic groups that greatly outnumbered Jews — Italians, Hispanics, blacks, and Eastern Europeans — had few representatives on the list of the 400 richest Americans. »
Yet another Jewish writer, J. J. Goldberg, in Jewish Power: Inside the American Jewish Establishment, dares to admit that the Jews have also accumulated immense clout as far as the news media is concerned:
It is true that Jews are represented in the media business in numbers far out of proportion to their share of the population. Studies have shown that while Jews make up little more than 5 percent of the working press nationwide-hardly more than their share of the population-they make up one-fourth or more of the writers, editors, and producers in America's « elite media, » including network news divisions, the top newsweeklies and the four leading daily papers (New York Times, Los Angeles Times, Washington Post, Wall Street Journal).
In the fast-evolving world of media megacorporations, Jews are even more numerous. In an October 1994 Vanity Fair feature profiling the kingpins of the new media elite, titled « The New Establishment, » just under half of the two dozen entrepreneurs profiled were Jews. In the view of the magazine editors, these are America's true power elite. [5]
Professor Norman F. Cantor, writing in The Sacred Chain: The History of the Jews, has summarized Jewish success and influence in a number of arenas:
It was the Jews, by and large, not the Italians, who created what later was called the Mafia. In the 1920s the Italians began to replace the Jews in the New York organized crime industry .. .. Jews were also prominent in the gambling trade and developed Las Vegas in the 1940s. [6]
Jewish academics and other intellectuals played the dominant role in the fashioning of the New Left culture of the 1960s and 1970s …. Often it was a blend of the imaginative cultural Marxism of Benjamin Adorno and the Frankfurt School of the 1930s with the more radical side of the Freudian tradition. [7]
The highly successful American feminist movement of the 1970s and 1980s involved Jewish leadership …. Perhaps the two most prominent personalities in the women's movement, Gloria Steinem and Betty Friedan, were Jewish. [8]
Jewish investment bankers played a major, perhaps predominant role in the frenetic Wall Street speculative ventures of the 1980s.[9] [In the 1980s] the skill of some Jewish billionaires in skirting the limits of the law but somehow emerging unscathed, with the aid of high-priced New York Jewish attorneys and a compliant press, was remarkable. [10]
As in Berlin and Vienna before Hitler, the Jewish role in publishing was an important one. By 1950 Jewish families owned two of the three most influential newspapers in the United States, the New York Times and the Washington Post. [11]
In 1994 Jews were only three percent of the American population but their impact was equivalent to an ethnic group comprising 20 percent of the population. [12]
Cantor's overall assessment is remarkable, if not perhaps a bit eye-opening:
Nothing in Jewish history equaled this degree of Jewish accession to power, wealth and prominence. Not in Muslim Spain, not in early 20th century Germany, not in Israel itself, because there were no comparable levels of wealth and power on a world-class scale in that small country to attain.[13] The Morgans, the Rockefellers, the Harrirnans, the Roosevelts, the Kennedys, the titans of bygone eras, they have been superseded by the Jew as flawless achiever …. [14]
In light of all of this, perhaps it is time for the Jewish people to say « goodbye to the Holocaust » or other people might start thinking that the Jewish people have pushed the subject just a little bit too far.
ENDNOTES:

[1] Benjamin Ginsberg, The Fatal Embrace: Jews and the State (Chicago: University of Chicago Press, 1993), pp. 1-2.

[2] Edward S. Shapiro, A Time for Healing (Baltimore: Johns Hopkins University Press, 1992), p. 100.

[3] Ibid., p. 117.

[4] Charles Silberman, A Certain People (New York: Simon & Schuster, 1985), pp. 143-144.

[5] J.J. Goldberg, Jewish Power. (Reading, Massachusetts: Addison-Wesley Publishing Company, Inc., 1996), p. 280.

[6] Norman Cantor, The Sacred Chain (New York: HarperCollins, 1994), p. 389.

[7] Ibid., p,; 402.

[8] Ibid., p. 402.

[9] Ibid., p. 403.

[10] Ibid., p. 404.

[11] Ibid., p. 405.

[12] Ibid., p. 406.

[13] Ibid., pp. 406-407.

[14] Ibid., p. 418.

A journalist specializing in media critique, MICHAEL COLLINS PIPER is the author of Final Judgment, the controversial « underground bestseller » documenting the collaboration of Israeli intelligence in the assassination of John F. Kennedy. He is also the author of The High Priests of War, The New Jerusalem, Dirty Secrets, The Judas Goats, The Golem: Israel's Nuclear Hell Bomb, My First Days in the White House and The New Babylon. All are available from AMERICAN FREE PRESS and THE BARNES REVIEW. Call toll free at 1-877-773-9077 to order any of these books (except Final Judgment, which is out of print). He has lectured on the topics discussed in his books in places as diverse as Malaysia, Iran, Japan, Canada, Russia and the United Arab Emirates. Piper also currently has a daily radio program on the Republic Broadcasting Network. The Piper Report can be heard Monday thru Friday at 8 p.m. CST by going to wwww.republicbroadcasting.org and either tuning in live or accessing the voluminous show archives.
Extrait de :
The New Babylon – Those Who Reign Supreme, by Michael Collins Piper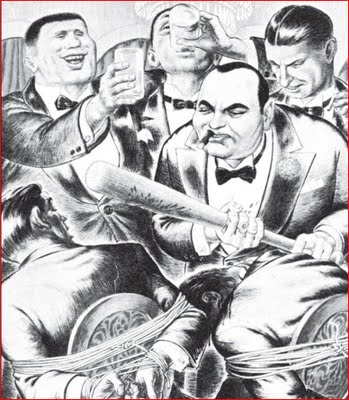 Chicago's famed mobster Al Capone (above) was nothing more than a front man for the Jewish crime syndicate which included the late Sam Bronfman (left) founder of the World Jewish Congress, and Bronfman's son, Edgar (right), who is now head of the Bronfman family which is a key American cog in the global Rothschild Empire.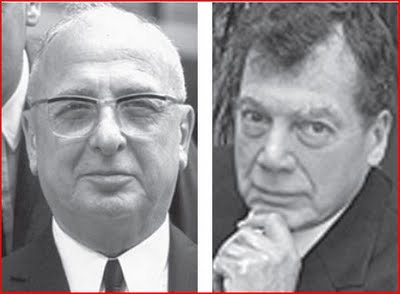 CHAPTER TEN
The Bronfman Gang:
The Royal Family of American Jewry—
"Godfathers" to Al Capone and John McCain
Once described as "the Rothschilds of the New World," the family Bronfman—although officially based in Canada—certainly constitutes the proverbial "royal family" of the American Jewish establishment, inasmuch as the family's influence is solidly entrenched in the United States, reaching from NewYork to Hollywood and everything in between. Proteges—directly and indirectly—of the Bronfman syndicate have included multiple powerful and well-known personages ranging from Al Capone to U.S. Sen. John McCain (R-Ariz.).
Although best known for their control of the Seagram liquor empire, this legendary—and quite sinister—family controls much,much more.
In some respects they personify "the ultimate Jewish success story." They represent virtually everything that is truly bad—in the classic sense—about Jewish power and influence in America. And while they may not technically be the wealthiest Jewish family in America, per se—there are others that are much,much richer—the Bronfmans have a certain level of clout and prominence that few other families can claim. After all, of course, Edgar Bronfman—reigning patriarch of the family—was the longtime head of the World Jewish Congress.And that's a title with clout.
As far back as 1978, Bronfman family biographer Peter Newman, writing in The Bronfman Dynasty, estimated that the aggregate assets held by the various branches of the family totaled some $7 billion. He cited Fortune magazine which declared—at the time—"The Bronfman fortune rivals that of all but a small number of North American families, including some that gathered their strength in the 19th century when taxes had no more impact on wealth than poor boxes."
Since then, of course, the Bronfmans have increasingly compounded their wealth and their influence has grown proportionally.
Originally,we have been told, the Bronfman clan came as immigrants to Canada under the sponsorship—like many others—of the various Jewish charities under the thumb of Europe's Rothschild family, the great financial house that has ruled from behind the scenes for generations.
However, the Bronfman empire as we know it today was founded by buccaneering, sharp-nosed businessman Sam Bronfman who—with his brothers—made millions in the liquor business—and many millions more by shipping their liquor into the United States where it was illegally consumed during Prohibition. Thus, the family forged early links with the U.S. crime syndicate headed jointly by Russian-born, New York-based Jew, Meyer Lansky, and his Italian partners, Charles "Lucky" Luciano and Frank Costello.
In fact—and this is probably a dirty little secret better left unmentioned—there is hardly a border town in the northern regions of the United States—from Maine to Washington state—where one could not find tidy family fortunes accumulated by locals (not always Jewish, but many who are) who were part of the Bronfman-Lansky liquor smuggling network.
And in the big cities, a "connection" with the Lansky-Bronfman network was a "must" for anyone who wanted to succeed. The truth is that even Chicago's Italian-American crime prince,Al Capone, owed his rise to power to his Bronfman connection—another little-known fact that has been largely suppressed by the media in the United States.
Despite all the hoopla over Capone's purported "rule" over Chicago, at no time ever did Capone control more than one-fourth of the rackets in the Windy City. And what's more, as famed independent crime writer Hank Messick has pointed out in his classic study, Secret File (G. P. Putnam's Sons, 1969), Capone—powerful though he was—never held a title higher than "capo" (or "captain")—head of a crew of ten men—in the ranks of the formally organized Italian-American "Mafia" crime network in Chicago.
Another point often forgotten in the legend of "the Mafia" is that Capone,in fact,was only permitted to become a formal member of the Mafia after Italian-American crime bosses in Chicago relaxed Mafia membership rules to permit certain selected non-Sicilians such as Capone (who was born in Naples on mainland Italy) to join
If fact, the truth is that Capone was ultimately answering to much bigger, more secretive bosses behind the scenes,who were based"back east"—part of the "elite" group surrounding the aforementioned infamous New York-based Jewish crime chief Meyer Lansky (who ultimately switched his operations to Miami and, for a brief period—many years later—to Israel).
It was the Lansky group—including Lansky's Jewish partner Benjamin "Bugsy" Siegel and his Italian-born partners, Costello and Luciano—that sent Capone (a distant Luciano cousin) to Chicago in the first place.
In their notable Lansky biography, Meyer Lansky: Mogul of the Mob (Paddington Press, 1979), written in cooperation with Lansky, Israeli writers Dennis Eisenberg, Uri Dan and Eli Landau fill in some of the missing elements left out by Capone's biographers.
Lansky himself told his Israeli biographers that "It was Bugsy Siegel who knew him well when Capone lived and worked on the Lower East side . . . [He was a] close enough friend of Capone's to hide him out with one of his aunts"when Capone got in trouble on a murder charge."
To get him out of the line of law enforcement fire, Lansky sent Capone to Chicago to act as a tough in the gang of JohnnyTorrio, a NewYorker who had"gone west"and was moving to unseat his own uncle, old-time gangster "Big Jim" Colosimo, as boss of the Italian-American Mafia in Chicago.
Essentially, Torrio had been Lansky's Chicago pointman and Capone quickly moved up the ranks and became Torrio's right-hand man.
Organized crime writer Messick noted that Capone's positioning "delighted" the Lansky crowd "because Capone was very much their man. Although Capone eventually became his own master in Chicago, running
scores of rackets . . . his loyalty to his New York friends was so firm that Lansky and [Luciano] knew they could always count on him."
And it is worth pointing out that Capone's immediate"boss" in Chicago, Torrio,was also the Chicago contact for the liquor interests of the Canadianbased Bronfman liquor empire which was shipping its legally produced products over the border for illegal consumption by Prohibition-era American drinkers. Sam Bronfman and his family worked closely with the Lansky syndicate from the beginning. Therefore, the Torrio-Capone link brought the connection full circle.
Meanwhile, Chicago's ruling boss, Colosimo, was doing nothing to endear himself to either Bronfman or Lansky and Siegel whom he was known to refer to as "dirty Jews."
Colosimo proclaimed that he couldn't understand why Luciano dealt so closely with Lansky and Siegel, saying "I sometimes have a suspicion that he must have some Jewish blood in his veins," a suspicion that—in light of Luciano's subsequent fate, as we shall see—is highly unlikely.
In addition, Colosimo asserted there was "no future in bootlegging" and showed little interest in patronizing the Bronfman liquor supply. Colosimo wanted to focus on drugs, prostitution and loan-sharking. His boycott of Bronfman was cutting into the Lansky syndicate's profits.
Needless to say,when the time was ripe, Lansky (viaTorrio and Capone) moved against Colosimo who was gunned down by a NewYork Jewish gangster sent in to do the job.The biggest wreath at Colosimo's lavish funeral featured a card that read: "From the sorrowing Jew boys of New York." Soon enough, the Bronfman liquor came flowing into Chicago, courtesy of Lansky's henchman Torrio and his right-hand man, Capone, soon to emerge as the media's favorite "Mafia" figure.
So when we look at the forces behind even the most notorious Italian-American gangster of the 20th century,we find his roots buried deep within the Bronfman (and Zionist) camp.And that is news in itself.
As noted, the current head of the Bronfman family is Edgar Bronfman who—aside from his extensive international business dealings—also served as the longtime president of theWorld Jewish Congress, from which position he exerted considerable political clout.
Bronfman, of course, was the key player in the recent (and ongoing) effort to extort billions of dollars from Swiss banks for their alleged involvement in laundering of "Jewish gold" said to be stolen by the Nazis, and for having confiscated the wealth of certain Jewish persons from Europe who hid their vast wealth in Swiss banks prior to World War II.
The question as to how this vast wealth was actually accumulated has never been explained by the media, although the involvement of the Bronfman family in the controversy may provide a key to it in part.
It is known that the Bronfmans achieved much of their own initial wealth prior to World War II in the illegal liquor trade, in concert with American crime syndicate figure Meyer Lansky whose operations ranged far and wide,well beyond American shores.
It is also known that Lansky was one of the prime movers, for the crime syndicate, behind the use of Swiss bank accounts for the laundering of criminal proceeds.Thus, it is certain that some of those who were taken into custody by the Third Reich and whose bank accounts were confiscated were actually agents of the Lansky-Bronfman syndicate and thus engaged in illegal activity.The "persecuted" Jews—in these cases—were common criminals.
Bronfman's son, Edgar Jr., is perhaps as equally powerful as his father, although from another venue. The younger Bronfman assumed control of Universal Studios and all of the related entertainment subsidiaries now under the control of the Bronfman empire.A major player in Hollywood and in the music and film production area, Edgar Jr. reportedly bungled a major family investment when he entered the family into partnership with the French-based Vivendi corporation, but no members of the Bronfman family have been seen panhandling on the streets of New York, Beverly Hills or Montreal as of this writing.
Edgar's lesser-known son, Matthew, is highly active in Jewish affairs and serves as chairman of the program committee and chairman of the Bronfman Center for Jewish Life Committee.In 2007 he was elected as chairman of the governing board of theWorld Jewish Congress, long headed by his father and he is also chairman of theWorld Jewish Congress Budget and Finance Commission and is also a member of its steering committee.
He is the head of a NewYork-based investment company,BHB Holdings, and likewise is a controlling shareholder of one of Israel's largest banks, Israel Discount Bank and a controlling shareholder in SuperSal, the largest supermarket chain in Israel.Another of his enterprises is control of the IKEA franchise in Israel, where he also has substantial real estate holdings, aside from those he maintains in the United States.
Among other things, Mathew Bronfman was chairman and CEO of Candle Acquisitions Company, a specialty candle manufacturer, and chairman of Sterling Cellular Holdings, a cellular telephone firm.In his early years he was involved in other Bronfman holdings. He was also employed at the Goldman Sachs international banking firm, demonstrating, again, the interlock among the global Jewish forces in the Rothschild Empire.
The Seagrams company is regularly among the largest political contributors to both of the major American political parties. This is interesting in itself for when, during the 1996 presidential campaign, Bill Clinton was attacking his GOP opponent Bob Dole for accepting contributions from the tobacco industry, the fact that both major parties were taking sizable contributions from the alcohol industry—in particular the Bronfman empire—seems to have gone largely unmentioned.
As distinguished an "American" institution as Du Pont, for example, fell under Bronfman control. In 1981, Du Pont, then the seventh largest corporation in the United States,was targeted for takeover by the Bronfman family.
Actually, at that point, the Bronfmans already owned 20 percent of Du Pont—a substantial holding in itself, for in the corporate world, even as little as 3 percent ownership of a corporation's stock gives the owner effective control of a corporation.
Although the traditional American name of "Du Pont" continued to appear on the corporate papers and on Du Pont products sold to American consumers, the real power behind the scenes was the Bronfman empire.
In truth, the Du Pont family—although still quite wealthy, having accumulated their financial resources over several generations—had little influence within the corporation that bore the family name. Ultimately, the Bronfmans officially divested their holdings in Du Pont, but used their resources to expand their wealth and tentacles elsewhere.
Today the Bronfmans are very much a recognized part of not only the plutocratic establishment in the United States, but throughout the world.
Among other Bronfman holdings over the years were such traditionally "American" companies as: Campbell Soup, Schlitz Brewing, Colgate-Palmolive, Kellogg, Nabisco, Norton Simon, Quaker Oats, Paramount Pictures and Warrington Products (maker of Kodiak boots and Hush Puppies shoes.)
In addition, the Bronfmans also had an interest in the Ernest W. Hahn Company (which then operated 27 regional shopping centers in California and had plans for another 29); and theTrizec Corp., one of the biggest property development companies in North America.
The Bronfmans also hold considerable assets in some "unexpected" and "out of the way" places. For example, the Bronfman controlled Cadillac Fairview corporation—which develops commercial rental properties—developed a shopping center in Hickory, North Carolina and (in 1978) was in the process of setting up two others.Another Bronfman enterprise is the Shannon Mall in Atlanta and the Galleria in Westchester, New York.
In addition, a Bronfman subsidiary held options on a shopping center development in Mississippi and for yet another in Connecticut. Bronfman companies also controlled industrial parks in and near Los Angeles, office towers in Denver and in San Francisco, and housing developments in Nevada, California and Florida. The Bronfmans also bought control of the share capital of Houston-based General Homes Consolidated Cos. Inc., building houses and developing land with operations reaching as far as Mississippi and Alabama.
For many years the family—although this was not well known—controlled vast tracts of land in the outer reaches of the Virginia suburbs surrounding Washington, D.C., lucrative land that the family, in recent years, has been relinquishing at great profit.
And as a reminder: the various United States holdings of the Bronfman family listed here do not constitute anything resembling a complete overview of their portfolio.And none of this covers the Bronfman holdings in Canada alone, for example, and elsewhere.
All of this financial clout, taken together, also constitutes significant political power in the various states and locales where the Bronfman influence has taken root.
Of particular interest in that regard is the hidden influence of the Bronfman family in the state of Arizona—an outpost viewed in the minds of most Americans as somehow a paradise of cowboys, cactus and wide-open spaces, a conservative stronghold seemingly independent of the corruption and intrigue found in the big cities like New York, Miami, Chicago and Los Angeles. In fact,Arizona ranks alongside the great crime capitals.This dubious distinction can be traced directly to the influence in Arizona of the Bronfman family.
Bronfman family influence in Arizona is so strong that it can be rightly said that the Bronfmans are no less than the "godfathers" behind the political career of America's best known "reformer"—Arizona Senator John McCain. Here's the story:
In 1976 a crusading Phoenix reporter, Don Bolles, was murdered by a car-bomb after writing a series of stories exposing the organized crime connections of a wide-ranging number of well-known figures in Arizona who were closely associated with a character named Jim Hensley.
Five years later"Honest John"McCain arrived in Arizona as the new husband of Hensley's daughter, Cindy. "From the moment McCain landed in Phoenix," according to Charles Lewis of the Center for Public Integrity," the Hensleys were key sponsors of his political career." But the fact is, the people behind the Hensley fortune are even more interesting and controversial.
While it is well-known McCain's father-in-law was the owner of the biggest Anheuser-Busch beer distributorships in Arizona—one of the largest beer distributors in the nation—the mainstream media has had nothing to say about the origins of the Hensley fortune that financed McCain's rise to power.The Hensley fortune is no more than a regional offshoot of the vast bootlegging and rackets empire of the Bronfman dynasty who, in turn, were major players—as noted before—in the crime syndicate ruled by Meyer Lansky and his partners, both in the United States and abroad.
McCain's father-in-law got his start as a top henchman of one Kemper Marley who, for some forty years until his death in 1990 at age 84,was the undisputed behind-the-scenes political boss of Arizona. But Marley was much more than a machine politician. In fact, he was also the Lansky crime syndicate's top man in Arizona, the protege of Lansky lieutenant, Phoenix gambler Gus Greenbaum, who, in 1941, set up a national wire for bookmakers. After Lansky ordered a hit on his own longtime partner,"Bugsy" Siegel, who was stealing money from the Flamingo Casino in Las Vegas — which was financed in part by loans from an Arizona bank chaired by Marley — Greenbaum turned operations of the wire over to Marley while Greenbaum took Siegel's place in tending to Lansky's interests in Las Vegas.
In 1948 Greenbaum was murdered in a mob"hit" that set off a series of gang wars in Phoenix,but Marley survived and prospered as did Jim Hensley, who sponsored McCain's rise to power.
During this time Marley was building up a liquor distribution monopoly in Arizona.According to Marley's longtime public relations man, Al Lizanitz, it was the Bronfman family that set Marley up in the liquor business. McCain's father-in-law was the top lieutenant for Kemper Marley, the Lansky syndicate's chief Arizona operative who acted, in turn, as the front man for the Bronfman family—key players in the Lansky syndicate.
During Prohibition, the Canadian-based Bronfmans supplied—and thus controlled—the "spigot" of liquor funneled to Lansky syndicate functionaries in the United States, including Al Capone in Chicago. After Prohibition, Lansky-Bronfman associates such as Marley got control of a substantial portion of liquor (and beer) distribution across the country. Marley's longtime public relations man,Al Lizanitz, revealed that it was, in fact, the Bronfmans who set Marley up in the alcohol business in the first place.
In 1948, 52 of Marley's employees (including Jim Hensley, the manager of Marley's company) were prosecuted for federal liquor violations. Hensley got a six-month suspended sentence and his brother Eugene went to prison for a year.
In 1953 Hensley and (this time) Marley were prosecuted by federal prosecutors for falsifying liquor records, but young attorney William Rehnquist acted as their "mouthpiece" (as mob attorneys are known) and the two got off scot-free. Rehnquist later became chief justice of the Supreme Court and presided over the "fix" that made GeorgeW. Bush president in a rightly disputed election.
Arizona insiders say Hensley "took the fall" for Marley in 1948 and Marley paid back Hensley by setting him up in his own beer distribution business. Although, during the 2008 presidential campaign, Newsweek implied Hensley's company was a "mom and pop" operation that became a big success, the real story goes to the heart of the history of organized crime at the highest levels.
McCain's father-in-law also dabbled in dog racing and expanded his fortune by selling his track to an individual connected to the Buffalo-based Jacobs family, key Prohibition-era cogs in the Lansky network as distributors of Bronfman liquor.
Expanding over the years, buying up race tracks and developing food and drink concessions at sports stadiums, Jacobs enterprises were described as being probably the biggest quasi-legitimate cover for organized crime's money-laundering in the United States.
In 1976, Hensley's mentor—Marley (at the height of his power)—was the key suspect behind the aforementioned contract murder of journalist Don Bolles who was investigating the mob in Arizona, but Marley was never prosecuted.
While John McCain himself cannot be held personally responsible for the sins of his late father-in-law—whose fortune was passed on to his daughter, Cindy McCain, John's wife—the fact is that "reformer" McCain owes his political and financial fortunes to the good graces of the biggest names in organized crime. Perhaps it is no wonder that, today, the Las Vegas gambling industry is among McCain's primary financial benefactors.
This overview is really just the tip of the iceberg but it does say much about McCain and the political milieu that spawned him, particularly in light of McCain's front-line position as one of Israel's leading U.S. supporters.
Ironically, though, as noted earlier, in the 2008 presidential campaign, McCain was endorsed by an American member of the Rothschild family and had a fundraiser held on his behalf by the Rothschilds in London, Edgar Bronfman chose to publicly endorse Barack Obama over McCain, evidently "turned off" by McCain's Christian fanatic running mate, Sarah Palin.
And this, too, should be noted for the historical record regarding the Bronfman family: In light of this author's own rather widely-distributed work on the assassination of President John F. Kennedy, the book, Final Judgment—which contends that Israel's intelligence service, the Mossad, played a major role alongside the CIA in the assassination of President Kennedy, precisely because of JFK's obstinate opposition to Israel's drive to build nuclear weapons of mass destruction—that the fingerprints of Sam Bronfman are found all over the JFK assassination conspiracy. Not only was Bronfman's longtime henchman, Louis Bloomfield, chairman of the Mossad-sponsored Permindex corporation (which included among its directors no less than New Orleans businessman Clay Shaw, who was indicted by former New Orleans District Attorney Jim Garrison for involvement in the JFK assassination), but new evidence indicates that Dallas mob figure Jack Ruby was actually on the Bronfman payroll.
In addition, while another Bronfman associate in Dallas, oilman Jack Crichton, hovered around Lee Harvey Oswald's widow after the JFK assassination, another Bronfman functionary—"super lawyer" John McCloy—served on the Warren Commission. McCloy was a director—and Crichton served as vice president—of the Empire Trust, a financial combine controlled in part by the Bronfman family.
And although Sam Bronfman is best known for his Seagrams liquor empire, what many JFK researchers who point their fingers at the "Texas oil barons" have failed to note is that Sam Bronfman was a Texas oil baron himself, having purchased Texas Pacific Oil in 1963. As far back as 1949, Allen Dulles, later the CIA director fired by JFK and also a Warren Commission member, served as an attorney involved in the private ventures of Bronfman's daughter Phyllis.
For those interested in the entire story, they should refer to Final Judgment, which is now in its 768-page sixth edition, thoroughly documented. The bottom line is that the JFK assassination is unquestionably, beyond any doubt, the one pivotal event that helped bring covert Jewish influence to all-new heights in the American power structure.
The Bronfmans,by any measure,do constitute the"first family"—indeed we say "the royal family"—of the American Jewish and Zionist establishments, but certainly secondary to the "Kings of Kings": The Rothschilds.
In many respects, though, it might be said that, in terms of old-fashioned gutter-level organized crime—as opposed to the "high level" operations of the Rothschild Empire—the Bronfmans are certainly the Royal Family of the Jewish Crime Syndicate, by virtue of their newfound respectability, having risen to wealth and glamour from their early years as partners of the "nonrespectable » Meyer Lansky.
And revolving, as satellites, around the Bronfman dynasty are a wideranging array of other powerful families which—in turn—have their own satellite families and financial interests. They constitute the New Pharisees working to bring the Talmudic dream of the NewWorld Order into being.
In the chapters which follow we will meet the biggest names and families among the New Pharisees whose vast fortunes bankroll and corrupt American politicians (and those worldwide) who do the bidding of the Rothschild Empire in their drive for a Jewish Utopia.
While they fancy themselves to be aristocrats, noblemen and ladies, modern-day knights, princes and princesses all, the truth is that many of them are—as David Ben-Gurion, the founding father of Israel, frankly described many Holocaust survivors—"hard, evil and selfish people." So let us meet these would-be global rulers.


The Truth About Anti-Semitism . . .

This 19th Century caricature of Jewish plutocrats outside the "Monopoly Building" demonstrates that opposition to Jews often comes as a consequence of public recognition of their history of seeking absolute power. Even famed historian Albert Lindemann in Esau's Tears candidly asserted:
The tendency to dismiss anti-Semitism as a bizarre hallucination, a fantasy of diseased minds, is undoubtedly justified in some instances but has also often been overdone and has thus hindered understanding, for Jews have been disliked for many reasons by a very wide variety of normal people, many of whom were neither emotionally unstable nor intellectually unsophisticated, and a few of whom were . . . of great ability (Wagner, Barres, or T. S. Eliot, for example). It is far too easy, indeed, too reassuring, to describe anti-Semites as mentally deranged or morally flawed in all regards. The extent to which anti-Semitism was"normal" requires . . . a more serious and open-minded investigation. . . . Not all hostility to Jews, individually or collectively, has been based on fantastic or chimerical visions of them, or on projections unrelated to any palpable reality.
Sur ce blog:
Le vrai « parrain » s'appelle Bronfman
Les rois du crime organisé, c'est pas les Siciliens ni les Italiens

« Nos excuses au Congrès juif canadien, mais il y a une mafia juive. Et c'est la mafia financière… »
L'auteur et éditeur vétéran Willis Carto explique le contrôle sioniste des médiats (Bronfman, etc.)
Les Saigneurs d'Amérique du Nord
Bronfman et l'escroquerie Madoff
Ces riches qui ne paient pas d'impôts (l'exemple de Bronfman)
Le conseiller-stratégiste clé de Palin est une figure importante au sein d'une organisation tentaculaire
Les dessous de l'empire Rothschild, les nouveaux pharisiens. Entrevue avec Michael Collins Piper
La connexion israélienne: la seule à réunir toutes les pièces du puzzle de l'assassinat de JFK
Israels Secret Nuclear Weapons
Sam Bronfman a financé et supervisé personnellement la production d'anthrax militaire au Canada durant la Seconde Guerre mondiale