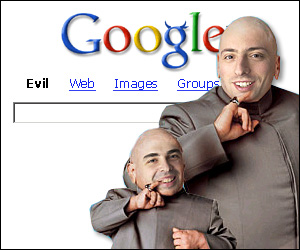 Larry Page et Sergei Brin
, fondateurs de Google
Les vidéos de Google Vidéos vont disparaître
Rys2sense écrit:
VIDEO – GOOGLE goes the way of the Z
Google is removing videos form their google video site.
Watch and or DOWNLOAD videos you want before April 29th because they will be gone.
We know what this is. Like youtube google censors political topics that deal with the Z word or the H word in a rational way without polluting it with senseless racist garbage or simple kook-kook land gibberish. So just a warning if you wanna grab « Peace Propaganda and the Promised Land » « People and the Land » « Iraq 911 PNAC All Roads Lead to Israel » « Occupation 101 » « War by Deception 2011 » or any of the films I made on google video, you had best do that soon because they will be gone.
Profitez-en pour voir les documentaires suivants et télécharger vos préférés avant qu'ils ne disparaissent définitivement:
Google forcé par une nouvelle loi à censurer des sites web
Sur ce blog:
Le plus beau dans nos chères démocraties, c'est qu'on n'a pas à s'inquiéter pour sa liberté d'opinion et d'expression…
La religion mondiale (vidéo censurée par Youtube)
Eric « Goolag » Schmidt, petit frère de Big Brother
Depuis plus de 25 ans, le Bilderberg des médias a lieu à Sun Valley (Cal.)
Flashback: Youtube est mort, lobbying et conséquences
Des groupes israéliens enseignent la manipulation des données sous Wikipédia
Des attaques militaires prévues contre les médias