Mark Weber, directeur de l'Institute for Historical Review (IHR), croit à l'Holocauste, et croit aux gazages de juifs à Sobibor, Treblinka et Belzec!
Mark Weber doit démissionner de l'Institute for Historical Review, par Robert Faurisson
La Legion for the Survival of Freedom Inc (LSF) a été fondée en 1952 par un groupe de patriotes au Texas. Elle était sur le bord de la faillite en 1966, quand Willis Carto a repris le contrôle de la corporation et de son magazine The American Mercury. Lorsque Carto a fondée l'IHR en 1979, cela fut créé comme une filiale de la LSF. En 1993, l'IHR avait environ 12 000 abonnés, deux grands entrepôts remplis de livres, et un historique de publication presque ininterrompu du Journal for Historical Review. Il y avait quelques personnes âgées pas très en santé qui siégeaient au conseil d'administration de la LSF et qui avaient déjà des problèmes financiers. Les rebelles à l'origine de la mutinerie de l'IHR leur ont dit que Willis Carto «opérait illégalement» et qu'ils pourraient par conséquent avoir des problèmes avec le fisc et même finir en prison – à moins qu'ils ne démissionnent du conseil pour permettre à des «gens biens» de prendre la relève. C'était un tissu de mensonges, mais malheureusement ce plan a fonctionné.
À peine quelques années après que Carto ait été chassé, l'IHR est retombé à quelque 500 abonnés et seulement une dizaine de magazines ont été publiés. Mark Weber, dont la soeur a vécu dans un kibboutz en Israël, est devenu le nouveau représentant de l'IHR. Mais c'est une autre histoire, le fait est que des avocats juifs ont travaillé pendant des années pour mettre la main sur des millions de dollars qui étaient supposés être allés à Willis Carto et à des causes populistes.
Details on Mark Weber's fraudulent activities: markwebermustgo.blogspot.com
You have to know that Weber tried to sell the IHR subscription list to … the ADL! You have to know that Weber got rid of the magnificient library of the IHR for almost nothing! You have to know that he refused to publish Leon Degrelle's memoirs, claiming it was nazi apology! He produded almost nothing since he been director at the IHR, and the IHR was a real big organisation with thousands of subscribers before he destroyed it and made it nothing more than a small news clipping website.
Guess who said that Weber conspired against Willis Carto to destroy Liberty Lobby and subvert the IHR? None other than Ed Fields. Yes, the devoted revisionist Ed Fields.
He got his hand on millions of dollars when he subverted IHR!
For said years, the IHR/Mark Weber took in the following in « Contributions, Gifts, Grants, And Similar Amounts Received: Direct Public Support. »
Tax Year 2000–$346, 572
Tax Year 2001—$209, 229
Tax Year 2002—$610, 152
Tax Year 2003–$210, 363
Tax Year 2005–$409, 477
Tax Year 2006–$299, 623
Now, this adds up to be $2,085,416. That is to say, the IHR/Mark Weber took in $2,085,416 in donations from the Revisionist/patriot community for these six tax years. Have we, in turn, received a good return on our money????
I say, Hell no!!! Mark Weber destroyed the Journal of Historical Review, the yearly IHR conferences, the IHR's book publishing arm, and the IHR newsletter. He even refuses to sponsor a weekly Radio talk show!
What does Mark Weber/IHR do to deserve $2,085,416 from the Revisionist/patriot community???? Well, he sends out newspaper clippings to one thousand people or less. He sells a bunch of old books and DVDs, many of which are decades old. He attempts to market the works of others like Kevin MacDonald and Pat Buchanan–books that can be obtained cheaper elsewhere. And finally, every once in a great while Weber writes a short essay or gives a short speech.
Why Weber? Why don't you quit right now?
Michael Collins Piper has revealed some important facts:
* Andrew Allen is a directly connected to the Burma Foundation (financed by George Soros) in California and testified under oath that he actually trained Mudjahidins in Afghanistan. (Ostrovsky tells us that it was all a Mossad operation funded with CIA money. Allen has direct connections to intelligence (CIA and Mossad) agents and is responsible for the IHR coup (putting Weber in power).
* Here are some of the most famous revisionists who say that Mark Weber must quit the HR right away:
Thank you to all truth seekers DO NOT SEND ANY MONEY TO THE IHR OR MARK WEBER!!!
Robert Faurisson unmasked Mark Weber in a letter that he wrote in 2003: Reply to Mark Weber
Other sources: Holocaust Revisionism and Mark Weber!
Craven Doubletalk from Mark Weber at the IHR
Revisionist Paul Grubach Slams Mark Weber
Ingrid Rimland Zundel Adds Her Voice to the Weber Debate
Is Mark Weber Giving People Value For Their Money?
Weber: gas chambers exposed wouldn't change anything
IHR and the Mark Weber controversy
Revisionist's time to take a stand (Weber on internet radio)
Smith Report on Mark Weber and the IHR
Weber's use of Goebbels for partial holocaust
New IHR Catalogue features ZERO Holocaust-revisionist titles
Holocaust Revisionism and Mark Weber!
The rank and file of the Revisionist movement have « gotten wise » to Mark Weber. Your laziness and incompetence have done enormous damage to the IHR, and it is now plain for everyone to see. Your « work » at the IHR is simply a « retirment hobby, » a con game in which you acquire a weekly pay check to help make your child support payments. In fact, you have betrayed and conned the entire Revisionist movement. In my opinion, years ago it was a mistake of mamouth proportions when you conned us all to back you during the height of the Carto-IHR conflict. Thank God you failed to acquire the millions of dollars from the Farrell Bequest–you would have wasted it all away. Your enemy Willlis Carto is not perfect, but the fact of the matter remains is that Carto produces: Carto gets things done: Carto builds effective organizations. Just compare Carto's record to yours.

Paul Grubach
Reply to Weber from Arhur Butz (author of The Hoax of the Twentieth Century)
Smith Report Issue #158 | February 2009

Mark Weber and IHR
Are Not Relevant to Revisionism

By Arthur R. Butz

Last August, in postings that related to a conference he had recently attended, Mark Weber made it clear that he was not a revisionist.* However one had to read, rather than just skim, Weber's August articles to see this. In particular, his article « A Zionist Smear: The ADL Attacks an Islamic Peace Conference » (

http://www.ihr.org/news/aug08adl.html

) endorsed, by implication but clearly, a remark in a speech by Malaysia president Mahathir Mohammed: « The Europeans killed six million Jews out of twelve million. » Though Robert Faurisson and I, and a few others, immediately saw the point, the article had little impact on the community of revisionists, perhaps because its title related to a commonplace ADL activity that the author was protesting.
In September there was activity directed to bringing this important matter to the revisionist community generally, but I suppose that activity was suspended on account of the pressure of other matters, e.g. the Fredrick Töben affair. Incidentally, on Sept. 30 I drove Töben to the airport for that ill-fated flight to London, and I mentioned Mark Weber's revealing article to him.
On Dec. 2 Faurisson directed the following two questions to Weber:
1. Do you believe that the Germans decided on and planned a physical destruction of the European Jews? ("the specific crime")
2. Do you believe in the existence and the use by the Germans of homicidal gas chambers or gas vans? ("the specific weapons of the specific crime")
As I write this Faurisson has gotten no reply. Those two questions relate fundamentally to the historic mission of IHR and were asked of the Director of IHR by a key former associate of the IHR, under circumstances wherein the Director's adherence to the mission was obviously in question. Weber was ethically obligated to answer.
I told Ernst I would not get into the frey in a major way, but inside I am seething. I always liked Mark for his outstanding memory of important facts and his impeccable courteous manners, and I intensely disliked him for having run the IHR right into the ground, hogging the limelight as if the IHR existed first last and always to owe him a living at the expense of other activists. Ernst and I have long felt that the revisionist ground work was finished and we had to move on, stopping the bean counting, and employing other means of reaching the masses, but please proactively. Never for a moment did we think, must less assert, in a submissive way that the result of all the work of decades, all the research, all the sacrifices of so many decent and committed people would end up being described by (Mark Weber) as nothing but a « Hindrance ».

[…]

Regarding what Ted O'Keefe said about Weber, Ingrid Rimland said: … »Ted O'Keefe speaks to my heart », She quotes Weber on a radio show saying « of course the IHR believes in the holocaust « . He called Ingrid Zundel, said he was concerned about what Ernst Zundel would think of him. She must confess « it was his obvious remorse for saying something that dum, touched me, and I told him, « we all say dum things under ambush, but I have never forgotten this admission by Mark Weber, I will bite my tounge and keep to myself what Ernst, still languishing in prison for a lifetime of commitment to revisionism thinks of Mark Weber now. » (…)
BRONFMAN ENNEMI DE L'HISTOIRE, DÉFENSEUR DE LA MÉMOIRE DE L'HOLOCAUSTE
Voici une série de cinq émissions (podcasts) sur le coup d'État sioniste, impliquant des éléments du Mossad, de la CIA, de la Scientologie et de l'ADL, visant à détruire l'Institute for Historical Review et Liberty Lobby (créés par le vétéran nationaliste Willis Carto, patron de Michael Collins Piper).
Podcasts de Michael Collins Piper: michaelcollinspiper.podbean.com
Constructively,
MICHAEL COLLINS PIPER
Liberty Lobby Beats the Odds Again
SPOTLIGHT March 20, 2000 – 21
STRANGE FACTS ABOUT THE 'NEW'
INSTITUTE FOR HISTORICAL REVIEW
-AND THE STRANGE PEOPLE IN CHARGE!
By Dr. James K. Warner
FACT: There is hard evidence that the ADL is in possession of the mailing list of the Noontide Press, the IHR's affiliate. The list was turned over to the ADL even before the IHR coup. This suggests that a staffer at the IHR was collaborating with the ADL prior to the coup. Here are the details: The San Francisco Police Department advised a New Jersey man that his name was in a file confiscated from a San Francisco police officer who collaborated with ADL operative Roy Bullock. Although the file contained only the man's name and address, beside the legend « organization » appears the designation « Noontide Press. » The individual had never attended any IHR or Noontide function. He had, however, ordered books from Noontide—prior to the IHR coup. This is significant, proving that the ADL had obtained the Noontide list even before the IHR coup. The ADL could only have obtained the Noontide list from within the IHR office or from someone who obtained the list from an IHR employee. The ADL had no idea that evidence of the purloined list would be exposed. Otherwise the theft of the list would have remained a secret.
FACT: Mark Weber has invited Jewish « intellectual » Michael Shermer, editor and publisher of Skeptic magazine to speak at the upcoming IHR conference, even though Shermer describes revisionism as « pseudohistory. » Serving on Shermer's advisory committee is TV personality Steve Allen who has, for years, raised money for the ADL and has been honored by the ADL for his efforts. Shermer's magazine praised Weber when it reported that « Not all Holocaust revisionists are conspiracy theorists. Mark Weber, in fact, is redirecting the IHR away from both conspiratorial thinking and overt anti-Semitic leanings, in an effort to lead the movement into the mainstream of historical scholarship. In this process they must also distance themselves from some of the more extreme revisionists. » In other words, Shermer and his ADL associates are happy with the « new » IHR under Weber's control. Weber and company will be « expelling » revisionists who are « more extreme » from the revisionist movement under the ADL's direction, just as the John Birch Society expelled anyone thought to be knowledgeable about the Jewish conspiracy.
FACT: In an interview published in the Jewish-controlled Skeptic magazine young Jewish « revisionist » David Cole called German-born Canadian revisionist Ernst Zundel a « fascist » and described him as « not the person I would like to see recognized as the world's leading Holocaust revisionist. » Cole told Skeptic he is concerned that « the likes of Ernst Zundel » are prominent in the revisionist movement. French revisionist historian Robert Faurrison has described Cole as « that little Jew » and has pointed out that Cole's video of Auschwitz museum director Franciszek Piper admitting that the Auschwitz gas chambers were reconstructed after the war is nothing new. In fact, Faurrison himself had documented that fact long before. Now, however, Cole is using his « new » finding to insinuate himself into a leadership position in the revisionist movement. Revisionists have long been skeptical of Cole's motives.
FACT: in the same issue of Skeptic magazine attacking revisionism and praising Mark Weber for « redirecting » revisionism, the Jewish editors also published an article attacking not only Christian Identity, but they also smeared Christian fundamentalist Dale Crowley, Jr. and Lutheran traditionalist Herman Otten, a prominent revisionist. The article also attacked « Racisim, Anti-Semitism and White Supremacy. » Rev. Crowley has upset the Jews by attacking the anti-Christian film entitled Anti-Semitism that is shown at the Holocaust Museum in Washington. In a review, Skeptic also praised Holocaust « historian » Deborah Lipstadt for her book, Denying the Holocaust, saying that revisionists « will have to work hard to get around Lipstadt's indictment. »
FACT: Mark Weber recently wrote a letter to an anti-Christian journal called The Humanist in which he said that Willis Carto's connection with the IHR was « rather tenuous. » As anyone who is even vaguely familiar with the history of the IHR knows, Willis Carto was the founder of the IHR and the driving force behind its record of accomplishment. How can anything that Weber says be trusted in light of this single lie alone?
FACT: IHR Journal Editor Mark Weber's sister is a convert to Judaism and now lives in Israel with her Jewish husband. Is it possible that the Israeli Mossad has somehow used Weber's family connection to manipulate Weber? Weber is also known to be in contact with a former self-styled « Nazi » named Grayson–a native of Australia—who has now converted to Judaism and is now engaged in smearing populist and nationalist Christian patriots Down Under. Weber is a self-described « former Marxist » who then became active in white racialist and National Socialist politics. What's next? Is Weber now going to convert to Judaism and bring his new co-religionists the good news that the Holocaust wasn't as bad as reported?
FACT: Mark Weber lived at the expense of a wealthy Nebraska revisionist, the late William Curry, for ten years, ostensibly writing a book that would be the « final word » on the Holocaust. No such book has ever materialized even though it was Curry's dying wish that the book be published. With the resources of the IHR at his command, Weber could have his book published almost overnight. Does this book exist or was Weber exploiting Mr. Curry?
FACT: IHR editor Ted O'Keefe, who once wrote a glowing introduction to Belgian General Leon Degrelle's book, Hitler: Born at Versailles, recently wrote that Degrelle's manuscripts were « stridently, embarrassingly pro-Nazi and pro-Hitler. » O'Keefe accused Degrelle of « a fundamental lack of historical objectivity. » This inflammatory language sounds like something out of the ADL propaganda mill. Does O'Keefe expect Degrelle, whom Hitler once described as the kind of son he would like to have, to have written an anti-Hitler book? In a sworn statement O'Keefe said Degrelle's manuscripts were « stridently, uncritically pro-Hitler » and that the manuscripts, in fact, were « unwanted. » (presumably by him and his colleagues, but certainly not by revisionists). According to O'Keefe the manuscripts were worthless, or, in his words, a « half a million dollar white elephant with a swastika painted on its side. » O'Keefe is not an ADL agent, but he is very clearly being manipulated by someone who is. Those who know O'Keefe say that although he is guilty of treachery and duplicity in his role in the IHR coup, he had to have been influenced by someone else to have allowed his name to be used in the attack on Degrelle. Most believe that the key agent-in-place, manipulating O'Keefe, is Tom Marcellus whose own connections are interesting.
FACT: IHR director Tom Marcellus is a « Field Staff Member » of an anti-Christian cult, the « Church » of Scientology, that practices mind control. The Scientologists recently purchased ADL-style newspaper advertising attacking the German people and echoeing the lie that the Nazis gassed six million people. Marcellus has admitted in writing that he donates a substantial portion of his salary to Scientology. According to Jewish « revisionist » David Cole, there would be « jobs aplenty » for Marcellus at Scientology if the IHR folded. Marcellus called General Leon Degrelle's writings « flagrantly pro-Hitler. » The Scientologists are also concerned about so-called « Nazi war criminals » being on the loose. The Scientology obsession with « Nazi war criminals » is interesting. It will be recalled that the Zionists sought to have General Degrelle prosecuted as a « Nazi war criminal. » There have been allegations that L. Ron Hubbard, founder of Scientology (and also a disciple of the Satanist, Aleister Crowley), was a CIA or OSS operative. (All pictures of Hubbard show he looked VERY Jewish. It is known that at least one person involved in the CIA's infamous mind control experiments worked closely with Hubbard. The CIA's mind control experiments were under the direction of a Jewish scientist, Dr. Sidney Gottlieb, a lieutenant of James J. Angleton, the notorious Mossad collaborator at the CIA. There are those who believe that Scientology is nothing more than a broad-ranging joint CIA-Mossad mind control operation using the members essentially as « robots » to spy on the companies and organizations they work for. Recently the IRS gave Scientology a tax exemption worth potentially billions to the cult. This could not have happened without the support of the Jewish lobby in Washington. The tax exemption came on October 1, 1993—precisely the day that Tom Marcellus put the IHR coup into motion. Is this coincidence or conspiracy? You be the judge.
FACT: Andrew Allen, a San Francisco area lawyer, who has been appointed by Tom Marcellus and Mark Weber to the bogus IHR « board of directors » was banned from previous IHR conferences because he was known to be associating with the late David McCalden. It is a known fact that during the time McCalden was working to undermine the IHR that he was in close, sustained contact with San Francisco-based ADL undercover operative Roy Bullock. The evidence suggests that Allen is a deep-cover ADL operative deployed into action as a consequence of the public exposure of Bullock who had posed as a « loyal revisionist » and attended IHR conferences.
FACT: Mark Weber and his colleagues have attacked writer William Grimstad as a « Nazi propagandist. » This is the same William Grimstad whose two popular works, The Six Million Reconsidered, and Anti-Zion, are two of the best-researched and among the most widely-hailed books available on the Jewish question and the facts about the Holocaust. Incredibly enough, these books have been on the IHR and Noontide Press booklist for years. The last time this writer saw such an attack on Grimstad was in a report put out by the ADL.
FACT: Mark Weber maintains regular contact with a « researcher » named Evelyn Rich, despite the fact that she infiltrated David Duke's U.S. Senate campaign and taped Duke's private conversations which were later broadcast by the Zionist-controlled networks. She also worked with a journalist who recently published a vicious smear of not only Duke, but this writer, and the IHR (mis-stating the facts about the IHR's victory over Mel Mermelstein). Ted O'Keefe himself told people that once when he was visiting her home, Miss Rich received a phone call from none other than Irwin Suall, chief of the ADL's spy apparatus.
CAN THERE BE ANY DOUBT ABOUT WHO REALLY IS IN CONTROL AT THE'NEW INSTITUTE FOR HISTORICAL REVIEW?
–
In THE JUDAS GOATS, Michael Collins Piper denounces the role of a certain « Mr M » (late Matthew Peter Balic, named in the book) :
MCP wrote:
Matthew Peter Balic, a sports agent who is a longtime Scientologist. This was the same Mr. « M »—who is actually mentioned by name in THE JUDAS GOATS, in the chapter describing my last face-to-face encounter with Roy Bullock, who asked me what I knew about Balic.
(…) I was talking about a certain Matthew Peter Balic, who has been running around for years in the periphery of Liberty Lobby, Arab-American groups,and he actively pinned himself to the USS Liberty issue and the survivors, and he also was friendly with Jim Traficant who, I am told by a mutual acquaintance, later started to suspect that Balic was a « Mossad » operative (although Balic is not Jewish to my knowledge but instead of Croatian heritage). It was Balic who called Phil Tourney and drummed up Weber as a guest on the (now-canceled) Liberty Hour podcast by Mark Glenn and Phil. (I refer to the podcast that followed the regular Liberty Hour broadcast canceled by RBN).
I've said that BOLLYN was being handled by a « front » for Scientology: namely this character, this woman from Utah, « Dr » Ann Blake Tracy. She runs some group that opposes psychiatric drugs (a good thing) and she had Bollyn on her payroll (by his own admission, in passing, on his website or somewhere in some of his writings) for at least a year and a half. He was « editing, » which he is constitutionally or intellectually incapable of doing, by the way, and getting paid for it. The woman in question was a guest on MY program on RBN while Bollyn was sitting in for me during my three and half weeks in Malaysia in 2004. I think her name will appear in the RBN archives there.
Now, on the other hand, WEBER was very much tied in to Scientology through one OPEN Scientologist, Tom Marcellus, one SECRET Scientologist (secret, that is, to Willis Carto, until later), Greg Raven, and then the chief honcho of Scientology (or, that is, one of the Jewish lawyers who took over Scientology: Lawrence Heller).
Secret Coup Inside Scientology SPOTLIGHT October 26, 1998 IHR UPDATE
IHR Update SPOTLIGHT, March 22, 1999, p 22-3 – The Update is dated March 11
What Went on Behind Closed Doors America is supposed to be an open society, but the IRS is keeping secret the details of its decision to exempt the profitable Church of Scientology from paying taxes.SPOTLIGHT July 8, 1999
Michael Collins Piper just called and sent me the shocking information about Andrew Allen, ally of Mark Weber, that follows.
Some background first:
Don Black, friend of Weber, who said I was "delusional."

His son Derek Black (l) and "Jack Boot" (r), called "Stormfront Chief of Staff," whose poison thread implied I was a homosexual….. despite my two marriages and two kids, Ingrid and Erika…
Weber stills runs the IHR, with a $40K annual salary, while I live hand to mouth.
Mark Weber has strong neanderthal features. His sister lived on a kibbuz in Israel. His benefactor Allen's father was a wealthy real estate developer whose sister married a Straus of the Macy's fortune…. Andrew Allen said under oath he spent ten years "running arms" to the Afghani mujahideen (AKA the Taliban), which was, though conceived by Zbigniew Brzezinski, was conducted at the tactical level as a Mossad op.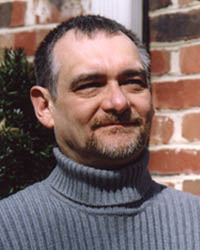 Mark Weber
And now to Mike Piper's revelation.
* * *
Send Sympathies to "Andy" Allen…
---
Elizabeth Allen was born in San Francisco on Nov. 23, 1916, the daughter of Harry Allen, a successful real estate developer, and Winifred Bridge, an accomplished gardener.
* * *
My comment:
.
–Écouter aussi l'entrevue de Germar Rudolf et Fritz Berg sur la catastrophe de l'IHR à l'émission de Yeager (16 dec. 2013).–