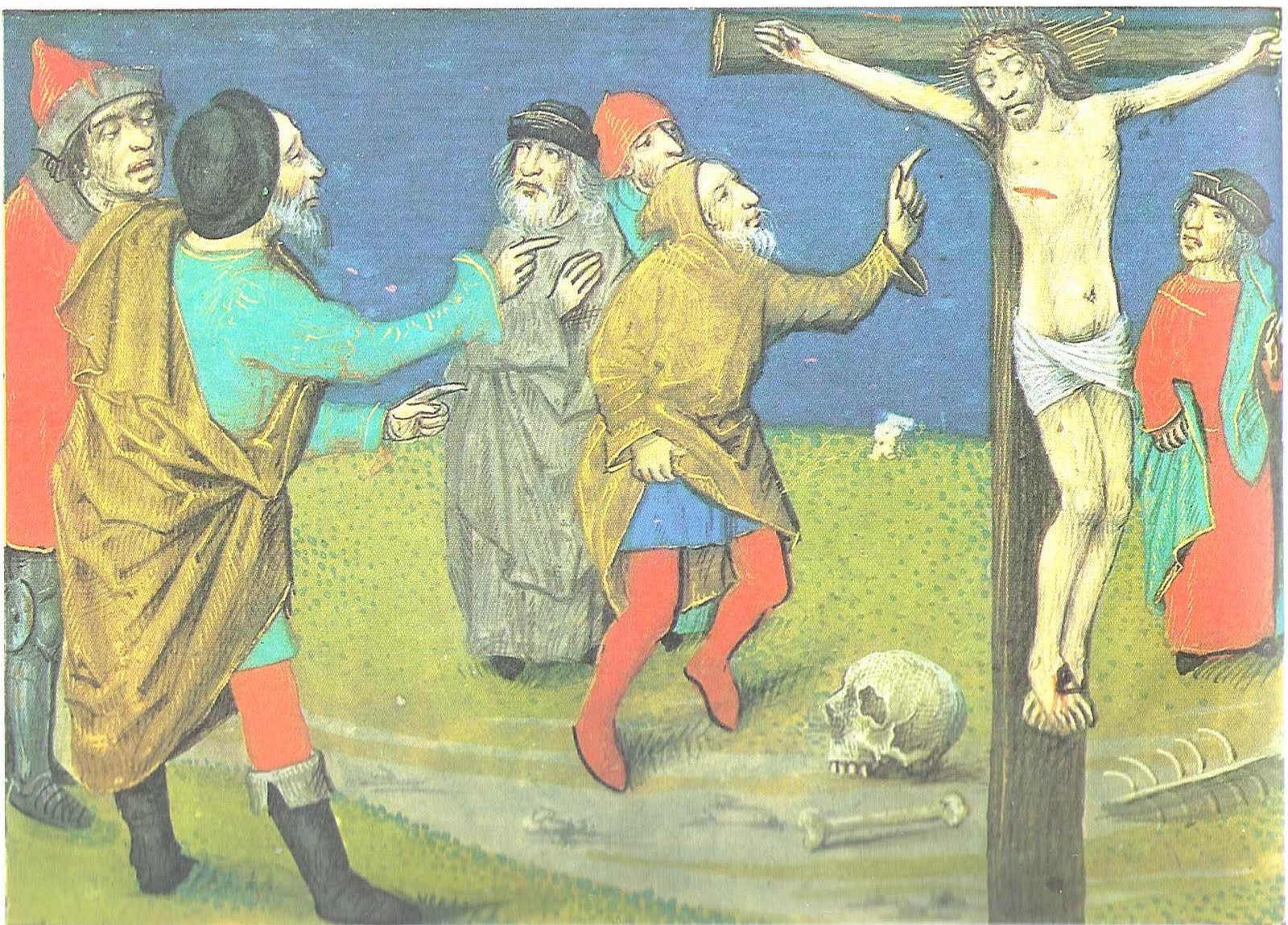 Miroir de la Salvation humaine, France XVe siècle.
Les juifs assemblés sous la croix se réjouissent de la mort du Christ
. L'idée que les juifs aient pu danser autour de la croix peut être rapprochée d'une disposition du IVe Concile du Latran, 1215: « Les jours de lamentation et le dimanche de la Passion, les juifs devront s'abstenir de paraître en public: certains d'entre eux, en effet, nous l'avons appris, osent en de tels jours arborer leurs plus beaux habits, et
se moquent des chrétiens
qui portent des signes de deuil en mémoire de la très sainte Passion.
Nous leur interdisons rigoureusement de danser de joie en outrage au Rédempteur
. »
Au deuxième volume de sa vie de Jésus publié au début de l'année, le Pape Benoît XVI s'est exprimé sur la mort de Jésus de façon à permettre aux journalistes de conclure hâtivement qu'il ne faut plus imputer aux juifs la responsabilité du déicide, c'est-à-dire d'avoir mis à mort Dieu. Pire encore, le 17 mai le directeur exécutif du Secrétariat pour les Affaires Œcuméniques et Interreligieuses de la Conférence Episcopale des Etats-Unis a affirmé qu'à aucun moment de l'histoire on ne peut accuser les juifs de déicide sans se mettre hors de la communion de l'Eglise catholique. A l'encontre de ce que beaucoup de gens veulent croire aujourd'hui, il est temps de rappeler, même brièvement, ce qu'enseignait toujours l'Eglise sur le meurtre judiciaire de Jésus.
D'abord le meurtre de Jésus fut vraiment un « déicide », c'est-à-dire meurtre de Dieu, parce que Jésus fut une des trois Personnes divines qui outre sa nature divine avait assumé une nature humaine. Qu'est-ce qui fut tué sur la Croix ? Seulement la nature humaine. Mais qui fut tué sur la Croix dans sa nature humaine ? Personne d'autre que la deuxième Personne divine, c'est-à-dire Dieu. Donc c'est bien Dieu qui a été tue, autrement dit, c'est le déicide qui a eu lieu.
Ensuite Jésus est mort en croix pour nous sauver tous, tous les hommes pécheurs, de nos péchés, et dans ce sens-ci il est vrai que tous les hommes furent et sont le but de sa mort. Mais uniquement les juifs (chefs et peuple) ont été les principaux agents du déicide parce que dans les Evangiles il saute aux yeux que le non-juif le plus impliqué, Ponce Pilate, n'aurait jamais condamné à mort Jésus si les chefs juifs n'avaient d'abord incité le peuple juif à réclamer sa mise en croix (Mt. XXVII, 20). Certes, les chefs éduqués étaient plus coupables que le peuple ignorant, dit St. Thomas (Somme III, 47, 5), mais tous ensemble ils ont hurlé pour que le sang de Jésus descende sur eux et sur leurs enfants (Mt.XXVII, 25).

En troisième lieu, le Pape Léon XIII au moins a estimé qu'il y a une vraie solidarité entre les juifs qui ont crié pour que Jésus meure et la collectivité des juifs des temps modernes. Dans son Acte de Consécration de la Race Humaine, n'a-t-il pas imposé à l'Eglise universelle à partir de la fin du 19me siècle de prier Dieu pour qu'il regarde enfin avec miséricorde « les enfants de ce peuple qui fut jadis votre préféré ; que sur eux aussi descende, mais aujourd'hui en baptême de vie et de Rédemption, le sang qu'autrefois ils appelaient sur leurs têtes. » ?

Mais Léon XIII est loin d'être le seul à avoir relevé cette solidarité entre les juifs de tous les temps. Aujourd'hui ne réclament-ils pas eux-mêmes la terre de Palestine en faisant valoir que c'est le Dieu de l'Ancien Testament qui la leur a donnée ? De tous les temps y a-t-il jamais eu sur la face de la terre une race-peuple-nation plus orgueilleuse de son identité à travers les siècles ? Elevés à l'origine par Dieu pour servir de crèche à son Messie, lorsqu'il est venu, hélas, ils ont refusé collectivement de le reconnaître. Collectivement aussi, ce qui veut dire qu'il y a toujours de nobles exceptions, ils sont restés fidèles à ce refus, en sorte qu'ils ont changé de religion. Celle d'Abraham, de Moïse et de l'Ancien Testament ils l'ont remplacée par celle d'Anne, de Caïphe et du Talmud. Tragiquement, c'est leur formation messianique même aux mains de Dieu qu'ils tordent pour rejeter sans cesse celui qu'ils tiennent pour un faux messie. L'Eglise a toujours enseigné qu'à la fin du monde ils se convertiront (cf. Rom. XI, 26-27), mais d'ici là il semble fatal qu'ils continueront d'agir, collectivement, en ennemis du vrai Messie.

Comment le Pape peut-il subvertir des vérités si anciennes?

Kyrie eleison.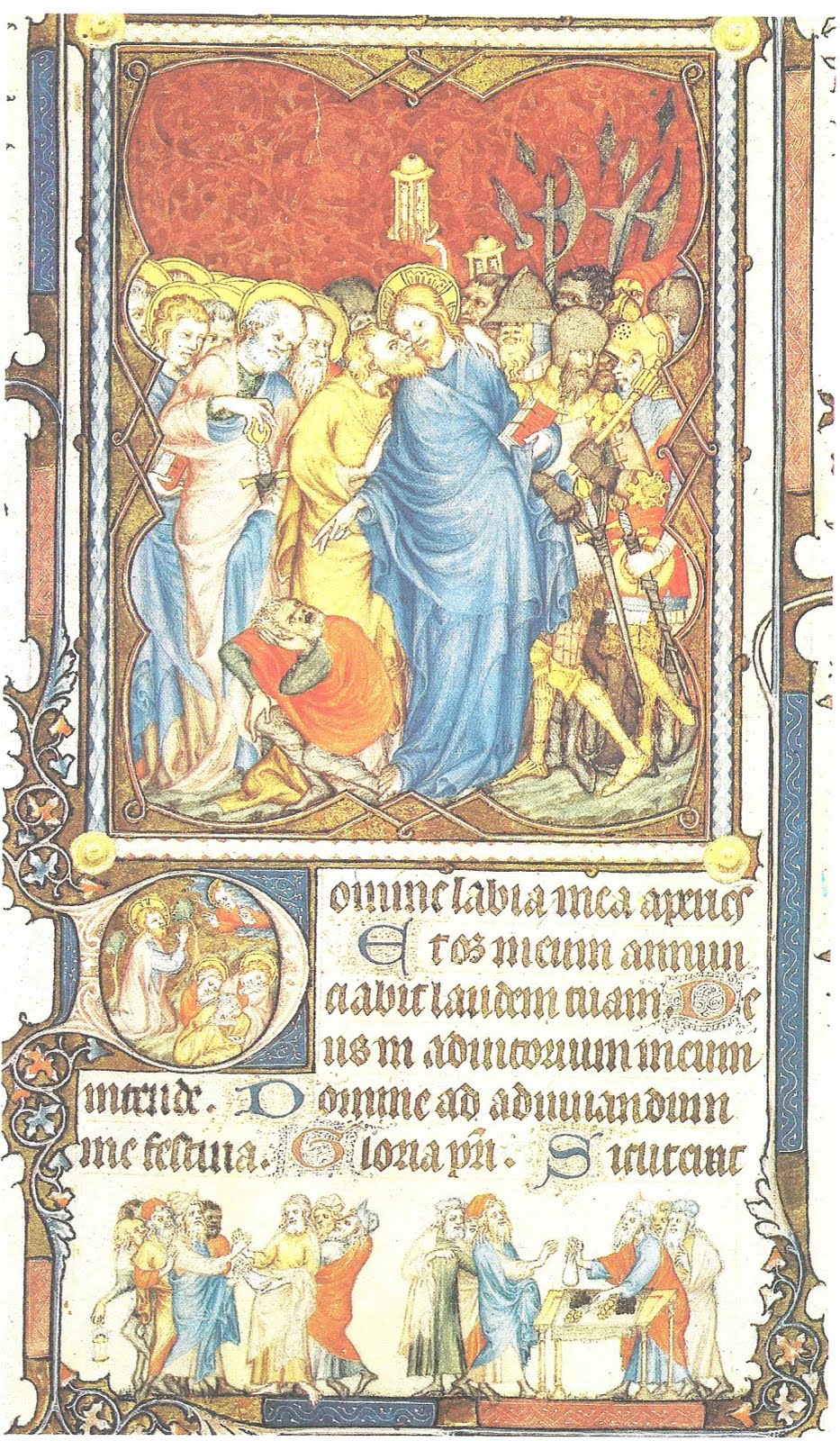 Le baiser de Judas, Livre d'Heures de Jean duc de Berry, Fin du XIVe siècle. Rapprochement entre
Judas
, qui recevra
trente deniers
pour prix de sa trahison et un groupe de
marchands juifs du Moyen Age
représentés en bas et à droite.
Editor's note: Bishop Richard Williamson's « Eleison Comments » column, grounded in Scripture and the position of the Catholic Church for one thousand nine hundred sixty-five years (until the Second Vatican Council), was published in On the Contrary on Oct. 14 (« How Can Pope Benedict Let Go of Ancient Truths?« ). With the usual chutzpah, the Conference of European Rabbis is demanding today that the Catholic pope condemn a Catholic bishop for preaching Catholic truth.
When is the pope going to call on Judaics to condemn murderous, racist rabbis for preaching Talmudic lies?
We support Bishop Williamson's right to publicly preach the Gospel of Jesus Christ!
_______________________
Pope called on to condemn bishop's new anti-Semitic slur
October 19, 2011
http://www.jta.org/news/article/2011/10/19/3089896/controversial-catholic-bishop-makes-new-anti-semitic-remarks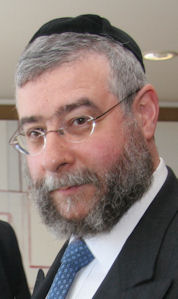 Chief Rabbi Pinchas Goldschmidt
BERLIN (Jewish Telegraph Agency) — A group of European rabbis has called on the pope to condemn the latest anti-Semitic remarks by a Holocaust-denying Catholic bishop.
The Brussels-based Conference of European Rabbis slammed comments by Catholic Bishop Richard Williamson in which he allegedly blamed Jews for deicide. Williamson, a member of the radical Catholic Pius Brotherhood sect, reportedly made the comments in the latest issue of his newsletter, "The Eleison Comments. » He has been living in London.
"Comments like these take us back decades to the dark days before there was a meaningful and mutually respectful dialogue between Jews and Roman Catholics," conference President Chief Rabbi Pinchas Goldschmidt of Moscow said in a statement issued Wednesday.
Goldschmidt called for the Church to « suspend negotiations with extremist Catholic tendencies until it is clear that these groups show a clear commitment to tackling anti-Semitism within their ranks. »
In his newsletter, Williamson wrote that "only the Jews were the primary agents of the deicide because Pontius Pilate would never have condemned Jesus if the Jews had not asked for blood."
Williamson was found guilty of Holocaust denial in Germany in 2010 and fined about $14,000. He has previously denied the existence of gas chambers and the murder of 6 million Jews during the Holocaust.
In 2009, Pope Benedict XVI lifted the excommunication against Williamson, but the Vatican also reportedly declared that « in order to be admitted to episcopal functions within the Church, (he) will have to take his distance, in an absolutely unequivocal and public fashion, from his position on the Shoah, which the Holy Father was not aware of when the excommunication was lifted. »
During meetings with Pope Benedict in Berlin last month, German Jewish leader Dieter Graumann said that one of the issues that troubled Jewish-Catholic relations was the Church's refusal to condemn Williamson.
In his statement Wednesday, Goldschmidt said the pope « has shown a commitment to fostering a spirit of positive dialogue with Jews both before and during his papacy. But he must clearly show that there is no room in the Catholic Church for purveyors of hate. »
Bishop Williamson's website:
http://www.dinoscopus.org
23/10/2012
Nous apprenons en totale exclusivité que le document annonçant l'expulsion de Mgr Williamson de la Fraternité Saint Pie X vient d'être promulgué. L'éviction de Son Excellence est donc à présent officielle.


Les Prêtres anti-ralliement dans la FSSPX, dégoutés, auraient réfléchis sur cette triste situation. Finalement, ils sont nombreux à penser que ce mal pourrait rapidement se transformer en bien … Mgr Williamson pourra à présent s'exprimer comme il veut, où il veut et quand il veut … Ce nouvel acte extrêmement grave de Mgr Fellay pourrait s'avérer, à moyen terme, une grande erreur stratégique dans sa politique de ralliement. Les instructions sont à présent claires : tirer plein feu sur les pro-ralliements qui ont noyauté la tête de la Tradition !
La Rome conciliaire refuse de se soumettre à la Foi Catholique n'a pas finit de pleurer ! Mgr Williamson est de retour et personne ne le fera taire !
A BAS LE CONCILE DE L'ENFER ! VIVE LA SEULE ET UNIQUE EGLISE CATHOLIQUE ! VIVE LE CHRIST ROI !
[ajout 19h15 : pour résumer TRES brièvement l'affaire : Mgr Fellay, Supérieur Général de la FSSPX, ne s'entend pas avec les trois autres évêques sur la question des irresponsables négociations qu'il a mené avec la Rome conciliaire. L'un de ces trois évêques, Mgr Williamson, qui s'était déjà fait remarquer par le passé en contestant l'existence des chambres à gaz (auxquelles on croit tous à fond), parlait plus fort que les autres sur cette affreuse politique de ralliement dans ces lettres publiques hebdomadaires appelées « Kyrie Eleison« . Mgr Fellay, n'y tenant plus, lui lança finalement un ultimatum pour qu'il cesse de diffuser ces lettres. Mgr Williamson, après maintes réflexions, refusa. Il est expulsé.]
[ajout 24/10 20h20 : la FSSPX a communiqué ce matin publiquement sur le sujet : http://www.dici.org/actualites/communique-de-la-maison-generale-de-la-fraternite-saint-pie-x-23-octobre-2012 ]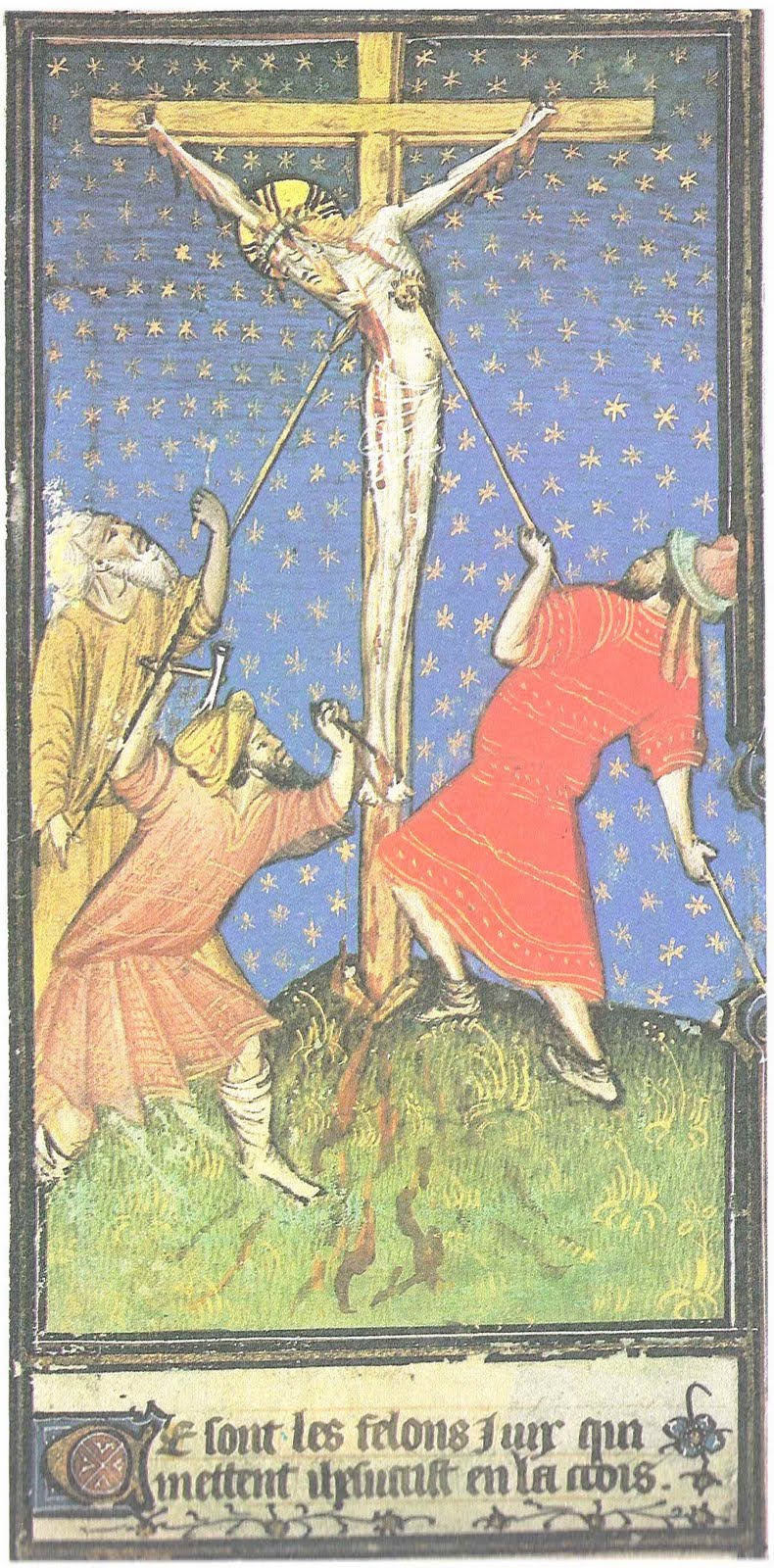 Crucifixion. Livre d'Heures dit de Rohan. France vers 1418. « Les soldats aussi se gaussèrent de lui. S'approchant pour lui présenter du vinaigre, ils disaient:  » Si tu es le roi des Juifs, sauve-toi toi-même! » (Luc) Le miniaturiste a transformé les soldats romains en juifs et la légende confirme: « Ce sont les félons juifs qui mettent Jésus Christ en croix. »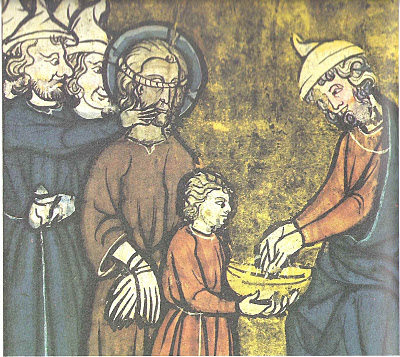 Ponce Pilate se lavant les mains est représenté coiffé du chapeau juif. Psautier de Liège, XIIIe siècle.

« Jesus in the Talmud » (Princeton Press, 2007) Talmud Spews Hatred of Christ, Christians, by Willis A. Carto
Sur ce blog:
Jérusalem occupée par l'anti-Christ
Du meurtre du Christ au conflit des civilisations
Ce qu'ils ont dit: Les Papes

Aveugle synagogue