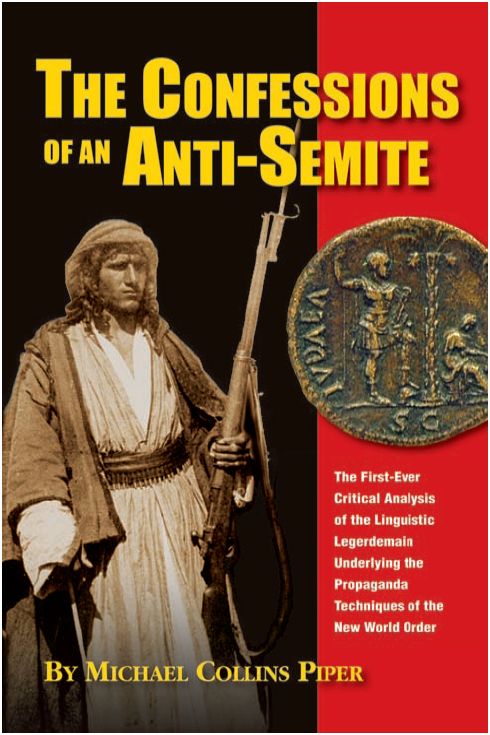 FINALLY—Michael Collins Piper responds to his critics . . .
Candid discussion of

the

most controversial issue of our time!
The CONFESSIONS
of an Anti-Semite
The First-Ever Critical Analysis
of the
Linguistic Trickery
Underlying the
Mendacious
Propaganda
Promoting
the New World Order
The mass media in America is always talking about "anti-Semitism" and has accused endless numbers of people around the world of being "anti-Semitic," but this book—by longtime AFP correspondent Michael Collins Piper—is the first book ever to explain, in no uncertain terms, that the charge of "anti-Semitism" is actually part of a well-thought-out and carefully contrived form of linguistic trickery designed to confuse people and advance the New World Order.
Piper himself has been accused of being an "anti-Semite" because of the unabashed books and many thousands of articles he has written over the years, but he rejects the accusation and points out that there's much more to the history and reality of "anti-Semitism" than meets the eye.
Although many friends advised Piper not to adopt this controversial title for his new book, he decided instead to hit the issue head on and now in THE CONFESSIONS OF AN ANTI-SEMITE he has thrown down the gauntlet to the New World Order propagandists and has put forth a remarkable assembly of hard facts and information that's hard to refute.
In so doing, he's outlined his own fascinating personal history, including first-hand accounts of his global travels to such places as Russia, Japan, Malaysia, Iran and Abu Dhabi where he has met world leaders and lectured on—and directly confronted the issue of "anti-Semitism" and the very real phenomenon of Zionist power in America. This may be Piper's most important book EVER!
480 pages of hard-hitting
facts and no-nonsense analysis
A No-Holds Barred Challenge to the
Global Imperium of the Plutocratic Elite

THE TRUTH ABOUT THOSE UGLY ALLEGATIONS OF ANTI-SEMITISM…
The book you need to silence your critics . . .
Some of the fascinating highlights…
Piper's first-hand confrontations with some well-known American politicians over the issues of Zionist power and the truth about 9-11!
Michael Collins Piper has lectured in Russia, Japan, Malaysia, the United Arab Emirates, Iran and all over Canada, meeting with statesmen, industrialists, diplomats and others. In his new book, Piper tells all . . .
How a U.S. ambassador—a member of the Council on Foreign Relations—illegally conspired to stifle global distribution of Piper's books . . .
Michael Collins Piper's college room-mate is now one of the mostpowerful Zionists in Congress. Piper recounts some of the shocking things his former friend told him. . .
What the founder of the Kennedy Dynasty said privately about the Rothschilds, World War II andthe Federal Reserve.
In 1987 Michael Collins Piper spent an entire day at the Honolulu home
of longtime Philippine President Ferdinand Marcos and his wife
Imelda. You'll be amazed to learn what Mrs. Marcos personally told
Piper about the role of Zionism in our world today . . .
Piper's intriguing account of how he correctly assessed that a prominent "patriot" was actually a federal informant tied to the Oklahoma bombing . . .
Michael Collins Piper once ran into ADL chief Abe Foxman on the street on Capitol Hill. Here's the very revealing (and amusing) story of how this Israeli propagandist reacted when Piper approached him. . .
The never-before-told story of Piper's 4-hour meeting with an Arab potentate, discussing the truth about bin Laden.
While in Moscow, Piper learned some amazing facts about the rising tide of anti-Zionist sentimentin 21st century Russia
Senator Bobby Kennedy was a chip off the old block. Find out which group he scoffingly referred to as "the liberals" when talking in public places with his close friends about "the liberals"!
"They" tapped his phone and threatened his life
An AFP story by Michael Collins Piper on the 9-11 tragedy sparked an international controversy involving the U.S. and Saudi Arabia . . .
How the U.S. Embassy in the United Arab Emirates tried to sabotage Piper's lecture to the Arab League on Zionist control of theAmerican media . . .

Here's more of what's inside this shocking volume:
• Explained (at last): how the New World Order manipulates anti-Semitism . . .
• Examined: How anti-Zionist Jews are slammed and smeared . . .
• Elucidated: What your friends need to know about anti-Semitism . . .
• Exposed: big-name "patriot" leaders who are misleading their followers . . .
• Is there any real difference between Communism, Capitalism and Zionism?
• Are the Jews really Jews? Are the Jews really Semites?
• What about the Holocaust? How did World War II really start in the first place?
• What role does modern-day Russia play in the course of future events?
• The explosive secret story regarding Martin Luther King and Zionism . . .
• Are the Jews a superior race? What top Jewish leaders have said . . .
• What's the truth about Islam? What does the Jewish religion say about Jesus?
• How academia engages in double standards in reporting Jewish history . . .
• Little-known facts about Zionist terrorism in the 20th Century . . .
• Is Israel a "failed state"? Will Israel wreak nuclear havoc on the world?
• Why well-meaning anti-Zionists are now considered "anti-Semites" . . .
• How the Zionist movement seized control of the Republican Party . . .
• Cold, hard facts & figures about Zionist control of the America media . . .
• Why patriots must now confront the modern-day Pharisees head on . . .
"SOME SAY I SHOULDN'T HAVE WRITTEN THIS BOOK!" —MICHAEL COLLINS PIPER
This may be Piper's most controversial work ever—and that's saying a lot! Don't miss it . . .
Yet ANOTHER new blockbuster by Michael Collins Piper!
The Confessionsof an Anti-Semite
A Special Note To AFP Readers from Michael Collins Piper:
"Don't use the term "anti-Semite" in the title of your book!" That was the urgent warning of a sensitive reader who urged:"Call yourself an'anti-Zionist" But I told him: "Well, for 30 years I've been branded an anti-Semite. And besides, those who decide who's an anti-Semite say that anti-Zionists are anti-Semites anyway. I'm damned if I do and damned if I don't."
And that's precisely why I used the term "anti-Semite" in the title of this book—for the very purpose of driving home the point that the Zionists are constantly engaged in a very insidious form of linguistic legerdemain—putrid trickery—to smear those who stand in the way of the Zionist agenda.
And that is something my book addresses in no uncertain terms. If we cannot speak directly about a subject, then we are subjecting ourselves to self-censorship. I make no apologies for the tough talk found in these pages. If you are distressed by frank opinions: don't buy this book.
I'm tired of the lies and the bullying and the double standards that are the foundation upon which the monstrous misconduct of U.S. foreign policy now stands—the direct consequence of inordinate Zionist financial (and thus political) power in America today, an influence made more substantial due to the Zionist control of the mass media, a fact only liars or fools would deny.
I guarantee this: once you've read this book, you'll never look at the topic of—and accusations about—anti-Semitism in the same way again. You'll finally understand the propaganda of the New World Order . . .
What a powerful
Zionist leader said
on radio about
Michael Collins Piper:
"This is a very skilled man.
In all my years of fighting
anti-Semitism I've never
heard so many classic anti-
Semitic canards incorporated
into one articulate, grammatically
correct sentence."
—Hyman Bookbinder
of the American Jewish
Commitee responding to a
call-in question from Piper
on a Washington, D.C.
radio show (circa 1985).
AND DON'T MISS THIS!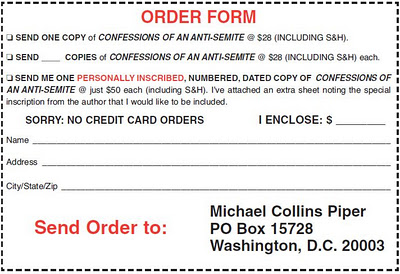 GET A PERSONALLY
INSCRIBED, SIGNED,
NUMBERED COPY . . .
For only $50, you can get a numbered,
dated copy of CONFESSIONS
OF AN ANTI-SEMITE inscribed personally
to you by Michael Collins
Piper. Attach an extra piece of paper if
you wish a special inscription to your
personal liking.
Piper's New Book Upsets Even Many AFP Readers
American Free Press
BOOK REVIEW by John Tiffany
Since he first debuted his underground bestseller, Final Judgment, detailing the Israeli Mossad links to the assassination of John F. Kennedy, AFP'sMichael Collins Piper has been cranking out an array of hotly controversial works touching on a wide-ranging selection of topics related to the underbelly of world power politics.
Ranging from The New Babylon, exploring the history of the Rothschild dynasty as the driving force behind the push for a New World Order, to The High Priests ofWar, which exposes the high-level forces orchestrating U.S. wars and imperialism abroad, to The Judas Goats that outlines the infiltration of dissident groups by the power elite—to name but a few—Piper's fact-filled books have won him plaudits here and abroad, having been translated into multiple languages. However, Piper's latest book, The Confessions of an Anti-Semite* —480 pages strong—has sent shock waves through the ranks ofAFP readers.
The title (intended to be humorous) has scared many folks who fear the very term "anti-Semite" which has been used for a century by New World Order forces to smear and intimidate those who challenge the global elitists.
The term "anti-Semite," asserts Piper, is part of the New World Order's "linguistic legerdemain"—sordid misuse of the English language—to confuse and frustrate its opponents.
Piper, who has counted some of the most respected Jewish critics of Zionism among his personal friends, admits he was warned not to title his new book as he did, but he points out that even the most sincere critics of Zionism and the New World Order (even including Jews) are perpetually smeared as "anti-Semites" even if they don't have an anti-Jewish bone in their body.
The book ismore than just a broad-ranging history of anti-Semitism (real and imagined) and its causes. It examines intrigues surrounding the Federal Reserve System and other interlocking forces that dominate the media in America and propelled the United States into the world wars and other military debacles. The book rips through the propaganda and focuses on the facts and myths about many of the controversies of our era—including 9-11 and the Oklahoma bombing. On the cover is a real Semite—anArab warrior.
Piper's book is particularly interesting wherein he outlines his personal interchanges with a number of well-known American politicians, confronting them on the streets of Washington, D.C., over the issues these politicians don't want to talk about. His account of a face-to-face exchange with Sen. Daniel Moynihan over the truth about 9-11 is especially revealing. Also of note is Piper's detailed account of his meeting in the Middle East with an Arab potentate discussing the truth about 9-11, confirming that what most Americans think is the truth about 9-11 is anything but that. You'll also be amused by Piper's account of the time hemet with Anti-Defamation League (ADL) chiefAbe Foxman on Capitol Hill.
This is a panoramic work of such broad scope that it may well be the definitive work from this writer, who has never been known to pull any punches. Thoroughly documented from an amazing array of sources—loaded with both history and current events—this is undoubtedly the most thought provoking of Piper's writings, and there are many others.
If you or someone you know has ever been suspected of being "anti-Semitic," this is a book you need to read.
Or, if you havemanaged to escape that ugly tar-brush, it's still incumbent upon you to take the time to read this stunning indictment of the lies, bullying and double standards rampant in the mass media today.
——
*To get your copy of Confessions of anAnti-Semite, send $28 ppd. to Michael Collins Piper, P.O. Box 15728,Washington, D.C. 20003. This book is not as of yet being sold by AMERICAN FREE PRESS.
Michael Collins Piper returns to the airwaves after a brief hiatus while finishing up his new book 'Confessions of an Anti-Semite"
Renowned investigative journalist Michael Collins Piper joins the program to discuss his latest book 'Confessions of an Anti-Semite', and not just the who, what, where, when and how of the important historical question concerning 'anti-Semitism', but more importantly–
"WHY?"