Rabbi Ovadia Yosef
http://www.ynetnews.com/articles/0%2c7340%2cL-4229767%2c00.html
Rabbi Yosef: Treating gentiles violates Sabbath
Shas' leader says religious physicians cannot violate Sabbath in order to save gentiles' lives, but offers halachic solution to avoid legal repercussions
Ynet
05.17.12, 13:36 / Israel Jewish SceneWhat should religious doctors do if a gentile is injured in a car accident on Shabbat and is rushed to the hospital? According to Rabbi Ovadia Yosef, this does not warrant violating the sanctity of the Sabbath.
During a class on Sabbath halacha relating to religious physicians, the spiritual leader of Shas said that while doctors are expected to do everything in their power – even if it requires violating the Sabbath – in order to save Jews whose lives are in danger, the same does not apply for gentiles.
« If a gentile were to get injured in a car accident during Sabbath, and he is brought to the hospital – Israel must not treat him, » he said, explaining that « if the particular procedures come from rabbis (de-rabbanan), then they might be permitted, but if they stem from prohibitions in the Torah (de-'oraita), then they are not allowed, as the Torah forbids to violate the Sabbath for gentiles. »
Rabbi Yosef expounded on the problem, saying that the Mishnah Berurah explicitly says that « all religious physicians who treat gentiles on the Sabbath or violating the Sabbath; however, in reality the patients are brought to the hospital and must be treated. The doctors' license says they must treat all patients without distinction of faith or race, and if they don't, the State could revoke their license and also punish them. So what should the poor doctors do? »
The rabbi offered a halachic solution that follows a rule by which if a single person is doing the act, he is violating the Sabbath, while if two people are doing it together, they are exempt.
« The doctor who needs to operate will call on another doctor, or nurse, to hold the scalpel together and make the incision, » said Rabbi Yosef, saying that « it is necessary in order for religious physicians to refrain from being put on trial for distinguishing between a Jew and a gentile on Sabbath. »
judeologie.com :
Racisme juif: «ne violez pas les règles du Shabbat pour sauver la vie d'un goy»
Article d'Asher Zeiger, dans The Time of Israel, le 17 Mai 2012
Le rabbin Ovadia Yosef avec le président de l'entité sioniste Shimon Peres
Donnant récemment une leçon sur les lois du Shabbat, le rabbin Ovadia Yossef, chef spirituel du parti Shas et ancien grand rabbin séfarade  a déclaré que les lois concernant la violation du Shabbat sont différentes selon que l'on a affaire à un «gentil»( ndlr: goy, non-juif, bref un sous-homme) ou a juif quand il s'agit de sauver une vie.
Yosef, qui a 91 ans, a dit dans la leçon qui a été enregistrée par ses adhérents, que parce que la Torah nous enseigne que ses lois sont pour nous pour «vivre par elles et non pour mourir par elles», le sauvetage d'une vie l'emporte sur toutes les lois de la Torah, mais seulement quand la vie est celle d'un Juif. Il a dit que la Torah ne permet pas la profanation du Shabbat pour sauver la vie d'un gentil.
http://www.timesofisrael.com/ovadia-yosef-speaks-against-sabbath-desecration-to-save-non-jewish-lives/
(Flashback 2009) Cisjordanie : un rabbin déclare que les Juifs peuvent tuer les enfants et bébés qui « menacent » Israël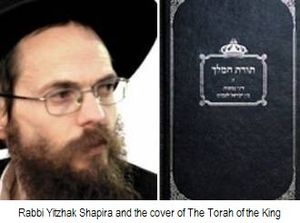 Un rabbin de Cisjordanie a publié il y a deux semaines un livre dans lequel il autorise les Juifs à tuer les « Gentils » qui « menacent » Israël.
Rabbi Yitzhak Shapiro, qui dirige une yeshiva (centre d'étude talmudique), précise dans son ouvrage La Torah du roi, que même les bébés et les enfants peuvent être tués s'ils représentent une menace pour la nation…
« Il est permis de tuer les Justes parmi les Nations, même si ils ne sont pas responsables de la situation menaçante », écrit-il aussi, ajoutant : « Si nous tuons un païen qui a péché ou a violé l'un des sept commandements – parce que nous nous soucions des commandements – il n'y a rien de mal à l'assassiner ».
Plusieurs rabbins éminents, dont le rabbin Yithak Ginzburg et le rabbin Yaakov Yosef, ont recommandé le livre à leurs élèves et disciples.Il faut dire que lorsque l'on connait le Talmud, ces thèses ne sont guère étonnantes…
Source : Haaretz
v.o.a.
West Bank rabbi: Jews can kill Gentiles who threaten Israel
Book by Rabbi Yitzhak Shapiro of Yitzhar permits even the murder of babies and children who pose threat.
By Haaretz Service | Nov. 9, 2009 | 9:36 AM
Just weeks after the arrest of alleged Jewish terrorist, Yaakov Teitel, a West Bank rabbi on Monday released a book giving Jews permission to kill Gentiles who threaten Israel.
Rabbi Yitzhak Shapiro, who heads the Od Yosef Chai Yeshiva in the Yitzhar settlement, wrote in his book « The King's Torah » that even babies and children can be killed if they pose a threat to the nation.
Shapiro based the majority of his teachings on passages quoted from the Bible, to which he adds his opinions and beliefs.
« It is permissable to kill the Righteous among Nations even if they are not responsible for the threatening situation, » he wrote, adding: « If we kill a Gentile who has sinned or has violated one of the seven commandments – because we care about the commandments – there is nothing wrong with the murder. »
Several prominent rabbis, including Rabbi Yithak Ginzburg and Rabbi Yaakov Yosef, have recommended the book to their students and followers.
La justice israélienne renonce à poursuivre les auteurs d'un ouvrage jugé raciste
Sur ce blog:
Le racisme permis: le racisme israélien
Selon le Grand rabbin orthodoxe sépharade Ovadia Yosef, « les Gentils n'existent que pour servir les Juifs »