VIDEO – Un lobbyiste pro-israélien explique qu'il faudra un Pearl Harbor pour déclencher une guerre contre l'Iran trad. fr.
By Maidhc Ó Cathail
The Passionate Attachment
September 25, 2012
"I frankly think that crisis initiation is really tough," said Patrick Clawson, who also heads the Washington Institute's Iran Security Initiative, in response to a question about what would happen if negotiations with Tehran fail. "And it's very hard for me to see how the United States … uh … President can get us to war with Iran."
As a consequence, Clawson said he was led to conclude that "the traditional way [that] America gets to war is what would be best for US interests."
Intriguingly, he went on to recount a series of controversial incidents in American history — the attack on Pearl Harbor, the sinking of the Lusitania, the Gulf of Tonkin incident, and the blowing up of the USS Maine — that US presidents "had to wait for" before taking America to war.
"And may I point out that Mr. Lincoln did not feel he could call out the federal army until Fort Sumter was attacked," Clawson continued, "which is why he ordered the commander at Fort Sumter to do exactly that thing which the South Carolinians had said would cause an attack."
"So, if in fact the Iranians aren't going to compromise," the Israel lobbyist concluded with a smirk on his face, "it would be best if somebody else started the war."

VIDEO – How to Build U.S.-Israeli Coordination on Preventing an Iranian Nuclear Breakout
Note: Clawson begins his answer around the 1 hour 15 minute mark.
Thus, the War Party's hope for "justification" for war with Iran based on its nuclear program has been quashed, at least for now. It has therefore revived the idea of creating the "right incident" for provoking a war with Iran and gaining the public's support for it too.
The War Party and its Israeli allies will do what they can to provoke a war with Iran over its nonexistent nuclear weapons program. Only public vigilance can prevent them from taking us to such an unjustified and criminal war.
"We can do a variety of things if we wish to increase the pressure. I'm not advocating that," Clawson said—not "advocating" but still "suggesting" an illegal false-flag strategy, while speaking in a hurried, almost hyper tone. "But I'm just suggesting that this is not an either-or proposition—that . . . sanctions have to succeed or other things [have to succeed]. We are in the game of using covert means against the Iranians. We could get nastier at that."
While also saying, "I frankly think that crisis-initiation is really tough"—note the words "crisis initiation"—Clawson added, "and it's very hard for me to see how the U.S. president can get us to war with Iran—which leads me to conclude that if in fact compromise is not coming, then the traditional way America gets to war is what would be best for U.S. interests." That "traditional way," he said in a barely cryptic manner, is on the basis of terrible "incidents" that catapult a reluctant nation into all-out war.
"Some people might think that Mr. Roosevelt wanted to get us into World War II . . . and you may recall we had to wait for Pearl Harbor," Clawson said. "Some people might think Woodrow Wilson wanted to get us into WWI, [and] you might recall he had to wait for the Lusitania episode.  Some people might think Mr. [Lyndon] Johnson wanted to send troops to Vietnam; you may recall he had to wait for the Gulf of Tonkin episode."
Clawson added: "We didn't go to war with Spain until the Maine exploded." He even suggested the alleged Southern attack on Fort Sumter to spark the Civil War was engineered by the North and blamed on the Confederates.
Especially notable was his comment: "So if in fact the Iranians aren't going to compromise, it would be best if somebody else started the war . . . . [W]e could step up the pressure. I mean, look, people, Iranian submarines periodically go down. Someday one of them might not come up. Who would know why?"
And this comes as a presidential election nears which, by the time some read this, could have put a GOP warmonger in the White House, while the corporate media continue alleging Iran is hell bent to build "the bomb" and that Iran can only "negotiate" by ending its nuclear energy program altogether, even if it's for peaceful purposes. Anything less than that, most U.S. pundits intone, is belligerence deserving of a U.S. and Israeli military strike. That was the exact framework of CNN's intermittent analysis during the last debate between President Barack Obama and Mitt Romney, when foreign policy was the main topic.
Especially notable was that Clawson spoke of these past events as if it's self-evident that they were all false-flag, or trumped up, catastrophes to intentionally bring about American involvement in war. Largely gone was the conventional pretense—pushed for countless decades in schools, colleges and the media—that such events were more or less randomized acts of violence carried out only by the culprits named in mainstream history books.
The real, little-known history of intrigue, deception and conspiracy—where, for example, a nation like the U.S. provoked Japan into attacking Pearl Harbor and helped ensure the tragic, deadly event had maximum impact—including the needless murder of 2,459 men, women and children, as well as the loss of two battleships and 169 aircraft.
Clawson's background suggests his words carry tragic weight. He directs the Iran Security Initiative. Moreover, he is "widely consulted as an analyst and media commentator [and] . . . is the author or editor of 18 books or studies on Iran," WINEP's website notes. "He has also testified before congressional committees more than 20 times and has served as an expert witness in more than 30 federal cases against Iran. Prior to joining [WINEP] he was a senior research professor at the National Defense University's Institute for National Strategic Studies, a senior economist at the International Monetary Fund and the World Bank, and a research scholar at the Foreign Policy Research Institute."

Mark Anderson is AFP's roving editor. Listen to Mark's weekly radio show and email him at truthhound2@yahoo.com.
Provoking the Enemy: Seeking a Pretext to Wage War on Iran
Ahmadinejad défend le révisionnisme à l'ONU: Israël sort, les États-Unis restent
Et le Canada a suivi Israël plutôt que de rester avec les États-Unis
Ottawa rompt avec Téhéran : la propagande impérialiste contre l'Iran et la Syrie
What Nutty Yahoo Really Meant and What He Should Have Said


Isolé, Nétanyahou va plaider contre l'Iran à New York
Netanyahu's cartoon bomb wasn't meant for world leaders, and not even for Obama
Instead, Netanyahu was speaking over Obama's head, directly to the president's employer and boss: the American voter.
Bibi Boom: Netanyahu's UN Bomb Cartoon Triggers Internet Mockery [SLIDESHOW]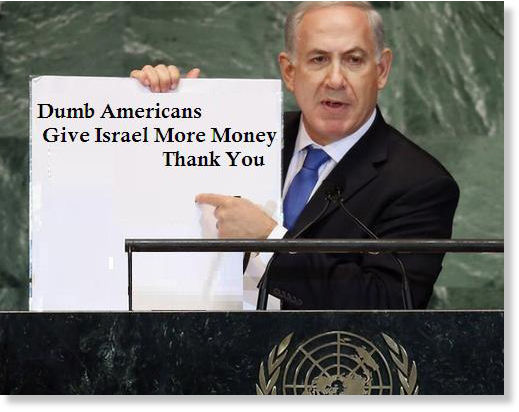 Netanyahu — The Voice of Modernity?
Netanyahou à l'ONU, ou les foutaises monumentales d'un fauteur de guerre
VIDEO – Benjamin Netanyahu: Qu'est ce que le monde attend?
Iranian defense minister: Israel should set red lines for itself
In response to PM's UN address, Vahidi says Jerusalem has 'dozens of nuclear warheads' and must be 'stopped'
VIDEO – The Bibi Who Cries WMD — No Question Whatsoever Netanyahu was wrong about Iraq having nuclear weapons
VIDEO – MSNBC: Israel is trying to push US into war with Iran
VIDEO – Caller Warns: Mitt Romney is a Neocon Republican Risking World War Three
VIDEO – War Propaganda Exposed Part 1 Mass Media Warmongering Against Iran
U.S. refuses entry to 20 Iran officials ahead of UN meet in New York
Flashback: Mossad training terrorists to kill Iran's nuclear scientists, U.S. officials claim… but is Israel's real target Obama?
New York Times a "Propaganda Megaphone" for War, Says Former Reporter
Washington retire un groupe iranien de la liste des organisations terroristes
Iran says Obama administration's removal of group from US terror list shows 'double standards'

Says Obama was right to avoid fighting Iran
Sept 15, 2012 Lewistown Sentinel
To the editor:  
God bless President Barack Obama for standing up against Israel and the Jewish lobby and refusing to engage the United States in a foolish and unnecessary war against Iran. Americans are tired of fighting Israel's wars.
Michael Collins Piper
New York money is not only playing a big part in 2008 presidential campaign politics, but it's also a driving force behind the ongoing push by pro-Israel fanatics at the highest levels of U.S. policy-making to force the United States into a senseless war against Iran.
That's the only conclusion that can be reached based on a survey of multiple and wide-ranging news reports—circulating largely within publications in Israel and in the American Jewish community—that have not been brought to the attention of most Americans through the aegis of the so-called « mainstream media. »
It's almost as if the major media in America is simply determined to prevent average Americans from knowing that there are some people who believe that Israel and its well-heeled backers in the United States are the primary advocates for U.S. military action against Iran.
Perhaps the most explosive comments in this regard came from Gen. Wesley Clark (ret.), who was a candidate for the Democratic presidential nomination in 2004 and who—until then, at least—was considered a likely candidate for the Democratic nod in 2008. In an interview with columnist Arianna Huffington, Clark said that he believed that the Bush administration is determined to wage war against Iran. When asked why he believed this, Clark said:
You just have to read what's in the Israeli press. The Jewish community is divided but there is so much pressure being channeled from the New York money people to the office seekers.
In short, Clark was saying that powerful New York-based financial interests (those whom he called « the New York money people ») are putting pressure on political candidates and incumbent politicians to support a war against Iran.
In fact, Clark was correct. Jewish community newspapers have indeed noted, time and again over the past several years, that many in the American Jewish community and in Israel are urging U.S. military action against Iran. And in Israel, of course, the bellicose talk of Israel itself attacking Iran is commonly and publicly discussed with free abandon. All of this is little known to the American public.
Despite this, Clark came under fire and was accused of « anti- Semitism » or otherwise charged with lending credence to what are dismissed as « anti-Israel and anti- Jewish conspiracy theories, » which—Clark's angry critics said—suggest that Israel and its supporters are prime movers behind the drive for war.
Because Clark is the son of a Jewish father (although he didn't know that until several years ago, having been raised by a Christian mother and a Christian step-father who never told Clark of his Jewish heritage), some Jewish leaders were pulling their punches, recognizing that it sounded somewhat outlandish to call Clark « anti-Jewish. » But the word is definitely out in the Jewish community: « Clark can't be trusted. »
On Jan. 12,2007, the New York-based Jewish newspaper, Forward, carried a front-page story zinging Clark for his remarks, noting that, »The phrase New York money people' struck unpleasant chords with many pro- Israel activists. They interpreted it as referring to the Jewish community, which is known for its significant financial donations to political candidates. »
The fact that Jewish leaders and publications were attacking Clark for using the term « New York money people » was ironic, inasmuch as just the week before the furor over Clark's comments, the same Forward, in its own Jan. 5, 2007 issue, had a front-page story announcing that pro-Israel stalwart U.S. Sen. John McCain (R-Ariz.) had lined up significant financial support for his own 2008 presidential campaign from those whom—in its own headline—Forward called « New York money men. »
In that revealing article, describing McCain's « heavily Jewish finance committee, » Forward announced that, in recent weeks, « McCain has been signaling that an attention to Jewish issues will remain on his agenda as his campaign moves forward. » The Jewish newspaper did not mention whether McCain will direct any attention to Christian, Muslim, Buddhist or Hindu issues—or any other issues of concern to other religious groups.
The article in Forward made it clear that support from these « New York money men » is critical in the forthcoming presidential campaign and that it could be pivotal, whether that money stays in McCain's camp or ultimately goes elsewhere.
This information could prove a surprise to grass-roots Republicans all over America who think (apparently incorrectly) that they are the ones who actually pick their party's presidential nominee.
In addition, in light of the fact that Jewish groups attacked Clark for suggesting that « New York money people » were pressuring political candidates to push for war against Iran, it is interesting to note that Forward pointed out that one of the key « New York money men » supporting McCain cited the issue of Iran as one of the reasons why he was boosting the Arizona senator.
Dr. Ben Chouake, who is president of the pro-Israel NORPAC, a political action committee, and a member of McCain's finance committee, was cited as having remarked that Iran is « an immense threat to the United States, and this is an immense threat to Israel, » and that « the person that is the most capable, most experienced, most courageous to defend our country, would be John McCain. »
Clearly, the « New York money people » are playing a major part in the American political arena, throwing their weight behind who gets elected— and who doesn't—and whether or not America goes to war.
That's something that Americans need to know about, but they had better not count on the mass media to tell them about it.