Michael Collins Piper – Bush, Rockefeller, Rothschild and Hitler
Michael Collins Piper – How Disinformation Becomes History
Michael Collins Piper – Disinformation in the Truth Movement
Michael Collins Piper Debunks Antony Sutton's Wall Street and the Rise of Hitler
Et Hitler ne descendait pas de quelque famille Rothschild ou Frankenberger. S'il avait du sang juif, cela n'a jamais été retracé de façon concluante.
Comme disait le Sgt. Joe Friday: « Rien que les faits ».
——
ARTICLE ORIGINAL:
By Michael Collins Piper. Jan 18, 2013 Issue of American Free Press
Conspiracy Series Draws Angry Responses
By Michael Collins Piper
For American Free Press
An almost audible sensation of palpable panic swept through the ranks of truth seekers as word spread about my recent series in AMERICAN FREE PRESS confronting, dissecting and laying to rest some myths, phony documents and fraudulent "quotations" that are iconic to many patriots. Some folks got angry because the truth contradicted popular long-cherished rumors and widely circulated downright lies people have come to accept as fact.
One reader threatened to cancel her subscription when she read that, in its next issue, AFP would demolish the widely believed (though false) stories that the Rockefellers, Rothschilds and Bushes joined together to bring Hitler to power.
This lady didn't even wait to read the article. So devoted to the myths, she couldn't bear the thought of them being disproven.
Another reader sent an angry email in response to that article asking, "How could you defend the Bushes?" when the article in AFP—long a foremost critic of the Bush dynasty—did not defend those gangsters but simply pointed out that so-called "evidence" purporting to "prove" they financed Hitler was just not true.
The reaction to AFP's series demonstrates—too clearly—that the Internet has become a potentially dangerous "echo chamber" in which patriots talk to each other, often relying on unknown sources of information to supply what is often unreliable, even deliberately forged data to debate and disseminate.
What often happens is that agents of the power elite—those forces who control the media, the Federal Reserve monopoly and the international New World Order system—pose as "patriots," say many of the "right things" and then proceed to spread their nonsense among patriots.
But because the enemy agents seem trustworthy—and since their "scoops" aren't coming (at least not openly) from the garbage men of the rightly hated establishment media—real patriots tend to put their faith in the disinformation and unwittingly pass it on to others.
The consequence of this type of interaction, in what amounts to a virtual closed society, is that insidious elements take advantage of this circling-of-the-wagons by truth seekers and infiltrate Judas Goats and agents provocateurs into the midst of the good people to advance their own evil (although sometimes murky) agendas. Thus, patriots are misdirected, mis-used and set up for a fall.
One author has written of how one infamous cult shapes the worldview of its own members:
The totalist paradigm begins with shutting off the individual's access to the outside world, so that his perceptions of reality can be manipulated without interference. The goal at this stage is to provoke expectable patterns of behavior that will appear to arise spontaneously. . . . Those who are beingmanipulatedmay come to endorse the goals andmeans of the group . . . or simply abandon the will to resist. In either case, the individual is robbed of the chance for independent action or self-expression.
Bottom line: Patriots need to keep their eyes and minds open and not be drawn into a whirlpool of propaganda and disinformation—a descent into a maelstromof frenzied rumors and hysterical and reckless behavior leading to public repudiation, even disaster.
Debunking Anthony Migchels concerning NSDAP monetary policy and usury
Michael discuses various topics such as, Sandy Hook massacre conspiracy
theories, the sinking of the Titanic, the relationship between Jews and
Hitler, and more.
Le Mythe du complot fasciste chez les intellectuels communistes (1945-1950)

Mise au point sur la désinfo qui circule sur Hitler, les nazis, le nouvel ordre mondial, Bilderberg, etc.

Du mythe des « nazis pro-Israël » et de ceux qui voient des complots partout…

Les nazis ont fait la vie dure aux Rothschild, confisqué leurs avoirs
Le mythe des origines juives d'Hitler

Wikileaks révèle que Bilderberg perçoit le nationalisme comme étant « dangereux »… mais Infowars continue de prétendre que Bilderberg a été fondé par les nazis!

Du mythe des nazis « pantins de la ploutocratie internationale »

Le jeu des comparaisons: l'islamisme radical est-il plus proche du nazisme ou des « inglourious basterds »?

Comment le Lend-Lease de FDR a sauvé l'Union Soviétique
Comment Hitler s'est servi de Schacht

Réfutation de la thèse d'Anthony Sutton selon laquelle « Wall Street a financé les Nazis »

Bilderberg: organisation anti-nationaliste (donc anti-nazie) des Rothschild
L'empire mondial anglo-américain: une marionnette des Rothschild?

Gordon Duff décline l'invitation de Carolyn Yeager sous prétexte qu'elle ignore que la « connexion Bush-nazis »

Duff a tort sur l'Holocauste et les prétendus liens Bush-Hitler

L' « antisioniste » juif Gordon Duff admet écrire 40% de faussetés et poster 30% de faussetés sur son site Veteran Today

Une contre-vérité tenace: « Prescott Bush, un nazi! »

Jabotinsky avait planifié l'assassinat d'Hitler et de hauts dirigeants du IIIe Reich

La conjuration contre l'Esprit – Les arrières-plans occultes du « nouvel ordre mondial »

L'Histoire contemporaine: une « fable convenue »

Le plus beau dans nos chères démocraties, c'est qu'on n'a pas à s'inquiéter pour sa liberté d'opinion et d'expression…. N'EST-CE PAS?
Adolf le Grand diffamé par des « nationalistes » — Y a-t-il un autre homme dans l'histoire, à part peut-être Jésus, qui ait été à ce point calomnié? 
REPÉRÉ: Un saboteur à la tête du « mouvement » pour la vérité
http://elafkarelwataniya.blogspot.ca/2012/12/nationalistes-europeens-la-haine-anti.html
dimanche 2 décembre 2012
Lors de recherches sur internet, je découvre un blog anti-sioniste assez particulier qui se nomme  » Le Gentil/L'observateur du péril innommable » , au départ, tout porte a croire qu'il s'agit d'un blog anti sioniste lambda, mais en cherchant bien, nous y trouvons des articles d'analyses très pertinentes et fortement courageuses.
Is Germany the Ultimate 'Rogue Nation'?
New book decisively counters the myth of "German villainy"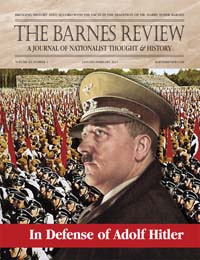 Get Your Copy of the January/February 2014 Issue of TBR
By Michael Collins Piper
The January/February issue of THE BARNES REVIEW is a very special issue of THE BARNES REVIEW. Why? There aren't many magazines anywhere—maybe we should say "there aren't any magazines anywhere"—that would take the position that Adolf Hitler, rather than being a monstrous mass murderer, was in fact a hero to his people.
Well, TBR takes that position, without hesitation and with no apology. And the reason for that is that no apology is necessary.
The truth is on TBR's side and—as the wide-ranging material in this issue clearly demonstrates—the truth about Hitler and Third Reich Germany (both from a domestic standpoint and within the context of Germany's role in global affairs prior to and during World War II) is far different fromwhat has been painted by the mass media and academia.
There's much more to the story than just "the Holocaust"—that recurring mantra to which we are subjected on a relentless basis (and which TBR quite regularly addresses froma Revisionist standpoint,much to the dismay of those who worship at the altar of the Holocaust Industry)—and this issue of TBR tries to fill in some of the many missing pieces of the puzzle in the bigger picture.
That's why we are so enthusiastic about this particular "theme" issue: It underscores the critical need for honest reporting about the people and events in history that have brought us to where we are today.
So we are especially interested in hearing from potential readers about what we have presented in the pages of this issue—the first issue of volume 20. It is entirely unlike anything they'll have ever read in any mainstream magazine, newspaper or textbook. And that's precisely what TBR's underlying message is all about: Bringing history into accord with the facts and tearing down the wall of lies about history.
By Michael Collins Piper
Satan the Father of All Lies
-THE WAY I SEE IT-
By Willis Carto [du nom de famille français Carteau], Founder of American Free Press
VIDEO – Red Ice Radio: VKC vs Nazi Conspiracy Theories
VIDEO – (Youtube)- RIC -WKC – The Gleiwitz Incident Hour 1 (RIC website Hour 1) – Hour 2
VIDEO – Realist Report – WKC – Debunking Anti-Nazi Lies
VIDEO – Dawson and WKC – ANC Report – Nazi Myths Busted (full)
VIDEO – Spingola + WKC – Hitler Mythbusted
VIDEO – Martinez + WKC – Debunking Anti-NS Myths
VIDEO – Spingola + WKC – Half-Blooded Hitler
VIDEO – Spingola + WKC – Hitler-Bashing or Hitler-Understanding
VIDEO – Spingola + WKC – Hitler not a Rothschild – Part 1 – Part 2
VIDEO – Spingola + WKC – NS Germany Economics
VIDEO – WKC + Heink – Hyenas of HlGH FlNANCE
VIDEO – Spingola + WKC – The Pan-Anglo supremacism
VIDEO – WKC on Brizi-Jewzi World Menace
VIDEO – WKC – The Union Jack (Pub)
VIDEO – WKC – The Union Jack (Reading)
VIDEO – Spingola + WKC – The Union Jack
VIDEO – WKC – Pan-Germanist Ideology
VIDEO – VKC – Nazis don't « rule the world »
« Qui donc a mis comme ça Rothschild sous les verrous ? pour spéculations ? C'est pas Schussnig, c'est pas Cachin, c'est pas Jouhaux, c'est pas Blum, c'est pas Chamberlain, c'est pas Staline, c'est Hitler. 
Quel est le véritable ennemi du capitalisme ? C'est le fascisme. Le communisme est un truc de Juif, un moyen d'asservir le peuple plus vachement encore, absolument à l'oeil. Quel est le véritable ami du peuple ? Le Fascisme. 
Qui a le plus fait pour l'ouvrier ? L'U.R.S.S. ou Hitler?C'est Hitler. 
Y a qu'à regarder sans merde rouge plein les yeux. 
Qui a fait le plus pour le petit commerçant ? C'est pas Thorez, c'est Hitler ! 
Qui nous préserve de la Guerre ? C'est Hitler ! 
Les communistes (juifs ou enjuivés), ne pensent qu'à nous envoyer à la bute, à nous faire crever en Croisades. 
Hitler est un bon éleveur de peuples, il est du côté de la Vie, il est soucieux de la vie des peuples, et même de la nôtre. C'est un Aryen. » 
Céline, l'école des cadavres , 1938
Du mythe voulant qu'Hitler ait été sioniste
« Une partie de sa race se reconnaît ouvertement pour un peuple étranger, non sans d'ailleurs commettre un nouveau mensonge. (…) Ils ( les sionistes ) n'ont pas du tout l'intention d'édifier en Palestine un État juif pour aller s'y fixer ; ils ont simplement en vue d'y établir l'organisation centrale de leur entreprise charlatanesque d'internationalisme universel ; elle serait ainsi douée de droits de souveraineté et soustraite à l'intervention des autres États ; elle serait un lieu d'asile pour tous les gredins démasqués et une école supérieure pour les futurs bateleurs. » (Adolf Hitler, Mein Kampf)
Discours du Führer devant le Reichstag, 28 avril 1939:
« Mais je dois aussiattirer l'attention deM.Rooseveltsurune ou deux erreursdans l'histoire.Il mentionne l'Irlande, par exemple, et demandeune déclaration àl'effetque l'Allemagnen'attaquera pasl'Irlande.Maintenant, jeviens de lireun discours prononcé parM.de Valera, le Premier ministre Irlandais, oùcurieusement, et contrairement à l'opinion de M.Roosevelt, il n'accuse pas l'Allemagne d'opprimerl'Irlande,maisreproche àl'Angleterre de soumettrel'Irlandeà une agressioncontinue.
Avec toutle respect dû àM.Roosevelt et à sa compréhension desbesoinset des soucisdes autres pays,on peut néanmoinssupposer quele Premier ministre irlandais connaît mieux que le président des États-Unis quels sont les dangers qui menacent son propre pays.
De même, lefait aévidemmentéchappé à l'attentionde M.Rooseveltque la Palestine estactuellementoccupéenon parles troupes allemandes, mais par les Anglais, et que le paysvoit sa liberté restreinte par le recoursà la force la plus brutale, estdépouillé deson indépendance et souffre des mauvais traitements les plus cruelsau profit desintrusjuifs.(…)
Les Arabesvivant dansce pays ne se seraient donccertainement pasplaintsà M.Rooseveltdel'agression allemande, mais ils expriment devant le monde unappel constant,déplorant lesméthodesbarbarespar lesquelles l'Angleterretente deréprimerun peuplequiaimesa liberté etne faitsimplement que ladéfendre.
Cela, aussi,est peut-êtreun problèmequi, de l'avis du président américain,devraitêtre résoluà la table deconférence, c'est-à-dire,devant un jugejuste,et nonpar la forcephysiqueoudes méthodes militaires, pardes exécutions de masse, en brûlant des villages, en faisant sauter des maisonset ainsi de suite.
Car un faitest sûrementcertain. Dans ce cas-ci,l'Angleterren'est en train de se défendrecontre la menace d'une attaquearabe, mais comme un intrus qui n'a pas été invité, elle tente d'établirson pouvoirsur un territoireétrangerqui nelui appartient pas »
Version anglaise: « But I must also draw Mr. Roosevelt's attention to one or two mistakes in history. He mentions Ireland, for instance, and asks for a statement to the effect that Germany will not attack Ireland. Now, I have just read a speech delivered by Mr. de Valera, the Irish Taoiseach (Prime Minister), in which strangely enough, and contrary to Mr. Roosevelt's opinion, he does not charge Germany with oppressing Ireland, but reproaches England with subjecting Ireland to continuous aggression.
With all due respect to Mr. Roosevelt's insight into the needs and cares of other countries, it may nevertheless be assumed that the Irish Taoiseach would be more familiar with the dangers which threaten his country than would the President of the United States.
Similarly the fact has obviously escaped Mr. Roosevelt's notice that Palestine is at present occupied not by German troops but by the English; and that the country is undergoing restriction of its liberty by the most brutal resort to force, is being robbed of its independence and is suffering the cruelest maltreatment for the benefit of Jewish interlopers. (…)
The Arabs living in that country would therefore certainly not have complained to Mr. Roosevelt of German aggression, but they are voicing a constant appeal to the world, deploring the barbarous methods with which England is attempting to suppress a people which loves its freedom and is merely defending it.
This, too, is perhaps a problem which in the American President's view should be solved at the conference table, that is, before a just judge, and not by physical force or military methods, by mass executions, burning down villages, blowing up houses and so on.
For one fact is surely certain. In this case England is not defending herself against a threatened Arab attack, but as an uninvited interloper, is endeavoring to establish her power in a foreign territory which does not belong to her »
À lire:
VIDEO – Deanna Spingola reads from the book: The Transfer Agreement Boycott Fever of 1933 by Professor Udo Walendy. This 40 page booklet goes into all of the pertinent background information regarding the declaration of war against Germany by self-described « World Jewry » or « Judea » , and their global boycott of German goods and services, based upon anti-German propaganda. Their stated objective was to bring Germany to destroy Germany. They began to implement this plan as soon as the National Socialists came to power in order to undermine Hitler, and thereby, subvert the will of the German people who had elected his party and it's economic rescue plan.
You can read the illustrated and sourced booklet for yourself here.
AUDIO – January 26, 2013: Spingola Speaks, special guest Veronica Clark on Hitler myths MP3 
AUDIO – February 6, 2013: Rodney Martin and Jim Condit debate Jim's video, The Final Solution to Adolf Hitler MP3; Round 1
Demystification of the Birth and Funding of the NSDAP
German Big Business and the Rise of HitlerReviewed by John M. Ries
Voir aussi:
Jewish Emigration From the Third Reich, par Ingrid Weckert
Accord de transfert entre l'Allemagne et les sionistes en 1933 : une escroquerie juive)
Demystification of the Birth and Funding of the NSDAP
Chamberlain 1939 : « C'est l'Amérique et le monde israélite international qui nous ont précipités dans la guerre. »
HOW A BANKRUPT GERMANY SOLVED ITS INFRASTRUCTURE PROBLEMS, by Ellen Brown (author of Web of Debt) Note: Cet article affirme que Schacht était pas un « agent de la haute finance », or nous ne croyons pas cela. Nous n'y croyons pas tout simplement parce qu'il n'a pas fait plonger l'Allemagne dans le trou comme l'auraient souhaité les Banksters, au contraire il a contribué à remettre l'Allemagne sur la voie de la prospérité. Or, dès que Hitler a senti que Schacht pourrait causer des problèmes, Schacht a été expulsé et mis sous surveillance par la Gestapo.
moustachemasquee écrit:
Le « patriot-attardé » Alex Jones ment au sujet d'Hitler.



http://zioncrimefactory.com/2012/03/12/the-latest-nazi-bashing-effort-from-jew-shill-alex-jonestein/
Par Zander C. Fuerza
Comme prévu, le dernier « documentaire » du théoricien kasher de la conspiration Alex Jones, intitulé: « New World order. Blueprint of Madmen » est truffé de références et d'images d'Adolf Hitler et de l'Allemagne nazie. Faisant son beurre de la vache à lait la plus lucrative du Hollywood juif, Alex Jones n'en perd pas une goutte, invoquant Hitler et nazisme à chaque instant. Non seulement parce que ça se vent bien, mais aussi parce qu'il a été chargé de répandre les mensonges et tromperies historiques de la tribu diabolique dont il est l'employé: la juiverie internationale.
Tout au long du film, nous sommes bombardés d'extraits montrant Hitler faisant le salut nazi, accompagnés par la voix grave et éraillée de Jones parlant du mal, de la corruption et dépravation de l'élite régnante actuelle. L'association mentale qui doit s'en suivre est que la mystérieuse « élite mondiale » dénoncée par Jones « fait pareil qu'Hitler » ou  » les Nazis », renforçant ainsi le mythe de propagande enjuivée du « méchant nazi ». A la 19ème minute de la vidéo: Alex Jones l'explique en disant:
Alex s'est engagé depuis des années à associer toute forme de tyrannie, mauvaise et malfaisante, aux Nazis et Hitler. Reprenant le cri de ralliement du Hollywood hébreu, AJ scande jour et nuit le slogan kasher du « méchant nazi » jusqu'à en avoir le visage rougi.
Ces absurdes calomnies et diffamations kasher proférées par le « patrio-tard (NDT :Comprendre Patriot et Retard qui signifie débile en anglais) » contre Adolf Hitler et son parti sont risibles. Démonter ces mensonges est un jeu d'enfant pour tout individu éduqué ayant étudié la véritable histoire du IIIème Reich et de la 2ème guerre mondiale. Alex Jones répète verbatim le scénario des vainqueurs de la 2ème guerre mondiale.
Ce bouffon a-t-il jamais entendu l'adage:  » les vainqueurs écrivent les livres d'histoire » ? L'ironie de tout ça est qu'AJ doute systématiquement de tout ce que disent les gouvernements occidentaux sur d'innombrables questions et événements de l'histoire. Il récuse quasiment tout ce que disent les médias mainstream . Il dit constamment à ses auditeurs de ne jamais croire aux mass-media, car ils ne savent que générer mensonges et propagande. Pourtant, curieusement, quand on en vient à Hitler, au National socialisme, la 2ème guerre mondiale et le soi-disant Holocauste ?, Alex Jones mord à l'hameçon, et avale le bouchon et le fil avec et tout le scénario conçu par les médias mainstream et l'establishment – pour ensuite le régurgiter comme un perroquet sous « mind control ». Qu'est-ce que cela vous dit de la sincérité d'Alex Jones ?
Tout d'abord, Adolf Hitler était un Allemand patriote nationaliste qui avait entrepris de créer une Allemagne réservée aux seuls Allemands; Soit plutôt l'opposé d'un mondialiste du N.O.M. Deuxièmement, Hitler et son mouvement National socialiste étaient d'ardents anti-marxistes/communistes/bolcheviques, et donc anti-internationalistes et anti-mondialistes. Le sinistre projet du communisme (et non pas du National socialisme) était l'internationalisme- le renversement et la conquête de tous les Etats-nations existants dans le but d'établir un super Etat mondial despotique communiste. La folie pathologique criminelle connue sous le nom de communisme était, dès sa création, une conspiration juive internationale pour la destruction et l'assujettissement du monde des gentils, sur lequel serait imposé un imperium juif tyrannique mondial.
La simple logique et le bon sens permettent de saper la rhétorique absurde d'Alex Jones sur Hitler et le Nazisme. Si Hitler et les Nazis faisaient vraiment partie du « Nouvel ordre mondial » alors pourquoi est-ce que le monde capitaliste et communiste (USA, GB, France, URSS etc.) se sont associés pour détruire totalement l'Allemagne nazie lors de la 2nde guerre mondiale ? Si Hitler avait participé à ce système du Nouvel ordre mondial, pourquoi la 2ème guerre mondiale aurait-elle même été nécessaire ? Si Adolf Hitler et le National socialisme étaient si avantageux pour les « mondialistes et l'élite », alors pourquoi ont-il été soumis à une telle diffamation et diabolisation dans les médias occidentaux d'information et de divertissement depuis 67 ans et la fin de la 2ème guerre mondiale ? Alors qu'en même temps les transgressions horribles et sanglantes du communisme ont toujours été blanchies, minimisées ou cachées par la presse et l'université occidentales.
Si Hitler et le national socialisme sont si souhaitables pour les élites qui nous dirigent aujourd'hui, alors pourquoi Mein Kampf, est interdit en Allemagne, Autriche, Russie et plein d'autres pays européens ?
Pourquoi le swastika hitlérien est un symbole banni dans des dizaines de nations européennes ? Pourquoi est-ce que le scepticisme/ révisionnisme de l'holocauste est un délit passible d'amendes importantes et même d'emprisonnement dans plus d'une dizaine de pays en Europe si les « mondialistes » sont pour le nazisme ou si des reliquats du nazisme exercent une quelconque influence ? Bien sûr, rien de tout ça n'aurait le moindre sens si Alex Jones avait raison sur Hitler et le National socialisme. La seule conclusion à tirer de cette idiotie est qu'Alex Jones raconte des mensonges colossaux sur Hitler et l'Allemagne nazie pour le bénéfice de la juiverie !
En plus de libérer l'Allemagne de toute influence juive, Hitler supprima quasi entièrement le chômage dans le pays. Avec les politiques national-socialistes, le chômage passa de 30,1 % en 1932 à 2,1 % en 1938. (Folsom, Burton W. « New deal or Raw deal ? comment l'héritage economique de FDR a ruiné l'Amérique. New York: Treshold editions, 2008 p.243) Hitler institua d'ingénieuses réformes économiques où il établit sa propre banque centrale d'Etat et une monnaie qui n'était pas assujeties aux métaux précieux ou le commerce étranger, mais sur le travail productif allemand. Le résultat des politiques économiques national-socialistes fut une économie florissante. Hitler libéra l'Allemagne de l'esclavage de la dette imposé sur des hommes libres par l'usure des dynasties de banquiers juifs d'Europe, menés par les Rothschild.
Adolf Hitler sauva et libéra l'Allemagne et son peuple ! C'est pourquoi, lorsqu' Hitler devint Chancelier en 1933, la juiverie internationale déclencha une perfide guerre économique au IIIème Reich, dans un effort concerté pour abattre Hitler et son glorieux gouvernement National socialiste qui avait osé se libérer de la domination juive.
Ce sont des faits qu'Alex Jones ne va pas vous dire, parce qu'Alex Jones travaille justement pour ceux qu'Adolf Hitler et d'autres avant lui, avaient dit de se méfier.
A 26:35 de la vidéo, Alex Jones affirme:
Si quelqu'un doit être traité de « partisan de l'eugénisme et de la réduction de population », c'est le juif Theodore Kaufman.
Pourtant, et sans surprise, Kaufman et son livre génocidaire n'apparaissent pas dans le soi-disant « documentaire » d'Alex.
Le menteur Alex Jones refuse de reconnaître la vérité contenue dans ce livre.
Le second gros mensonge répugnant d'Alex est son assertion qu'Hitler aurait dit : « Plus le mensonge est gros, plus il y aura de gens pour y croire ». C'est une variation du « si vous répétez suffisamment un mensonge, les gens finiront par y croire. » Où et quand Adolf Hitler a-t-il dit ça ? Alex ne donne pas la source de sa citation. Vous savez pourquoi ? Parce que Hitler ne l'a jamais dit. Ca n'est qu'une des innombrables citations fabriquées imputées aux Nazis par des juifs menteurs. Si Alex Jones avait lu Mein Kampf, il aurait su qu'Hitler avait identifié et condamné la technique du « gros mensonge » déclarant en fait que ses ennemis, les juifs et les marxistes, étaient les pro géniteurs et maîtres de cette stratégie :
Parfois, cette citation frelatée « plus le mensonge est gros, plus le nombre de gens à y croire sera important » est attribuée au Ministre de la Propagande du IIIème Reich : Joseph Goebbels. La réalité est que ni Goebbels ni Hitler n'ont fait cette déclaration. En fait, Goebbels a dit l'inverse Soulignant que la meilleure propagande est celle qui ne fait autre chose que servir la vérité :
Juste avant sa mort en 1945, le vertueux diseur de vérité Joseph Goebbels a pu dire :
De plus, le manuel détaillant les méthodes de propagande national-socialiste, indique sans équivoque que le principe fondamental et suprême de la propagande National-socialiste est la vérité :
Une fois encore, Alex Jones, étant un menteur talentueux et colporteur de fausseté ridicules parvient à projeter les tactiques traîtresses des juifs sur les ennemis des juifs. En fait, c'était le leader communiste crypto-juif Vladimir Lénine, le boucher de millions de gens ! – qui était partisan de tout le mal imaginable, encourageant mensonges et déception, terrorisme et le massacre de populations entières !
Le terrorisme dans l'esprit de Lénine était une action bonne et justifiée :
« …une terreur véritable, à l'échelle d'une nation, qui revigore le pays. »
Lénine afficha ouvertement sa génocidaire soif de sang, évoquant souvent l'extermination de toute la population de Russie pour assurer la victoire du communisme :
Un autre leader Bolchevique juif : Grigory Zinoviev, souhaita la disparition de 10 millions de Slaves déclarant :
Après six années d'intense agitation et d'agressions contre l'Allemagne nazie, les juifs ont réussi à engager deux puissances occidentales ainsi que leurs colonies dans leur guerre contre l'Allemagne, les USA devant bientôt suivre. Joseph Goebbels, dans un brillant article qu'il écrivit en 1943 intitulé : « La guerre et les juifs » déclara :
Une lettre adressée au Premier ministre Neville Chamberlain en 1939 par une figure majeure du sionisme : Chaim Weizmann (qui deviendra le 1er président d'Israël) est un témoigne de la vérité contenue dans chaque mot de Goebbels :
Hitler, comme Goebbels comprenait la réalité du bellicisme juif contre le Reich et décida que la seule solution au problème juif en Europe était une séparation par une déportation forcée. Les Nazis préparèrent ainsi un plan en 4 ans pour déporter 4 millions de juifs européens sur l'île de Madagascar. Une fois installés là bas, les juifs seraient en auto-gestion, mais sous surveillance allemande pour contrôler leur liens malveillants avec les Etats Unis.
Un article publié dans le St.Petersburg Times le 8 août 1940 cite un responsable SS disant que si les puissances de l'axe étaient victorieuses, tous les juifs seraient forcés de quitter l'Europe :
« Une paix allemande signifiera une paix moins juive, a proclamé hier Das Schwarze Korps, l'organe de la garde d'élite SS d'Adolf Hitler.
Une fois la guerre remportée, certaines zones éloignées d'Europe seront réservées à la colonisation juive explique le journal, puis le continent sera vidé entièrement de ses juifs…
L'argument de Das Schwarze Korps d'une « paix sans les juifs » repose sur le fait que les juifs avaient coopéré avec la Grande Bretagne dans le but convertir toute l'Europe en un champ de bataille chaotique et sanglant ; 'en conséquence, ils doivent payer la facture '.
La victoire germano-italienne, explique le journal, sécurisera un espace éloigné des travailleurs et de la culture européens, où le déchet de l'humanité essaiera de gagner sa vie de son propre labeur ou aura la mort qu'il mérite.' »
Maintenant, je vais répondre au gargantuesque mensonge d'Alex Jones dans son documentaire. Il prétend que les nazis sont responsables de la mort d'environ 20 millions de personnes entre 1933 et 1945. Tout d'abord, l'Holocauste? tel qu'on nous l'a servi,
est une arnaque colossale, un canular de proportion quasi planétaire. Le légendaire révisionniste français, Robert Faurisson, a succinctement résumé le canular dans cette courte déclaration :
Bien d'autres réductions « officielles » du nombre de morts dans plusieurs camps de concentration nazis ont été faites. Par exemple, les juifs menteurs ont affirmé que « 2 millions de personnes, principalement des juifs » avaient été « exterminées » au camp de Mauthausen, un camp en Autriche, mais ils disent maintenant que seulement 14 000 juifs y ont péri. Il était au départ affirmé que 1,5 millions de juifs avaient été exploités à mort à Majdanek, un camp en Pologne. Ce chiffre fut officiellement abaissé à 79 000.
Inclus dans le chiffre absurde de 20 millions de morts figurent vraisemblablement les prétendus « 5 millions de non-juifs » qui seraient aussi selon les affabulateurs, morts entre les mains des nazis. Pour déboulonner cette affirmation, je citerai simplement un des plus importants camelots de l'Holocauste? : la juive ultra sioniste Deborah Lipstadt :
…Le nombre de morts inventé par Wiesenthal, avec sa symétrie quasi parfaite, est devenu un « fait » largement accepté. L'ordre exécutif de Jimmy Carter, qui a servi de base à l'établissement du Musée de l'Holocauste , fait référence aux « 11 millions de victimes de l'Holocauste ». J'ai assisté à beaucoup de cérémonies Yom Hashoah , dont celles des synagogues et communautés juives, où 11 chandelles étaient allumées. Quand je dis aux organisateurs qu'ils sont en train de faire du révisionnisme historique, leur réaction varie du scepticisme à l'indignation. Des inconnus m'ont pris en grippe dans des courriers en colère, pour m'être focalisée uniquement sur les morts juives et en ignorant les 5 autres millions. Quand je leur explique que ce chiffre est simplement inexact, et en fait, fabriqué, ils sont encore plus convaincus de mon ethnocentrisme et incapacité à ressentir la douleur de ceux qui ne sont pas de mon peuple.
Quand les historiens israéliens Yehuda Bauer et Yisrael Gutman défièrent Wisenthal sur ce point, il avoua avoir inventé ce chiffre de 11 millions de victimes dans le but de stimuler l'intérêt porté à l'Holocauste aprmi les non-juifs. Il choisit 5 millions parce que c'était très proche, sans dépasser les 6 millions. Quand Elie Wiesel qui étaient ces 5 millions de prétendues victimes, Wiesenthal explosa en l'accusant de souffrir de « judéocentrisme ». (Lipstadt, Deborah E. Simon Wiesenthal and the Ethics of History. Jewish Review of Books)
Donc, on le tient directement de la source, il s'avère que les « 5 millions de victimes non-juives » des nazis sont sortis du chapeau du menteur pathologique Simon « chasseur de nazis »Wiesenthal, comme stratagème pour stimuler l'intérêt des non-juifs à ce bizarre culte de la chambre à gaz. Une pure fiction !
Bien que ces chiffres monstrueusement gonflés ont été révisés depuis des décennies, bizarrement, le chiffre magique de 6 millions demeure inchangé. C'est parce que le chiffre de 6 millions a une signification religieuse pour les juifs. Il trouve son origine dans une ancienne prophétie de la Torah qui déclare que 6 millions de juifs périront dans un holocauste de feu en sacrifice à leur tribal dieu juif Yahweh, avant que les juifs puissent faire leur vaillant retour à la « terre promise ». (voir: The Holocaust Dogma of Judaism by Ben Weintraub and History & Scriptural Origins of the Six Million Number by John Bryant)
En effet, la fable kabbaliste des « 6 millions de juifs morts ou agonisants » a accompagné les campagnes de propagande sionistes depuis la fin du XIXème siècle ; (voir: The First Holocaust by Don Heddesheimer and The "Six Million" Myth)
Il y a un stupéfiant nombre de 147 références aux « 6 millions de juifs » sévèrement persécutés ou en danger d'être exterminés entre 1900 et 1945. Cette propagande rusée fut conçue et disséminée par les juifs sionistes , (peu après le 1er congrès sioniste à Bâle, en Suisse en 1897) pour susciter sympathie soutien à la création d'un Etat juif en Palestine, sur les cendres des indigènes arabes, ce qui fut fait grâce à ce répugnant judéoCanular? en 1948. C'est pourquoi en 1900, le rabbin archi-sioniste Stephen S. Wise proclama :
En plus de cette astronomique arnaque de l'histoire de l'holocauste?, les nazis ont été les boucs émissaires pour les atrocités sanguinolentes que les communistes soviétiques ont commises contre leur propre peuple et les peuples d'Europe de l'Est durant la 2ème GM. Bien sûr, durant la 2ème GM, les Allemands ( entourés d'ennemis assoiffés de sang, incités par la haine talmudique de commissaires juifs au Kremlin et des propagandistes juifs à Hollywood), menaient une guerre pour la survie raciale. Ils ont tué leurs ennemis comme l'aurait fait tout soldat entraîné à faire dans une guerre. Et qui pourrait les en blâmer ? C'était un bain de sang chaotique d'obscènes proportions. Des millions et millions de gens furent tués dans chaque camp.
Le traitement classique de cette période historique affirme toujours que l'Union soviétique a perdu plus de 20 millions de personnes durant la 2ème guerre mondiale.
Tolstoy fait une démonstration convaincante montrant que le chiffre réel est peut être plus proche de 30 millions, peut être encore plus, avec 1 tiers de ces morts attribuables aux forces de l'Axe. La responsabilité des 23 millions de morts incombe à Staline et ses sbires du NKVD.
Le nombre de victimes pour le front de l'est a été estimé ainsi : 2,5 millions de soldats allemands sont morts à l'Est. On dit que 3 soldats de l'armée rouge sont morts pour chaque soldat allemand tué. Sur ces 7 500 000 morts militaires, environ 3 millions sont morts comme prisonniers de guerre.
« Staline eut cette attitude pour inciter les nazis au mauvais traitements et plus tard l'extermination des prisonniers de guerre…Il est donc assez clair que la mort de plus de 3 millions de Russes prisonniers des Allemands résulta d'une politique soviétique délibérée , dont le but était la liquidation des hommes automatiquement considérés comme traîtres politiques, tout en dirigeant la colère du peuple soviétique contre les auteurs du crime. .. Il ne faut pas oublier que la cruauté soviétique a fortement prolongé le conflit, causant des millions de morts à toutes les nations belligérantes …
Ces preuves sur la manière des soviets de traiter leur propre peuple, associée au dur traitement infligé aux prisonniers de guerre, furent les raisons principales de l'obstination et de la détermination de l'Allemagne à combattre jusqu'à la fin, bien après qu'il fut devenu clair que son destin était scellé.
Ayant compté 7,5 millions de pertes militaires, Tolstoy déclare que 4 millions de civils russes furent tués par les Allemands (bien que cela compte ceux impliqués dans les opérations anti-partisans, le siège de villes telles que Leningrad et 750 000 juifs). Cela laisse de 18 à 20 millions de Russes tués au cours de 'la guerre secrète de Staline ' contre ses propres sujets. (Lutton, Charles. Book Review — Stalin's War: Victims and Accomplices, Journal of Historial Review)
D'un autre côté, il est dit des Allemands qu'ils furent les participants les plus humains au bain de sang que fut la 2nde guerre mondiale. Dans son étude des crimes de guerre des alliés, Michael Walsh nous informe :
Allan Wood, le correspondant au London Express était d'accord : « Les Allemands même aux heures les plus désespérées obéirent à l'essentiel de la Convention. Il est vrai qu'il y ait eu des atrocités sur la ligne de front, dans le flot de la passion, mais il s'agissait d'incidents, pas de pratiques, et la mauvaise administration des camps de prisonniers américains était très rare ». Le lieutenant Newton L Margulies confirma ces propos.
Quelqu'un peut-il croire qu'Alex Jones est simplement mal informé ou « ignorant » de ces faits irréfutables exonérant les allemands de crimes qu'ils n'ont jamais commis ? Ne soyez pas naïfs, Alex connaît parfaitement le révisionnisme de l'holocauste.
Et beaucoup de gens ont appelé lors de son émission pour le confronter sur ce sujet. Il n'est pas seulement une grande gueule ignorante, il cache délibérément ces vérités à ses partisans et auditeurs.
Est-ce qu'Alex Jones croit vraiment que le « Nouvel Ordre mondial » est une conspiration nazie et qu'Adolf Hitler en est le progéniteur ? Arrêtez de plaisanter s'il vous plaît. Le scénario est si grotesque et ridicule et scandaleux que même un authentique paranoïaque schizophrène ne le goberait pas. Alex Jones ne croit pas à sa propre rhétorique sur Hitler et le « Nouvel ordre mondial nazi », il est payé en shekels pour diffuser ces mensonges flagrants pour la juiverie !
De plus, les preuves , faits et informations illustrées ci-avant, démontrent le caractère illogique et malicieusement fallacieux des calomnies d'Alex Jones sur Adolf Hitler. Un seul article d'un journal de propagande juive : le New York Times suffit à totalement démolir les mensonges d'Alex sur le N.O.M. nazi. Dans un article daté du 6 octobre 1940 intitulé : « Un Nouvel ordre mondial promis aux juifs » on nous informe d'un accord verbal fait par Arthur Greenwood, membre du War Cabinet britannique lors de la 2è GM :
Il ajouta qu'après la guerre, une opportunité serait donnée aux juifs partout pour qu'ils 'fassent une contribution distincte et constructive, dans la reconstruction du monde'. ("NEW WORLD ORDER PLEDGED TO JEWS." New York Times. 06 Oct, 1940.)
En plus de cette étonnante citation d'une importante autorité britannique, prônant la mise en place d'un nouvel ordre mondial sous égide juive immédiatement après la 2ème GM, voici une citation d'un franc maçon du B'nai B'rith Canada (une société secrète maçonnique juive) :
Cette déclaration effrontée est en substance une confession disant que la fiction de l'holocauste? dont sont inondés et inoculés les occidentaux depuis 1945 sera utilisé comme véhicule au pouvoir et à la domination mondiale juive.
Dans une démonstration de franchise, le premier ministre israélien David Ben Gourion, nous a remis toutes les preuves, fussent-elles encore nécessaires, démontrant la quête juive à la domination mondiale. En 1962, Ben Gourion déclara ouvertement qu'un gouvernement mondial gouverné par les juifs depuis Jerusalem serait bientôt formé et que cela était prédit par le prophète génocideur Isaïe dans l'Ancien testament :
Tout ce matériel incroyablement incriminant montre bien que c'est la juiverie internationale, (pas Hitler et les nazis) qui est le cerveau criminel derrière le projet mondialiste de Nouvel ordre mondial, qui est bien évidemment méprisé par le judéo-apologète Alex Jones. Pas même une mention Des Protocoles des sages de Sion, l'incarnation moderne de l'antique plan juif de domination mondiale aperçu la première fois il y 2500 ans dans la Bible (Tanakh) . La religion juive a toujours fondamentalement reposé sur la suprématie ethnique, insinuant que les juifs sont une « élite », des « élus », un « peuple choisi de Dieu » qui sont destinés à gouverner sur Terre, et asservir leurs adversaires non-juifs, c'est à dire, les « goyim inférieurs ».
Voilà ce qui nous attend dans le cauchemar infernal de « l'utopie juive » sur Terre. Vous aurez été prévenus ! Maintenant la seule question est : qu'allez-vous faire pour mettre un terme à cette folie ?
More Than Meets the Eye?
• Why Bilderberg isn't Nazi
Michael Collins Piper
Three current news stories—taken together—illustrate that things are not always as they seem. Take, for example, a new revelation about the Bilderberg group released by Internet voice Alex Jones in the wake of last week's Bilderberg meeting in Virginia, where Jones joined a crowd jeering the assembled would-be world rulers.
Although Jones has insisted Bilderberg is some sort of remnant of the Nazi regime of Adolf Hitler devoted to a modern-day Nazi agenda, a report on Jones's own website effectively admits Bilderberg's program is distinctly anti-Nazi.
Citing the papers of former Sen. Fred Harris (D-Okla.), who attended Bilderberg's 1966 meeting in Wiesbaden, Germany, Jones points out that Harris recorded the remarks of top Bilderberg figure, labor leader Walter Reuther, who outlined Bilderberg's underlying agenda: "Nationalism is dangerous."
WWII-era German National Socialism—Nazism —of course, was very much nationalist in every sense, and the fact nationalism was denounced at Bilderberg gives a clear picture of the real Bilderberg point of view, rumors notwithstanding.
Jones mentions Bilderberg's founder, Prince Bernhard of the Netherlands, had been a Nazi Party member. But what Jones does not mention is that Bernhard left the party in 1934, a year after Hitler came to power, and by 1940 was a top leader of the anti-Nazi resistance in Europe. So by the time Bernhard became Bilderberg chief, he had undergone a serious political transformation.
What's more, as careful historians know, Hitler held Bernhard in contempt. In his recorded Table Talk* and in the memoirs of his valet, Hitler is recalled scoffing satirically at Bernhard, and questioning his intelligence, integrity and loyalty.
The forces leading Bilderberg are anti-Nazi, particularly the Rothschild dynasty, whose assets were seized by the Nazis, belying a popular myth that "the Nazis never touched the Rothschilds."
*Hitler's Table Talk is available fromTBR BOOK CLUB for $35 plus $5 S&H. Softcover, 8.5 x by 11, 320 pages, #621. Call 1-877-773-90771-877-773-9077 toll free to charge or send payment to TBR, P.O. Box 15877, Washington, D.C. 20003. Outside U.S. please email sales@barnesreview.org for foreign S&H.
——
Michael Collins Piper is an author, journalist, lecturer and radio show host. He has spoken in Russia, Malaysia, Iran, Abu Dhabi, Japan, Canada and the U.S. He is the author of Final Judgment, The New Jerusalem, The High Priests of War, Dirty Secrets, The New Babylon, Share the Wealth, The Judas Goats, Target: Traficant and The Golem. You can order any of these books by calling 1-888-699-63971-888-699-6397.
The Jewish War of Survival – PDF
by Arnold Leese
(founder of the Imperial Fascist League)
Chapter VIII
THE THEORY THAT HIGH FINANCE CAUSED THE WAR
This is not the place to go into the intricacies of monetary systems. The kernel of the problem is that credit based upon gold is insufficient for the needs of modern commerce. A short supply of money and credit is best for the usurer or money-lender, since scarcity raises the rate of interest borrowers must pay. Power to regulate the amount of money and credit available enables the controllers of Gold to dominate world affairs, economically and politically. The creation of inextinguishable national debts is part of the system of control and with control goes domination. This system of economic and financial bondage was doomed by the expansion of the barter system developed by National Socialist Germany. (For a more detailed explanation see the chapter, The Peace We Lost in A PEOPLE'S RUNNYMEDE, by Robert Scrutton, Andrew Dakers, publisher.)
Chapter IX
The Object is to Destroy Fascism and Hitlerism
At last we approach facts.
Certainly we went to war with the object of destroying Fascism and Hitlerism. But the people were not allowed to know this till it was too late to withdraw, or they would not have sanctioned it, had they had an opportunity to do so. It was not Hitler or a Fascist form of Government that was objected to but that both opposed the Jewish influence in their domestic affairs.
President Roosevelt, in a letter to the International Labour Office Conference in 1944, said:
« The welfare of the world's population and their liberty are the first and ultimate concern of those dedicated to root out from this earth every trace of Nazi ideas and Nazi methods. »
« We have gone to war with the single-minded determination to rid Europe of a particular menace whose presence is incompatible with the continuance of civilized life, and it is the simplicity of this claim that resolves what the Duce feels to be inconsistency in our discrimination between Hitler and his Russian accomplice. We believe that the Russian action, lawless and treacherous as we must declare it to be, is a secondary and subordinate consequence of the original crime. The Soviet has not been a party to Hitler's previous outrages and has not shown itself to be in essence an aggressive power. »
The Duce was not the only man to see inconsistency in the discrimination in favour of the Soviets, despite this dead-lame explanation.
On plenty of other occasions, politicians have assured us that we are fighting to destroy Fascism. But they do not tell us why they deem it so necessary. There was a time when it did not appear to be a necessity to Winston Churchill. In his Great Contemporaries he wrote:
« Those who have met Herr Hitler face to face in public business or on social terms have found a highly competent, cool, well-informed functionary with an agreeable manner, a disarming smile. »
Again in STEP BY STEP, Churchill wrote of Herr Hitler:
« If our country were defeated, I hope we should find a champion as indomitable to restore our courage and lead us back to our place among the nations. »
But of Russia, Churchill said in 1920:
« The Soviet system is barbarism worse than the Stone Age. »
In a broadcast on 20th January 1940 he said:
« Everyone can see how Communism rots the soul of a nation . . . »
And later in the year on 1st April, he said:
« Communism is a deadly mental and moral disease. »
From this it is not understandable why Churchill should be leading the British Empire in a war to destroy National Socialism with the aid of Bolshevik Russia.
Of Italian Fascism, Churchill said in a speech on 11th November 1938:
« Italy has shown that there is a way of fighting the subversive forces and rallying the masses of the people, properly led, to value and wish to defend the honour and stability of civilized society. Hereafter no great nation will be unprovided with an ultimate means of protection against the cancerous growth of Bolshevism. »
As far back as 1926 the Financial News reported that a Committee of British Residents in Florence announced:
« We wish to state most clearly and emphatically that there exists here today nothing that can be justly termed either tyranny or suppression of personal freedom as guaranteed by constitutional law in any civilized land. We believe that Mussolini enjoys the enthusiastic support and admiration of the Italian people who are contented, orderly and prosperous to a degree hitherto unknown in Italy, and probably without parallel at the present time among other great European nations still suffering from the war. »
Sympathetic readers will smile when they are reminded that in 1933 the Financial Times brought out a special eight-page Supplement under the caption:
The solution of the mystery is that in those days Fascism had not yet grappled with Jewish influences dominating the nation's affairs. Giuseppe Toeplitz, Polish born Jew, had just retired from the management of the Banca Commerciale Italiana, which a New York Times dispatch from Milan on January 29, 1938 (the date of Signor Toeplitz's death) estimated controlled one-seventh of all Italian industries.
We Fascists have noticed with amusement how our own Government is forced by the pressure of necessity to adopt many of the policies of Fascism. We may instance the recognition of Agriculture as basic among the industries; the necessity of ensuring that the Land is not misused by those farming it and the corporative organization of certain industries and professions.
The International Labour Office issued a report in April 1944 in which the activities of the German Labour Front established by Hitler were recommended to be « adapted for future use » after our victory. Facilities for workmen's travel, recreation and other sparetime activities, for vocational training and research on labour protection; the « Beauty of Work » service — « Kraft durch Freude » (Strength through Joy) in the National Socialist Labor Program — and the Labour Bank, « one of the chief credit institutions . . . of the whole of Europe »; « it should also be the responsibility of the Labour Commissioners, » the Report of I.L.O. further outlines, « to continue all administrative services required for the administration of labor and social legislation — employment services, social insurance and the labour inspectorate. » The I. L. O. Philadelphia Labor Charter actually purloins direct from Fascism its notions of industrial organizations! « It insists, » says the London Times of 13th May 1944, « on the employers' right to combine freely, and declares also that if workers and employers combine to run industry collectively, there must be a third element — the Government — to cooperate and see that the rest of the community is not exploited. » Similar proposals are found in the 1944 Report on Reconstruction issued by the Grand Council of the Trade Union Congress.
It was on these principles that the Fascist Corporative Organization of Industry was based! Then why should we be so keen to destroy all this? There can be but one plausible answer. National Socialism and Fascism opposed the Jewish influence in the domestic affairs of their respective countries. That we have ample proof that National Socialism and Fascism were good governments for the Germans and the Italians of their respective countries, apparently, is of no consideration. Is it that only Jewish interests matter the world over?
We may venture to doubt whether better Government for « liberated » Italy than the Fascist one can be achieved with the material at hand. Just consider this London Times report of the 25th April 1944:
« As most members of the new Cabinet are Republicans, a form of procedure was devised whereby Ministers, before taking oath, signed a declaration stating that they had accepted office with the purpose of serving the best interests of the country, but without attaching any permanent significance to the ceremony. »
It was from such « accommodating scoundrels » as this that Fascism saved Italy for twenty years. At the time of this writing, every so-called « liberated » country begins a campaign of violence and outrage against its most active anti-communist elements. The same conditions are at once reproduced from which their Fascist or semi-Fascist Governments of the past had saved them.
John Loftus est un de ces auteurs, tels que Mae Brussell et Dave Emory, qui propagent le bobard du complot nazi à l'origine de la subversion de l'Amérique par le nouvel ordre mondial. Or même John Loftus admet que les transfuges nazis qui ont travaillé autour du nazi Gehlen pour l'OSS avaient des liens étroits avec des agents israéliens (Gehlen travaillait pratiquement pour les services du Mossad!). John Loftus est un ancien des services secrets impliqué dans la traque aux criminels nazis et qui a également présidé le musée de l'Holocauste de Floride. Est-il besoin de préciser qu'il est pro-Israël? Il prétend débusquer le complot ultime trouvant sa source dans le transfert des nazis réaffectés à divers projets du gouvernement américain.
Wikipedia John Loftus:
"John Joseph Loftus (February 12, 1950) is an American author, former U.S. government prosecutor and former Army intelligence officer. He is a president of The Intelligence Summit and, although he is not Jewish, a president of the Florida Holocaust Museum. Loftus also serves on the Board of Advisers to Public Information Research.(…)

He began working for the U.S. Department of Justice in 1977 and in 1979 joined their Office of Special Investigations, which was charged with prosecuting and deporting Nazi war criminals in the US. Loftus' now-expired Web site claimed, "As a young U.S. Army officer, John Loftus helped train Israelis on a covert operation that turned the tide of battle in the 1973 Yom Kippur War."(…)

He also writes regularly for Ami, an Orthodox Jewish weekly news magazine.

On August 7, 2005, he provided the United States address of an alleged terrorist named Iyad K. Hilal on Fox News. Only afterwards was it revealed that Hilal had left the address three years previously and the home was now owned by a family, which was then subjected to threats and vandalism and required police protection as a result of Loftus' words. Fox terminated Loftus's contract to commentate after the event. Loftus said "I thought it might help police in that area now that we have positively identified a terrorist," but he did not say why he did not contact police in a more direct manner. Loftus apologized for the mistake and expressed frustration about "one federal [agency's]" inaction on an earlier tip he had given them years ago due to the same address. » [Wikipedia.org]
Piper rapporte au sujet de Loftus dans son livre Final Judgment, sur l'assassinat de JFK:
À propos de certaines sources douteuses telles que le juif et ancien agent du renseignement britannique John Coleman…
YE SHALL KNOW THE TRUTH 101 Books Nationalists Need to Read and Understand Before 'They' Burn Them, by Michael Collins Piper (2013) p.33-36