NBC – Send President Obama Ebola as Birthday Gift, Some Israelis Say
5 August, 2014
http://www.mako.co.il/ This online survey asked Israelis what they would like to give Barack Obama for his birthday.
October 09, 2014
Happy Birthday Mr. President!
by BEN NORTON
+972 Stream Item
By Haggai Matar |Published August 4, 2014
'Ebola' voted by Israeli readers as 'best birthday present' for Obama
Readers of the prominent Israeli news site Mako have overwhelmingly voted in favor of sending President Barack Obama an envelope containing the Ebola virus for his birthday.
The site, which belongs to the Channel 2 company "Keshet" (the most widely watch broadcasting network in Israel) began the survey at noon on Sunday, asking readers what they would like to give the president for his 53rd birthday. The options were as follows (scores in brackets, screenshot below):
A) Peace in the Middle East (22%)
B) Golf clubs (11%)
C) A box set of Israeli television series Prisoners of War (9%)
D) A remix by Noi Alush (local video artist) of Netanyahu's now-famous "Don't ever second guess me again" line (10%)
E) An envelope with the Ebola virus (48%)
The results did not cause Mako to reconsider the list of options, nor remove the survey altogether. At the time of writing (Monday night, 11 p.m.) it is still up.
The Israeli watchdog site Walla-Branja wrote on Monday that only a month ago did Mako declare it would enact a new policy of filtering hate speech in its comments section, specifically targeting calls for incitement to violence or death following the murder of Muhammad Abu Khdeir.
Mako.co.il survey on President Obama's Birthday (screenshot)

Israeli TV Poll, What to Give Barack Obama for His Birthday? 48% Say: Ebola
by Richard Silverstein on August 4, 2014
in Mideast Peace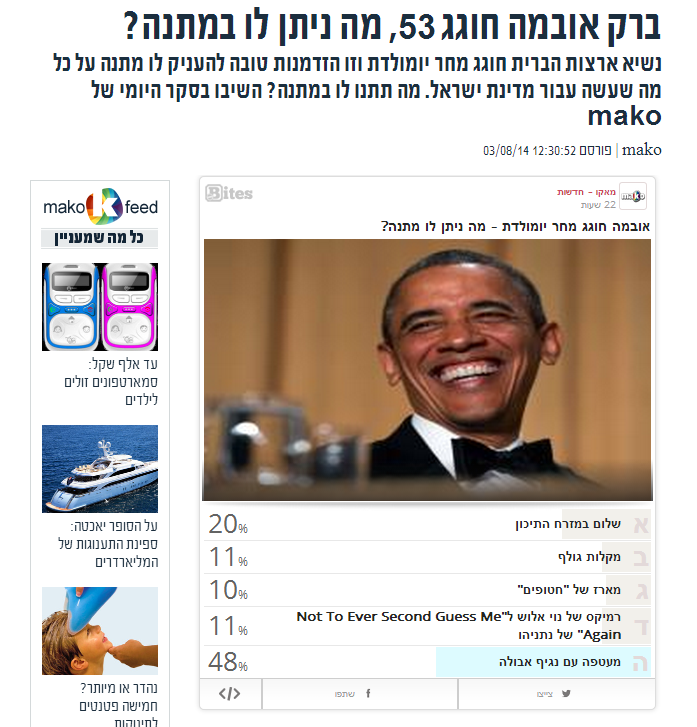 What to give Obama on his birthday? Ebola
Israel's Channel 2 is the country's most popular TV station. Its website, Mako, published the results of a poll asking what listeners wanted to get Pres. Obama for his 53rd birthday tomorrow. 20% wanted to give him "peace in the Middle East." Nice. 10% wanted to give him the Noy Aloosh remix of "Don't Second Guess Me Ever Again." Cheeky, but funny. 11% said: golf clubs. You know your man. And the winner, with 48% was: "an envelope containing Ebola virus." Say what?
I could understand if this was Hustler Magazine or even the Daily Mail, known for trash journalism. But the country's most popular TV channel?! Even if we chalk this up to a bad case of media stupidity, and assume that those who responded to the poll wanted to be in on the joke, doesn't this tell us quite a bit about the Israeli political environment? The leader of Israel's only real ally in the world is despised so much that Israelis would like to see him dead.
There's an added subtle bit of racism in the fact that Islamophobes and the Israeli and American far right believe Obama is a Muslim born of a Kenyan father. Wishing him a fatal illness that originated in Africa and is ravaging parts of the continent right now seems a conscious or unconscious racist allusion to his origins.
H/t to Uriah Canaff.
Popular Israeli singer wishes death to Obama in new song
Israeli artist posts song wishing death to pet bird 'Obama'
Car used to kill Muslim teen in Missouri had 'Islam is worse than Ebola' bumper sticker
Pro-Israel Supporters To Black American: 'Take Your Ebola Ass And Get Out'
'These African b*tches!': With Ebola panic running high, black immigrants face ostracism
Obama Chastised Americans for their "Hysteria" Over the Spread of the Deadly Ebola Virus
THE FEAR FACTOR AND RACISM OF THE EBOLA VIRUS
John Hagee–Ebola Is 'God's Judgment' On America Because Obama Is Trying To 'Divide Israel'
Pastor ties Ebola to Obama's Israel policy John Hagee says epidemic is part of God's judgment for U.S. president's efforts to divide Jerusalem.
Evangelical pastor clarifies 'Obama is anti-semitic' remark Founder of Christians United for Israel clarifies: I meant to call Obama most 'anti-Israel' president in history.
Hagee: Meant to call Obama anti-Israel, not anti-Semitic
Israel holds Ebola identification training exercise at Ben Gurion airport
Je « prédis » qu'éventuellement ils vont se servir de cette excuse (Ebola) pour renvoyer plus de réfugiés Africains hors d'Israël ou les parquer dans des camps de concentration…
Israel's defense minister behind closed doors: Obama administration won't last forever
Donald Trump calls Obama Israel's greatest enemy
ADL slams CUFI founder Hagee for calling Obama anti-Semitic
"Pastor" John Hagee calls Obama anti-Semitic, blasts Iran policy
VIDEO – RIGHT WING WATCH: Hagee hotline: John Hagee Says 'Anti-Semitic' Obama Is Sticking His Finger 'In The Eye Of God'
RWNJs: We Love Bibi, So Obama is an Anti-Semite
VIDEO – Mark Levin: "Obama has all the signals of an ANTI-SEMITE"
Batshit crazy Pamela Geller: Obama's Antisemitic Hissy Fit: "Netanyahu 'spat in our face'"
Clear crisis in US-Israel bond: Analyst
Time for American Jews to admit it Obama is anti-Semitic and anti-Israel
Pro-War Jewish supremacist Mark Levin: 'This President's Anti-Semitism is Catching On'
McCain: Obama and Netanyahu have worst relationship ever Senator says US president had 'very unrealistic expectations' about cooperation with Israel on peace proces
McCain: Israel-U.S. ties have never been worse than under Obama Republican senator says Obama had 'very unrealistic expectations about the degree of cooperation that he would get from Israel.'
Republican Senator Mitch McConnell: Obama Not Popular in Israel 'for Good Reason'
Barack Obama secret meeting considers sanctions to deter West Bank settlement construction
Europe-Israël – L'administration Obama s'immisce dans la campagne électorale israélienne avec le plan de « punir » Netanyahu
Sony Pictures Chair Amy Pascal and producer Scott Rudin (both non-Gentiles) mock President Obama in new set of racist emails
Racist Jewish Media Whore Designer Says Dumb Things All By Himself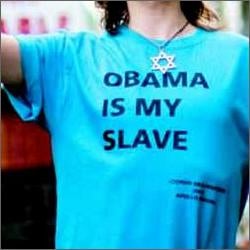 juif.org – États-Unis : affront de l'administration Obama au ministre israélien de la Défense
Foxman: Obama won't name radical Islam as enemy because of political-correctness ADL head says Europe is not the best place in the world for Jews to live but mass emigration isn't in the cards, for now.
Iran: We thwarted Mossad attempt to assassinate nuclear scientist
La politique d'Israël fut 87 fois « inacceptable » en 2014
Israeli settlers attack US consulate convoy in the West Bank (Updated)
Des colons s'en prennent à des diplomates américains Le convoi dépêché en territoire occupé a reçu des pierres, qui n'ont fait aucun blessé
US 'deeply concerned' by settler attack on consulate staff
Israeli settlers stone U.S. diplomatic cars: police
Israel attacks US By Staff Writers, Al Jazeera
juif.org – Pour Kerry, la persistance du conflit entre Israël et l'AP nourrit le recrutement djihadiste de l'Etat Islamique'
U.S. accuses Bennett of distorting Kerry's words for political gain State Department hits back after Israeli ministers criticize state secretary for linking rise of Islamic State to Israeli-Palestinian conflict.
John Kerry de nouveau vivement critiqué en Israël (18 octobre 2014)
Le chef de la diplomatie américaine a estimé que le conflit israélo-palestinien alimentait la colère de la rue dans le monde arabe et que tous les dirigeants de la région avec lesquels les Américains avaient discuté sur la coalition contre le groupe Etat islamique avaient exprimé la nécessité de la paix entre Palestiniens et Israéliens. Les gens doivent comprendre la connexion. Cela a quelque chose à voir avec de l'humiliation, du déni et une absence de dignité, a-t-il dit.  « L'absence de dignité », c'est ça qui provoque la montée de l'Etat islamique ?, a demandé M. Erdan, membre du parti de droite Likoud du Premier ministre Benjamin Netanyahu. 200.000 personnes assassinées en Syrie, des Britanniques et des Américains à qui on coupe la tête, c'est la faute de la colonie de Maaleh Adumim peut-être?  Il se trouvera toujours quelqu'un pour accuser les juifs, même quand c'est un musulman britannique qui décapite un chrétien britannique, a déclaré de son côté le ministre de l'Economie Naftali Bennett, leader du Foyer juif, parti nationaliste religieux.  Washington a répliqué aux admonestations israéliennes
(Retourner aux limites de 1967: Israel voit ça comme un second Holocauste!)
Who's the real chickenshit? Gideon Levy for Haaretz. By letting Netanyahu expand the settlements and deliver a death blow to the two-state solution, the U.S. president has shown that he's the one who lacks guts.
Kerry phones Netanyahu, apologizes for 'chickenshit' comment Secretary says sorry on behalf of Obama administration; Israeli commentator cites 'unprecedented loathing' between the two leaderships
U.S. Secretary of State calls Prime Minister, says remarks made by anonymous U.S. official in The Atlantic are unacceptable
Amid crisis with U.S., Netanyahu readies for elections Ministers Lapid and Livni won't be able to continue to swallow the premier's right-wing, ultranationalist rhetoric, and may be forced to leave the coalition at some point.
US made Netanyahu into its punching bag
US is settling scores with Netanyahu through Ya'alon Op-ed: Our leaders have yet to internalize the need for courtesy towards those who help secure Israel's existence to the tune of $3 billion a year.
Ingratitude in Jerusalem, loathing in Washington Analysis: Damage caused by Netanyahu to Israel-US ties is irreversible at this stage. From now until end of Obama's term, relationship between two countries will shift to a state of maintenance.
Pro-Israel Washington real 'chickenshit'
Israel's Rivlin seeks to cure 'disease' of racism
Israeli society sick with violence – country's president
Is Israel's president an anti-Semite?  President Rivlin just called Israel a 'sick society.' If he was an American politician, he'd be probably forced out of his job.
Israeli right-wingers launch campaign of incitement against Rivlin
Ya'alon comes to Rivlin's defense over president's conciliatory approach toward Israel's Arabs
VIDEO – Mark Glenn: US under Israel's deadly, pernicious influence
VIDEO – Mark Glenn: US officials nervous about Israel's image as a gangster and bandit
JTA-Why the U.S. and Israel are not getting along
JPOST-US officially calls on Israel to reverse land appropriation
JTA-Obama administration calls on Israel to reverse land appropriation
YNETNEWS-US: Criticism over settlements comes from 'situation on the ground'
HAARETZ-Netanyahu: It's un-American to rebuke Israel over Jewish homes in Jerusalem
HAARETZ-White House: 'Odd' of Netanyahu to call our stance on settlements 'un-American'
JTA-U.S. officials score Netanyahu on 'American values' comment
FORWARD-Why Benjamin Netanyahu Is Wrong To Cite 'American Values' in Jerusalem Feud Premier's Not Being Racist — Just Blind to the World
HAARETZ – Video – Netanyahu's 'un-American' stink bomb begs the question: What was he thinking?
White House fumes at PM's 'American values' statement that echoes malicious rhetoric of birthers and other crazy Obama-haters.
By Chemi Shalev | Oct. 7, 2014 | 12:30 AM
You want to give Benjamin Netanyahu the benefit of the doubt. You prefer to assume that he knew not what he was doing, that he fell in love with his own wisecrack, as he is wont to do, and simply didn't think things through. You want to believe that we have not reached the stage when the Israeli prime minister would wantonly detonate a stink bomb in an American president's face, as if he couldn't care less.
In other words – what was he thinking?
It's not only Netanyahu's presumptuousness in appointing himself the arbiter of what "reflects American values" and what doesn't. Just try to imagine the mortified mayhem that would break out if Obama had retorted that construction in East Jerusalem that could kill off the moribund peace process is "un-Jewish" or "un-Israeli" or runs to contrary to "Jewish values." Israeli politicians would hit the roof, American Jewish leaders would plotz all over the place and Fox News would stop its regular programming in order to foam at the mouth and run John Bolton's inevitable call for the president's impeachment in an endless loop.
And it's not only that anyone with a rudimentary knowledge of modern U.S. politics – or access to Google – would know that "un-American" is a concept uniquely associated in the American psyche with Senator Joseph McCarthy's House Committee on un-American Activities (HUAC). That anyone trying to impugn a White House for "not reflecting American values" immediately aligns himself with the worst political muckrakers in American history. That the instinctive response to such an accusation is the immortal one hurled at McCarthy by U.S. Army counsel Joseph Nye Welch on June 9, 1954: "Have you no sense of decency, sir? At long last, have you left no sense of decency?"
And we still haven't gotten to the worst of it: How Obama is the one American president that no foreign leader should ever dare describe as "un-American." That this is the malicious refrain of the cuckoo birthers and other crazy Obama-haters: That he was born in Kenya, and even if he wasn't, that he is somehow alien, foreign, "un-American." And that by stooping to such reprehensible rhetoric, Netanyahu may have burned whatever crumbling beams remained of his bridges, not only with the White House but with its senior staff as well.
And if you need to connect the dots, as they most certainly will in the president's closest, most protective and possibly most paranoid surroundings, this the way it will go: That it is no coincidence that Netanyahu used the "un-American" analogy after hobnobbing so brazenly with Sheldon Adelson, arguably public enemy number one of the president's Democratic Party. That this is the kind of crap, excuse me, that people who admire Adelson are wont to utter, when they think no one else is listening.
But Netanyahu was so oblivious that he didn't keep his thoughts to himself or even to his closest surroundings. He felt the need to hit back for what may have indeed been a U.S. overreaction. First he told the Israeli media and then he repeated the odious comment for each and every Sunday morning talk show to hear. He didn't mention Obama by name, but he nonetheless slammed the president as if he was a Tea Party brawler rather than the leader of a country with a "special relationship" with America.
Never mind that the claim itself is thoroughly ludicrous. Building in East Jerusalem or the occupation of Silwan apartments by fanatic settlers is a matter of "property rights"? Really? It has nothing to do with Israel's stated objection of claiming Jerusalem all to itself and heading off any effort to divide it? How disingenuous can you get, without people bursting out in laughter?
The same kind of laughter that was heard in Washington when Netanyahu described his relations with Obama as those between "a couple." A mutually homicidal couple, perhaps, like Michael Douglas and Kathleen Turner in the 1989 black comedy War of the Roses, one veteran observer told me. And even if they were like a couple, he added, then Obama is in court right now, asking for a permanent restraining order.
Of course, relations between the two countries are still good, even great, at most official levels, though the dysfunction at the top cannot but radiate negatively to the lower echelons. You might think, as Netanyahu perhaps believes, that this is as good as it gets, given the substantive disagreements between the two countries. You might believe, as Netanyahu perhaps does, that Obama may soon turn into a lame duck anyway, if the Republicans take the Senate in the November elections.
Still, you have to wonder: Israel and the U.S. are fast approaching a watershed moment which would test their relations even if their two leaders were getting along famously. If Washington and Tehran reach a nuclear agreement, it will take Herculean efforts to avoid a real rupture between the two governments. In light of the overriding importance that Netanyahu ascribes to preventing a nuclear Iran, you have to ask yourself how he could find it appropriate, at this critical juncture, to score such cheap points at the American president's expense.
Perhaps, as I've written before, the right answer can be found in the famous fable about the scorpion that stings the frog that is carrying him across the river, drowning them both. Asked why he would do such a thing, he replied: "It's in my nature."

VIDEO – Within Israel: Incite To Hate
Social media campaign to protest prejudicial headlines and coverage of Israel especially in light of the treatment given to the recent barbaric attack on Jews at prayer in Har Nof.
Le complot des médias antijuifs? MEGA-LOL
Western media organizations rushed to downplay the culpability of the Palestinian terrorists in the attack.
Parce que les médias sont rendus antijuifs ast'heure? MDR!
Désinformation du Monde et du Courrier international sur Israël médias antijuifs? LOL
La Foreign Press Association accusée de soutenir le terrorisme (Même délire, en français)
juif.org – Jusqu'où l'Europe est-elle prête à aller contre l'Etat d'Israël ?,…
juif.org – L'UE prépare une Liste Noire de juifs qui seront interdits de séjour en Europe.
POSTE DE VEILLE-Obama promeut à l'ONU un cheikh des Frères musulmans
Je connais des complotistes qui doivent avoir grandement envie de relayer cette « nouvelle »!
Les idées préconçues anti-israéliennes de Charles Enderlin Ils le lâcheront jamais ce Enderlin… Depuis l'Affaire Al-Dura ils l'ont pas lâché.
Photographed punching an Arab woman? Sue the photographer
Media hypocrisy on Israel Op-ed: So-called prestigious newspapers Guardian and NYT give platform to every nonsensical item about racism in Israel.
Massmedias antisémites? Faites-moi pas rire!
La politique d'Israël fut 87 fois « inacceptable » en 2014 Au cours de l'année 2014, le département d'Etat américain a qualifié 87 fois d' »inacceptables » les actions d'Israël, révèle une enquête du journal américain Foreign Policy.
Official: Israel independently learned of secret U.S. letter to Iran
Report: Romney slams Obama for 'legitimizing' Iran's Khamenei with letter
'Iran is your enemy,' Netanyahu tells Americans on Face the Nation The prime minister noted that the Iranian leader had recently called for Israel's destruction.
Obama laughs at Bachmann over request to bomb Iran

We love this commercial showcasing Barack Obama's ability to unite democrats and republicans, Jews and supporters, in their pro-Israel beliefs.
Republican Bob Turner, Democrat David Weprin, Senator Joe Lieberman and Mayor Ed Koch all agree, President Obama is not pro Israel.
You mean his "John McCain has not talked about my Muslim faith.." quote or this video didn't tell you that?
The Emergency Committee for Israel paid for, and authorized the content of the ad.
We agree, unless you're Jerusalem, Obama is only a uniter, not a divider.
VIDEO – THE UNITER
VIDEO – Daylight: The Story of Obama and Israel

Sur ce blog: