L'ouvrage The Bell Curve, qui relie l'intelligence à la race, est censé prouver scientifiquement l'infériorité des Noirs par rapport aux Blancs. Les Identitaires (séparatistes) n'ont que du bien à dire de ce livre, bien qu'il « démontre » (sic) également non seulement l'infériorité des Blancs par rapport aux Juifs, mais aussi la suprématie des Juifs sur le reste de l'humanité! Voilà qui est bien étrange. C'est à se demander si les Identitaires ne seraient pas analphabètes, ou bien s'ils ne font pas que suivre bêtement l'autorité des porte-paroles identitaires les plus en vue. Car il ne faurait pas oublier que ces porte-paroles identitaires ont quasi unanimement louangé cet ouvrage, comme s'il s'agissait d'un « cadeau du Ciel à la race blanche »…
The Bell Curve a été co-écrit par le juif Richard J. Herrnstein (décédé avant la parution) et le non-juif Charles Murray. Murray est évolutionniste, mais reste religieusement philosémite (il soutient que son livre apporte la preuve définitive que les juifs sont « le peuple élu de Dieu »). Il a gagné le prix Irving Kristol, en l'honneur du néocon juif Irving Kristol.
The Bell Curve a été publié en 1994 par The Free Press, fondé par les juifs Jeremiah Kaplan et Charles Liebman. The Free Press est lié à la prestigieuse maison d'édition Simon & Schuster, qui était en 1994 propriété de Viacom (Sumner Redstone/Rothstein) et depuis 2006 propriété de CBS (de la riche famille juive Tisch).
La publication en 1994 de The Bell Curve a reçu une attention médiatique des plus enviable, ainsi que d'excellentes critiques dans certains des plus prestigieux journaux tels que The New York Times (fondé par la riche famille juive Ochs Sulzberger), The New York Times Magazine et The New York Times Book Review, Newsweek, The New Republic, Time, Forbes, The Wall Street Journal, The National Review, et les émissions télé Nightline, PrimeTime Live, Think Tank, All Things Considered, etc.
Tel qu'indiqué plus haut, The Bell Curve a reçu un accueil enthousiaste de la part des Identitaires les plus en vue, tels Jared Taylor (qui selon les révélations du révisionniste Ted O'Keefe, serait lié par sa femme à l'Anti-Defamation League of B'nai Brith, via Irwin Suall, ainsi qu'à de prestigieux rabbins). La revue juive néoconservatrice Commentary, revue officielle de l'American Jewish Committee, a non seulement louangé la sortie de The Bell Curve ainsi que l'oeuvre de Murray, elle a également salué l'ouvrage de Jared Taylor Paved With Good Intentions. Taylor dit des juifs qu'ils sont « la conscience de la société ». Sans commentaire.
Psychology Wiki sur la réception immédiate de l'ouvrage dans les médias:
Upon publication, The Bell Curve received a great deal of positive publicity, including cover stories in Newsweek (« the science behind [it] is overwhelmingly mainstream »), early publication (under protest by other writers and editors) by The New Republic by its editor-in-chief at the time Andrew Sullivan, and The New York Times Book Review (which suggested critics disliked its « appeal to sweet reason » and are « inclined to hang the defendants without a trial »). Early articles and editorials appeared in Time, The New York Times (« makes a strong case »), The New York Times Magazine, Forbes, the Wall Street Journal, and The National Review. It received a respectful airing on such shows as Nightline, the MacNeil/Lehrer NewsHour, the McLaughlin Group, Think Tank, PrimeTime Live, and All Things Considered. [1] The book sold over 300,000 copies in hardcover.
While the book's popularity was mostly propelled by its controversial claims regarding race and intelligence, both the accuracy of those claims and the qualifications of the authors soon came under attack. Dr. Herrnstein died before the book was released, leaving Charles Murray to do most of its public defense. Although Herrnstein was a prominent psychologist, Murray has a Ph.D. in political science with no formal credentials in psychometrics.
Plus d'info sur le séparatisme suprématiste juif derrière The Bell Curve et les idiots utiles identitaires qui en font la promotion:
AUDIO – Protected: The Piper Report May 6, 2015
Posted by MG editor in Michael Collins Piper archives on 05/05/2015
Michael Collins Piper addresses the question–Are the Jews a 'superior' race of people as they incessantly claim?[AUDIO]
This content is password protected. To view it please enter your password below:
Goldnadel serait-il un jared-taylorien?
Goldnadel : réflexions sereines sur l'affaire Morano « (…) Pour se convaincre du bien-fondé de ma thèse habituelle sur la naissance du «politiquement correct» moderne à partir du choc traumatique de la Shoah, on pourra se persuader de la concordance de la proscription verbale du mot contesté avec le génocide nazi en se référant au texte du «Courrier de l'Unesco» rédigé en 1950, qui au lendemain donc de la seconde guerre mondiale, proposait d'abandonner le vocable honni au profit du, paraît-il , plus correct «groupe ethnique», celui-ci prenant en compte l'élément culturel cher à Lévi-Strauss. Le politiquement correct était né. Du traumatisme suprême. Avec de bonnes intentions. Dont l'enfer serait pavé.(…)La réponse évidente à cette question est unique : l'obsession xénophile issue du choc médiatique de la Shoah est passée au milieu. »
(Goldnadel a compris depuis longtemps que l'endoctrinement shoatique n'aide pas vraiment les sionistes! Goldnadel accuse l'endoctrinement-sensibilisation shoatique d'être à la source de la xénophilie sur laquelle s'est fondée la rectitude politique « pavée de bonnes intentions »…)
Israël a-t-il joué un rôle dans l' endoctrinement raciste du tireur de Charleston?
Islamophobic Networks influenced Roof to Kill in Charleston
Charleston gunman decries 'Jewish agitation of black race' in 'manifesto'
Outrage in Charleston— This Is America! White Supremacist Mass Murder in a Church
LA BLAGUE DU JOUR. USA : Dylann Roof n'est pas raciste mais, dans sa tête, la supériorité des races existe
Charleston: manifestations contre le drapeau confédéré, le tueur avait un blog raciste
Charleston massacre: Dylann Roof admits killing nine, says he wanted 'to start a race war'
Fusillades en série: Obama accuse le congrès et le peuple américain
Obama Has Secret Meeting with Katzenberg and Spielberg to Talk About Guns Following Charleston Shooting
Israeli President Reuven Rivlin calls for removal of Israeli flag
Rand Paul Joins Politically Correct Leftists, Demands Confederate Flag Come Down, Flies Israeli Flag On His Campaign Website 

Un aperçu du « problème éthiopien » d'Israël :
Why Do So Many Jews Hate Black People?
Op-Ed: For black Orthodox Jews, constant racism is exhausting
Growing Up Hasidic — and Racist

Ethiopian-Israelis call for police officer who beat soldier to go on trial 
Nouvelle manifestation d'Israéliens d'origine éthiopienne contre le racisme
Ethiopian-Israelis set new protests, vow no violence
The Ethiopians' problem: For most Israelis black is black We don't have a common identity and culture, so separate ethnic cultural ghettos are preferable to a uniform national wilderness.
Israël : des manifestants éthiopiens juifs gazés par la police
Racist Israeli Policies Target Ethiopian Jews
Police Attack Demonstration Against Police Violence in Israel
Israel's systematic discrimination against blacks
Teacher suspended for telling student to 'go back to Ethiopia'
ZIOLOGIC ~~ 'YOUR RACISM IS WORSE THAN OURS'
Le racisme ordinaire aux Etats-Unis et en Israël est en train de supplanter l'antisémitisme!
«Nous ne voulons plus être les Nègres» d'Israël
Protests Go Global as Ethiopians March Against Police Brutality in Tel Aviv
Juifs noirs gazés par la police à Tel Aviv ! Israël en proie aux émeutes raciales (Pas sûr qu'ils sont tous juifs… Ils sont Israéliens! Mais quantité de réfugiés politiques éthiopiens se voient refuser la citoyenneté…)
Émeutes raciales en Israël : 30 blessés
30 wounded in clashes with Ethiopian Israelis
Police, protesters clash in Tel Aviv as anti-racism protest turns violent
Ethiopian-Israelis, police clash in Tel Aviv during demonstration 
Ethiopian-Israeli Protesters, Supporters Block Off Tel Aviv Roads
Les Éthiopiens marchent contre le racisme à Tel Aviv
Nouveaux heurts lors d'une manifestation d'Israéliens éthiopiens 
Dozens injured as Tel Aviv rally descends into violent fracas 23 police and sevenprotesters hurt by rocks, stun grenades and tear gas, several demonstrators arrested as anti-racism rally in support of Ethiopian community turns into melee; Netanyahu: there's room for claims, but not violence
Israel's long history of racism: What exactly are Ethiopian Israelis protesting? Ever since they began immigrating in 1984, Ethiopian Jews feel they have been discriminated against because of the color of their skin.
'Bad apple' excuse brings Israel closer to Baltimore Using this excuse allows us to avoid important questions: How racist are the police? Do officers act violently against Ethiopians because they believe they can do so with impunity?
Beyond Baltimore: The ugly truth about racism and police brutality in Israel Israel is perhaps no better and no worse when it comes to racism than America. But here it's even easier for people in power to justify their behavior.
Why are Ethiopian Israelis so angry? The voices behind the protests Several of the demonstrators who attended the rally against police brutality – which itself turned violent – explained to Haaretz what brought them out into the streets of Tel Aviv.
What Baltimore has in common with Ethiopian Israeli protests – and what it doesn't It's no coincidence that the frustration of young Israelis who immigrated as children from Ethiopia should explode onto the streets of Tel Aviv and Jerusalem at this particular moment.
Ethiopian Israeli protest turned violent – but it's still justified Sunday's protest by Israelis of Ethiopian descent of the police's attitude toward them spiraled out of control;…
WATCH: As it happened, 6 videos from anti-racism protests by Ethiopian-Israelis 
The Ethiopian Israelis' justified outcry 
ETHIOPIAN DIARY ~~ WHY WE PROTEST
Racist Israeli Policies Target Arabs and Ethiopian Jews
'We made a mistake': Israeli president to Ethiopians after thousands-strong protest
Student councils of 5 South African universities join BDS campaign
South African Jews: apologetic about apartheid, abused over Israel
VIDEO – What Donald Sterling Said about Israel and Blacks. Media Smears and Suppression 
FORWARD-NBA's Donald Sterling Tells Girlfriend, 'In Israel, Blacks Are Treated Like Dogs' Owner Seeks To Justify Racist View of African-Americans
YNETNEWS-Clippers owners: In Israel, blacks treated like dogs Extended recording of Donald Sterling sees him make additional racist remarks, belittling 'black Jews' and claiming they are worth less than 'white Jews' during conversation with girlfriend.
TIMESOFISRAEL-Clippers owner: Black Jews treated like dogs in Israel Extended recording released by Deadspin purports to show Donald Sterling using Israeli racism to defend own views on blacks
MONDOWEISS-NBA owner Sterling reportedly sought to justify his racism by citing Israeli racism
One Thing Donald Sterling Got Right: 'In Israel Blacks are Treated Like Dogs'
Israeli Policies Towards the Palestinians Mirror Regimes of Apartheid in South Africa and Jim Crow in the U.S.
VIDEO – Le Racisme anti-noir « d'israël » (05/10/14)
Fleeing conflict into the arms of another war When the siren sounds and Israelis run for shelter, Tel Aviv's African asylum seekers run out to the street.
On Israel's little-known concentration and labor camps in 1948-1955
VIDEO – Camps de concentration en Israel pour les hommes noirs
VIDEO – Tel Aviv protestors chanted "Niggers go home! Niggers to Africa!" at anti-refugee rally 
Israel 'coercing Eritreans and Sudanese to leave'
Israel – half of Jewish teen detainees are of Ethiopian descent
Nigerian foreign minister apologizes for not voting to end Israeli occupation
VIDEO – Israeli incitement: EU parliament testimony 
VIDEO – Routine exchange on a bus reveals racism embedded within Jewish Israeli society
Why is it? The Only Racism You Can't Criticize is… Jewish Racism!
Controlled opposition "conservative" talk radio designed to inflame race problems and support Israel
Israelis build the world's biggest detention centre
Hypocrisy in Action: The Jewish Lobby, Asylum Seekers in Israel and America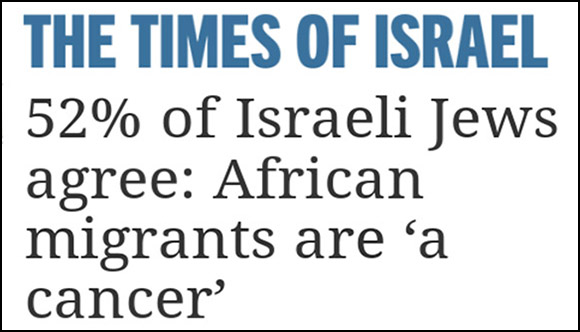 Racism inquiry rejected   Despite Ethiopian-Israeli protests, Knesset votes down attempt to probe racism claims.
VIDÉO. Israël (racisme): manifestation anti-raciste des israéliens noirs contre la police 

Behind Israel's Protective Edge

Jewish Refugees and African Infiltrators

Israeli Leaders and White Supremacy

Schools Segregated, Hatred Integrated

Wasserman-Schultz on Intermarriage

Political Points for Opposing Intermarriage

Mutabaruka interviews David Sheen

Israel Elections [Africa News Network]

Protest Against Racist Police Brutality in Israel

Fighting For Refugee Rights (2)

Fighting For Refugee Rights (1)

Who's Responsible For Rape In Israel?

Miscegenation in Mandatory Palestine

Within Israel: Black-washing and Sex-washing

Quels partis israéliens pour la paix?

Might condemning Israeli racism just make it increase?

Bundestag testimony: What about the Israeli Left?

Bundestag testimony: Israeli attacks on African refugees

Israeli incitement: Bundestag testimony

Israelis: « Ni&&ers go home! »

Israeli incitement: EU parliament testimony

Ultra-Zionists Protest Miscegenation

Right After Being Attacked By An Israeli Soldier

African Refugees Make A Run For The Border

African Refugee Press Conference

Israeli camps for African refugees

Israelis Who Hate Israelis Who Don't Hate Africans

Africans Out Of Tel Aviv… and Dimona

African Hebrews and the State of Israel

Working With African Torture Victims In Israel

You Would Think Because Of What We Went Through

How do other Africans react to Israel's war on refugees?

How do Israeli racists know which Africans aren't Jews?

Why isn't Israel's war on Africans being reported?
Blackwashing: Saar Visits Dimona

What can we do to stop Israel's war on Africans?

How do you deal with Israeli racism?
How did Israel add to the African refugee problem?

Solidarity with African Asylum-Seekers

African Refugee March To Canadian Embassy

African Women and Children #MarchForFreedom

FREEDOM! Africans in Israel demand it

Israelis Angry At Court Ruling On Africans

Pitch: Book About Africans In Israel

Cause of Crime in South Tel Aviv

You'd Think Because It Happened To Them (2/2)

You'd Think Because It Happened To Them (1/2)

How the Israeli People Treat African Refugees

How Israel's Government Treats African Refugees

Campaign For A Jew-Only Sderot

Israel's Judiciary Launders the Government's Racism

Does the Right-Wing Really Oppose « Judicial Activism »?

Sacks on Israel's Asylum-Seekers

In with the New Year, Out with the Africans

Anti-African Chanukah Rally #2

Eritreans Protest Israeli Persecution

Sudanese Protest Israeli Persecution 

Religious vs. Civil Rights in Israel

Israelis Against « Race-Mixing »

Israel's Ethiopian Jewish Immigration
Defend African Refugees in Israel

Rabbi Aspires to Jewish Dominion

Africans in Israel Demand Refugee Rights

Sudanese Protest Israel Deportation

Zahalka: Give Africans Full Rights

Fear and Loathing of All Non-Jews

Yishai to Non-Jews: Wipe Our Butts and Don't Have Kids

Israeli minister wants theocracy

Racism vs. Africans in Israel (4/4)

Racism vs. Africans in Israel (3/4)

Racism vs. Africans in Israel (2/4)

Racism vs. Africans in Israel (1/4)

Racism Report: Africans in Israel (1 Hour)

Protest: Israel criminalizes refugees

Anti-African Rally in Tel Aviv