Courting Kahanists, Netanyahu Takes Politics to the Gutter
Netanyahu Now Endorses Jewish Fascism. U.S. Jews, Cut Your Ties With Him Now
Far-right candidate defends extremist Kahane after merger with Jewish Home
Jewish Home votes overwhelmingly to back merger with extremist party
Condemned Farrakhan and His Fans? Now Do the Same for Jewish Power, Netanyahu and the Likud
If You Called Out The Women's March Over Farrakhan, You Better Call Out Netanyahu
American Groups Silent On Netanyahu's Embrace Of Kahanists
Netanyahu's Embrace of Racist Right Is Repulsive, but You Ain't Seen Nothing Yet
Netanyahu calls Smotrich's dad, upping pressure for far-right merger
Extremist Otzma Yehudit announces unity pact with Jewish Home
Extremist party that backs booting non-Jews seen by PM as vital for his victory
Netanyahu promises Jewish Home 2 ministries to join with extremist party
Netanyahu's despicable push to bring racists into Israel's political mainstream
Netanyahu Orchestrates Merger To Bring Extremists Into Knesset
Kahane lives? Why Netanyahu may have pushed Otzma into the Knesset
Who are the Kahanists of Otzma Netanyahu wants in his government?
How the national religious camp moved from land for peace to union with radicals
Netanyahu orchestrates merger to bring far-right extremists into Knesset
Otzma Yehudit is an anathema to the 'normally religious' Israelis for whom observance is a natural part of life cannot stomach the union between their former ideological home and the racist, hateful Kahanists; and thanks to his cynical cunning, Netanyahu is both creator and beneficiary of this situation.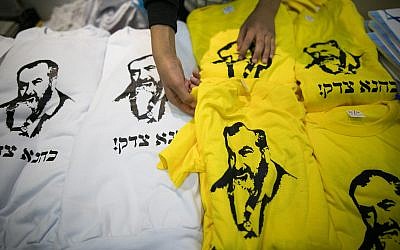 L'AIPAC boycotte Otzma Yehudit, parti « raciste et répréhensible »
AIPAC, AJC issue rare rebuke of Netanyahu for drawing in extremists
US : Un groupe pro-Israël dénonce l'alliance d'Otzma Yehudit/HaBayit HaYehudi
After AIPAC rebuke, Netanyahu defends aiding Kahanists: 'Hypocrisy by the left'
Lapid on Netanyahu fixing deal with Kahanists: He puts politics before country
AIPAC to boycott 'racist and reprehensible' Kahanist party wooed by Netanyahu
An extremist rabbi's legacy is again haunting Israeli politics
Comment passe-t-on de la terre contre la paix à une union avec des extrémistes ?
Un candidat d'extrême-droite défend Kahane après la fusion avec HaBayit HaYehudi
Meir Kahane: One Likud PM called him dangerous; another is wooing his disciples
The desecration of Israel In boosting Otzma Yehudit, Netanyahu has validated Kahanism, an apocalyptic racist theology that sanctifies hatred and vengeance
Prominent rabbi likens vote for Otzma Yehudit to backing Nuremberg Laws
Extremist Otzma Yehudit threatens to sue prominent rabbi over Nazi comparison
Netanyahu defends partnership with far-right party amid AIPAC criticism‏
Kahanist caper casts Netanyahu as Trump on steroids
Netanyahu hits back after criticism on far-right deal
How Netanyahu Revived Jewish Supremacism and Paved Its Way to Power
Which Tycoon Is Going to Win the Israel Election? Akirov, Mozes, Adelson or Maimon: Behind every party in the race hides a Mr. Moneybags who contributes funds or effort to the cause. Here's the lineup
Kahanist Party Rips Into AIPAC After Criticism of Netanyahu's Support Far-right party accuses U.S. Jewish lobbying group of hypocrisy: 'They have never come out against figures on the Israeli left who want to cancel out the Jewish state'
Après le blâme de l'AIPAC, Netanyahu invoque « l'hypocrisie de la gauche »
Malgré la condamnation des Kahanistes, Netanyahu sera à la conférence de l'AIPAC
US Jewish leader says community worried by Netanyahu's ties to far-right party
Despite censure over Kahanists, AIPAC confirms Netanyahu to speak at confab
Leading US Jewish journalists denounce Netanyahu for deal with extremists
Netanyahu's deal with racist party may be repulsive, but AIPAC crisis is over – analysis
'Not getting involved' in Otzma controversy, Pompeo says
Pompeo: Netanyahu courting extremist party is not America's concern
A Day After Netanayu Orchestrates Kahanist Merger, AJC Joins Condemnation
Meir Kahane, son idéologie et Israël
Juifs libéraux américains : Netanyahu/extrémistes, c'est comme « accepter » le KKK
Netanyahu accuse la gauche de lui interdire le droit à une défense juridique
Netanyahu and the Kahanists: A moral compromise that may ruin his legacy
US Reform leader: Netanyahu's deal with extremists is like 'welcoming' the KKK
Conservative Movement rips 'dangerously radical' Otzma Yehudit party
Ex-AIPAC official: By backing extremists, Netanyahu 'overstepped the line'
The tangled web of Israel's extreme right, American Jewry and the US terror blacklist
Rabbi Meir Kahane and Israel's far right, explained
Leading Democrat warns Kahanists in coalition 'can't be good' for US-Israel ties
Kahanists Make It Easy to Ignore Everyone Else's Racism
Élu démocrate : les kahanistes au pouvoir « nuiront » aux relations USA-Israël
Israel's religious Zionists shouldn't bed down with racist provocateurs
Canadians blast Israeli far-right political alliance
Labor lawmaker Stav Shaffir gets death threats, blames Otzma Yehudit supporters
Kahanist party leader allowed to run in election after legal challenge
« Kahaniste », « fantasme du Hamas » : échange d'insultes entre Gantz et Bennett
Law Championed by the Right Used to Ban Kahanist Leader From Election
Israel's top court bans Kahanist leader from election, okays Arab slates, far-left candidate
By Barring Kahanist, Israel's Supreme Court Did Its Job: Protecting Democracy
Cour suprême : Le racisme du dirigeant d'Otzma Yehudit est « évident »
Disponible sur balderexlibris: The False Prophet : Rabbi Meir Kahane – From FBI Informant to Knesset Member, Robert I. Friedman